Draw like Karl Lagerfeld
Stationery aficionados take note. Karl Lagerfeld has collaborated with Faber-Castell on a limited edition drawing kit called Karlbox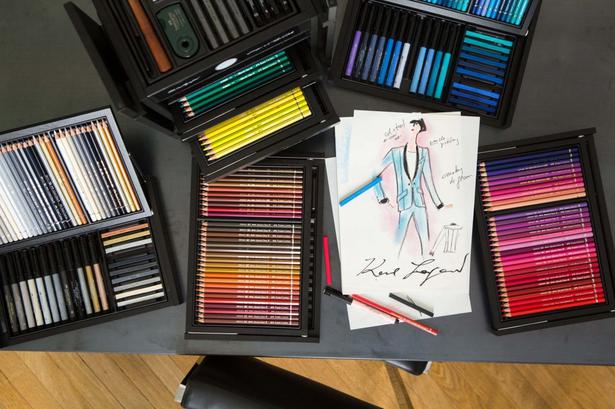 Thursday Oct. 13, 2016
Karl Lagerfeld is famous for many things: witty one-liners, over-the-top Chanel collections, fingerless gloves ... and also his distinctive fashion sketches. He has described drawing as being "like breathing and writing. These are things that almost relax me", and has extended his passion with a new collaboration with Faber-Castell, the limited edition 'Karlbox'.

Only 2500 of the elegant black-lacquer beech wood chests designed by the Kaiser have been made – each have their own unique serial number and containing over 350 premium-grade tools for painting and drawing. Shades are arranged by primary and secondary colours, which range from pastels to vibrant hues, including Karl's favourite product line: the Albrecht Durer range of pencils, with all 120 colours included.
Karl has, according to Vogue.com, ordered five of the luxury stationery kits, one for each of his international offices.
When closed, the box is designed to resemble a Chinese wedding cabinet, with removable drawers inside housing the art supplies.
Karl Lagerfeld's relationship with the 255 year-old stationery giant Faber-Castell dates back to the 80s, when he created a wedding dress for the wife of Count Anton-Wolfgang von Faber-Castell (the eighth generation of his family to run the enterprise); who died earlier this year in January, aged 74.
Faber-Castell is one of the world's oldest and largest pencil suppliers, each year they produce more than two billion coloured pencils, not only are their products favoured by Karl, but other famous artists including Vincent van Gogh, Paul Klee, Oskar Kokoschka and Neo Rauch.
New Zealand will receive only three of the very limited edition Karlbox, priced at around $4500. Visit Faber-castell.co.nz
WATCH: Karl Lagerfeld draw his life:

Share this: