Karlie Kloss: The super-nice supermodel
She's been called the nicest model in the industry — and even bakes cookies for charity. Rebecca Gonsalves asks, is Karlie Kloss too good to be true?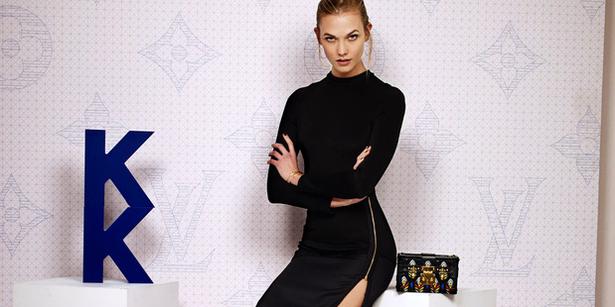 Thursday Nov. 20, 2014
Until she reached her early teens, Karlie Kloss was a regular girl growing up in a small town in America's Midwest. So it's surprising that in between sports practice and school she never dyed her hair. After all, a dye job - and getting in trouble for staining the bath in the process - is something of a rite of passage for most teenage girls, like ballet practice or arguing with your best friend.
Today, though, not only is she tinting and dying all over the place, the supermodel was recently signed as the face - and locks - of Prodigy, a new hair-colour product from L'Oreal.
"I was always really boring with my hair," says Kloss. "But I've found that changing your colour gives you a bit of a lift. We changed it for my first L'Oreal campaign and that was really the first time I'd touched it."
Meeting a model of Kloss' status is not the sort of experience that does wonders for the ego. When she unfolds her lithe limbs from the comfortably cushioned sofa and stands to greet me, I regret not wearing my highest pair of heels so I could look, if not in her eyes, somewhere around her shoulders at least.
Happily, though, despite achieving the sort of success and single-name recognition of the generation of supermodels before her, she hasn't inherited any of their attitude. Instead, she is sweetly self-deprecating, calling herself a "giant", as if she could possibly be the genetically inferior one of the two of us. But such self-effacements seem to radiate from Kloss, who is known in the industry as "the nice one". She is flattered by the reputation, and puts it down to her family, and the small community in which she was raised.
She says, and you can't help believe she is being sincere, that she doesn't think she's "that different from a lot of people".
First spotted by a model scout when she was 14, Kloss' career has been unusually shaped by her family. The second of four daughters, she had only a vague idea of the fashion industry growing up, instead concentrating on pli-ing around ballet studios, doing schoolwork and honing her sporting skills. For a long while, in fact, she thought she would follow in her father's footsteps and become a doctor.
"I never thought I wanted to be a model, I never knew that job existed. I knew the supermodels of course, even in my small town I knew of Christy Turlington, Naomi Campbell, Claudia Schiffer, but it just seemed unattainable. Before I started modelling, the extent of my fashion knowledge was my subscription to Teen Vogue."
Aptly, Kloss' first magazine appearance was in the pages of that magazine. "After that, I came to New York for a weekend with my mum; I was 15 and had just started high school. I went to a casting at Calvin Klein and went up to meet Francisco Costa, the designer, with my mum waiting downstairs.
I was really nervous - a shy, skinny and awkward 15-year-old - and I didn't think it went that well. By the time I got downstairs, my mum was on the phone to my agent, jumping up and down and crying, 'Karlie, you got it!'."
After appearing exclusively (she was paid not to walk for any other brand) in the Calvin Klein show at 2007's New York fashion week, Kloss - with mother in tow - was flown to Florence to meet the Gucci design team, who wanted her to be their exclusive model for Milan fashion week. "It was the first time I'd ever left the country. My mum had studied in Florence when she was in college, so it was a really special moment for us - to bring her back to Florence."
For most, starting your career as a teenager would be a bewildering experience. But for Kloss, it was different. "I was so protected," she says. "Every step of the way from that point on I had my mum or my dad, or my uncle or aunt or my grandmother - somebody from my family always. And if a family member couldn't come on a trip with me, I brought my teacher. It was almost a joke at a certain point, but I got to travel the world and share it with my loved ones."
It's a testament to Kloss' upbringing and strength of personality that, nearly a decade later, she still appears to be overwhelmed by her good fortune. "Everything that happens is something I would never have imagined happening to me.
Working with L'Oreal is beyond a dream; when I was a kid, my sisters and I would play with my mum's makeup and do our hair and mimic the commercials," she says, flicking her hair, and whispering that inimitable tagline, "Because you're worth it". As she dissolves into giggles you can almost see the teenager playing dress-up with her sisters in St Louis.
"To think that of the millions of women around the world I get to be a part of the L'Oreal world is crazy. It's such a global brand that means so many different things to different women. I think that ideas of beauty in general are so diverse. I think ultimately that [it] comes from within and feeling worth it," she says, unknowingly quoting that famous tagline.
Working with the company has been a surreal experience for the model in many ways, she says - not least meeting fellow spokeswomen such as Jane Fonda, Eva Longoria and Blake Lively. "These are people that I watched in the movies, in TV shows. But they're all very welcoming. It doesn't matter if you're a superstar or not, I think that the people who don't forget that and let it change them are the ones who have long-term success."
Kloss is always looking to the long term and, unusually for a model, diversified in 2012 by partnering with New York bakery Momofuko Milk Bar to market Karlie's Kookies. Nutrition and fitness are important to her, naturally. But she is keen to be a good role model, too.
"I can often be seen and not heard," she says. "So the way I present myself can have a big impact, which is partially why I'm so passionate about health and fitness, and strength. I take responsibility for the fact that other young women see pictures of me and it might impact how they feel about themselves, so I only want to stand for things I'm proud of."
Health is only part of Kloss' idea of feeling good about herself, though; giving back is important, too. Proceeds from her cookie range go towards the charity Feed, which supplies meals to those without the money to feed themselves (over 500,000 so far). "There's an opportunity now to have a career for as long as you want it. And using the platform I have, the spotlight, for something meaningful motivates me," says the model.
Although Kloss says she wants to get a degree one day, she's content attending various courses at Harvard Business School and New York University for now, as well as learning from people in the industry.
"It's frustrating to me that there are stereotypes that come along with anyone in the entertainment industry - not just models, but actresses and athletes. It's assumed that their focus on their appearance, craft or sport has something to do with their intelligence levels."
Her sweet nature, which comes through in conversation, probably enforces that perception, I suggest? "People don't expect me to be well-read or have an opinion, I almost like that - I like being able to shock people."
One person who never underestimated the model was Oscar de la Renta, with whom she had a close relationship. When we meet, two days after the designer's death caused an outpouring of grief in the industry, it is obviously still an emotional subject for her.
"He was extraordinary - such a loving, passionate, joyful person. I really feel lucky that I got to work with him from the very beginning of my career, he's always been such a supportive person, not only in my career but in my life. He was really special." 
Share this: