How Kate Middleton Avoided More Diana Comparisons
The Duchess of Cambridge has faced one of her most demanding sartorial tests yet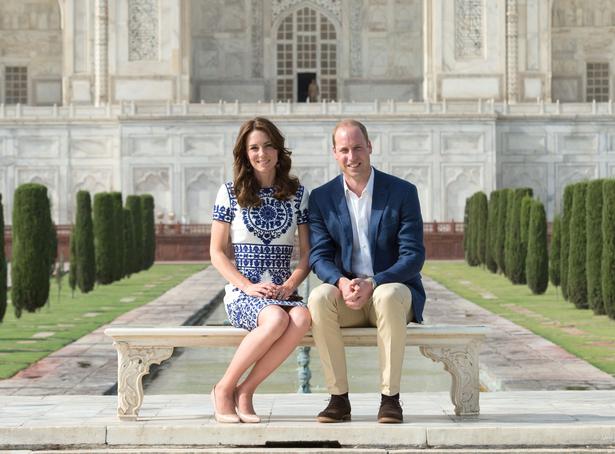 Monday April 18, 2016
What does one wear to re-create one of the most famous images of the mother in law you've never met? Yesterday's fashion conundrum might have just been the most demanding sartorial test the Duchess has yet faced. But at the much anticipated Taj Mahal visit, Kate gamely and diplomatically rose to the challenge in a pretty azure blue and white embroidered dress by the American-Indian designer Naeem Khan.
The rest of her tour-drobe has been a vibrantly hued affair, but she neatly side-stepped any more Diana comparisons by steering clear of the bright block colours that the Princess of Wales so deftly adorned in order to stand out against the clean backdrop. Arguably, with its white base, Kate's dress left her a little lost in the pictures. But perhaps that was shrewd thinking.
Kate's dress is from Khan's resort 2015 collection (which would have gone on sale last November, offering an insight into the acute planning that has gone into the Royal wardrobe). The New York-based designer is used to high profile clientele; he created a bespoke gown for Michelle Obama's first State dinner at the White House in 2009, and has dressed Beyonce, Taylor Swift and Emily Blunt for the red carpet, as well as Queen Noor of Jordan (30 per cent of his clientele is based in the Middle East).
The Mumbai-born 57-year-old, who moved to New York aged 20 to become an assistant to the famed fashion designer Halston, has a textile heritage, and still uses his father's India-based embroidery workshops. His collections pick influences from global artisanal aesthetics, cleverly melding them together into modern designs which offer an exotic outlook but without being too pastiche; the Duchess's dress nods to traditional Mexican embroidery patterns.
READ: How Kate Middleton Got Her French Style
The impact of the Duchess choosing his design has not been lost on Khan, telling The Sunday Telegraph: "This is my happiest morning. My son got married last night and The Duchess of Cambridge wears Naeem Khan in India. I am in Heaven." He said he had provided Kate's team with three possibilities when they contacted him several months ago but wasn't told for sure that the Duchess would wear his designs. "I presently do not have a commercial presence in India. The Duchess wearing Naeem Khan indeed brings awareness not only in India but worldwide. This impacts the brand tremendously."
Throughout this tour, the Duchess has weathered the unenviable scrutiny of her ensembles with panache, and perfected the art of frockery, treading the fine line between promoting British based fashion designers whilst also flattering her host country. Yesterday's two outfits (she's been averaging three a day) hit an exact balance. She left Bhutan in one of her old favourites, an Alexander McQueen white broderie anglaise flared skirt and top, before taking her pew on that bench in Khan's creation.
Aided by PA and stylist Natasha Archer, she's kept to designers which have served her well in the past such as Emilia Wickstead, Jenny Packham and McQueen, balanced with high street pieces from Topshop and the Manchester-based online label Glamorous in order to relieve anyone who was starting to tot up how much this has all cost.
Her trekking outfit was one rarity that raised a few eyebrows. Not only because she bore some resemblance to a pantomime prince in that leather waistcoat and thigh-slapping knee high Penelope Chilvers (reportedly 10-years-old) boots, but also because you thought she would have worn some proper trekking footwear.
The best outfit was the dazzling Tory Burch maxi dress she wore for dinner with the king and queen of Bhutan, which provided serious wow factor. All of which does leave us wondering if Prince William, who has largely kept to Hurlingham-casual, feels a little over-shadowed.
— The Sunday Telegraph·
Share this: