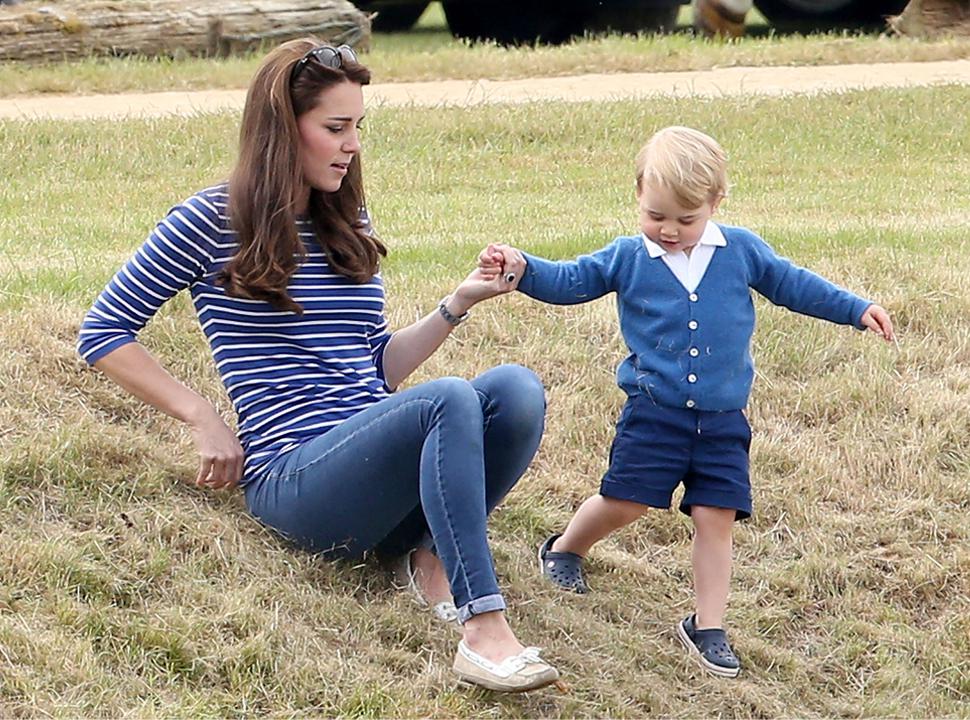 How Kate Middleton Got Her French Style
Meet the woman behind the Duchess of Cambridge's svelte Breton look
Monday June 22, 2015
If Prince George has got used to being the centre of the world's attention, then he was in for a shock last weekend. The cherub-cheeked royal may have been his usual adorable self at the Beaufort Polo Club in Gloucestershire, but as many eyes were on his mother. Scrambling to keep up with her energetic two-year-old, the Duchess of Cambridge appeared enviously svelte in a simple white-on-blue striped Breton top a mere six weeks after giving birth.
As is now par for the course, within hours the photos appeared on 40 news and fashion websites, crediting the "miracle slimming top" to British label ME+EM - which promptly sold out in all five colourways. It seems the infamous "Kate Effect" is still going strong.
Two days ago, at ME+EM's store, tucked away in Connaught Street behind Marble Arch, Clare Hornby, the label's founder, was still reeling from the "crazy" impact on sales. The pounds 48 Cobalt Stripe Breton top now has a 5,000-strong waiting list and the earliest dispatch date is expected to be September 23, but Hornby is confident her customers will wait. The public reaction is even more surprising given the Duchess had worn the top twice before in a different colourway: during the Royal Tour of Australia and New Zealand last April, and again at a charity polo match last June.
"We knew she'd ordered the tops, because her PA had contacted us [Hornby has never met the Duchess], but we thought we were probably her at-home brand, so we weren't sure we'd ever see her in it."
Both times the website crashed and the top sold out within hours, but what was different about the most recent reaction was the interest in the top's slimming effect. The Breton Top is made of Lyocell, a rayon made from wood pulp "which is soft but holds its shape because I hate when you put on a new top and the fit goes by lunchtime", says Hornby. "And it's thick enough not to reveal your bra," she adds. The midsection is subtly ruched to disguise the tummy area, and so that the top can be adjusted to the most flattering length. "And we cut the neckline wide enough to show off your neck and shoulders, but not so wide it shows your bra strap," says Hornby.
Tall, leggy and slim, Hornby, 46, loves fashion, and it's clear that what sets ME+EM's apart is a focus on fit and fabric. "We spend on average six times longer than a high-street brand finessing a garment and getting it right," says Hornby. "We're probably spending only slightly less on fabric than Chloe, and as much as Joseph. There aren't many [midmarket] brands that would be spending that much on fabric - but you won't get slim-looking clothes without it."
All the fabrics are sourced, and the clothes manufactured, in Britain and Europe - no doubt increasing its appeal to the Duchess of Cambridge.
"She's very clever, and she doesn't go into brands lightly; is it sound, ethical?," Hornby believes. She is disappointed not to have yet seen a head-to-toe ME+EM outfit on the Duchess. She shows me a pair of High Rise Skinny Jeans, which have darker shading running down the side of each thigh for a slimming effect. "She ordered these in a size 27 [inch waist]... but then, she ended up wearing maternity jeans that day," Hornby says, implying that, despite already having a figure most women would kill for, maybe even the Duchess of Cambridge hasn't regained her usual dimensions yet.
Of course, there are many busy new mothers who have yet to get their figures back. Hornby, a mother of two and stepmother to three, who commutes between houses in Sussex and London, understands that. "You just don't know how to dress for your body any more and you're too busy to go shopping." Coming up with solutions to everyday fashion problems is one of the reasons she left a career in advertising to start the business in 2009.
The brand doesn't just appeal to modern royalty - the model Cara Delevingne likes the bubblegum pink Boxy Cardigan, the black Palazzo Lounge Pants and the Long Layering Vest. Rosamund Pike, the Hollywood actress, bought a Cashmere Boxy Hoody in the shop.
Early on, Hornby produced a monthly magazine to promote the brand (she sent a copy to the Duchess of Cambridge's staff, which seems to have done the trick). They now mail out 250,000 copies a month. "Wine hour", between 7pm and 9pm, says Hornby, is peak sales time, when a woman might flip through the brochure after work. The typical customer is 33-55, but Hornby also sells to older mothers and younger daughters. Which surely means it can't be long before we see Carole Middleton in a Breton top too. Although she will have to wait until September now.
— The Telegraph
Share this: