Dissecting Kate Middleton's Diplomatic Wardrobe
Kate's been maintaining three looks a day on her Indian adventure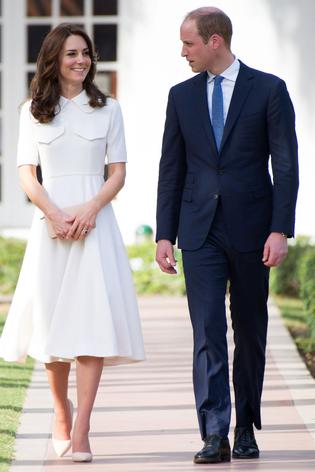 Kate Middleton does a sterling job representing UK Inc. abroad, but apart from her shoes - always a bit of a weak spot - she has played an especial blinder in India: pretty but understated, reliably glamorous, never knowingly overdone. Yes, she has help. She always did, but for some reason the Palace now feels more comfortable admitting the glaringly obvious fact that state dressing requires targeted aid. Currently it comes from her PA-turned-stylist, Natasha Archer, who did a clever job adapting that flow-y, ankle-length kaftan by Indian designer Anita Dongre into a more conventional Kate-friendly dress.
The Palace's obsession with presenting the younger royals as exactly like the rest of us, when they self-evidently are not, adds an extra layer of complication to Royal Tour Dressing. In 1938, when Elizabeth, the Queen's mother, prepared for a state visit to Paris, there was no question of her slipping in the odd bargain outfit. Norman Hartnell was designer for the entire tour - not that anyone envied him particularly, the Queen having a reputation, at that point, for frumpiness. The French press sharpened their quills. Unperturbed, Hartnell, in a flash of genius, designed an all-white wardrobe (Elizabeth was in mourning for her mother) of frothy gauze that emphasised her blue-blooded fairy-tale background and very British - and un-Wallis Simpson - virtues of modesty and charm. The world swooned, the Queen became an object of adoration and the Anglo-French relationship was reinforced at a critical moment in history.
READ: How Kate Middleton Got Her French Style
Even in 1961, when the Kennedys visited De Gaulle in Paris, Jackie Kennedy couldn't wait to glide into her couture Givenchy and Balmain. The French loved her impeccable style and her evident appreciation of French style. Jackie also used the tour to promote the work of Oleg Cassini, her favourite, naturalised American designer - to such widespread approval that, in a speech in Paris, JFK remarked: "I am the man who accompanied Jacqueline Kennedy to Paris, and I have enjoyed it." At a time when America's fashion industry felt inferior to Europe's, the First Lady's patronage and international fame was a hugely helpful vote of confidence.
The Duchess of Cambridge's wardrobe must do a more nuanced job - presenting the Royal family as polished but in touch, modern yet traditional. It should promote British designers, while demonstrating a knack for thriftiness and excluding anything that might have been produced in a sweatshop. And that's where the Duchess's stately progress sometimes runs aground. Yesterday's decision to wear a $100 made-in-China/India dress from Glamorous, a Manchester-based label, was a misstep. No one is suggesting Glamorous manufactures in sweatshops. However, it hasn't signed up to the Ethical Trading Initiative. If you're going to wear high street as a royal, these moral wrinkles need to be ironed out.
On the other hand, she's probably wise not to dress like a dollygarch who's been on a spending spree, especially when visiting street children. Complicated, isn't it? Carla Bruni-Sarkozy - dressed in couture Dior when she and her husband visited London in 2008 - was more regal than the Queen. The male section of the media salivated at the time. But, in retrospect, Carla's swanky outfits and model-grade posing came to be seen as the beginning of the end for President Bling Bling. That's the other thing about state dressing - it must withstand not only instant scrutiny, but the merciless gaze of hindsight. Poor Carla probably thought she was doing her best to promote one of France's main artistic endeavours, and didn't even try to wear anything British on that trip.
READ: Why Royals Have to Be Fashionable
Which brings us to frockery: the art of using frocks to flatter nations. Michelle Obama set the bar high, wearing Roksanda (Serbian-based Brit) and Christopher Kane (Scottish) to London and Azzedine Alaia (Tunisian-born) to Paris. But it's complicated, as the Duchess knows, after a previous tour when she wore what she believed to be a locally designed dress in the Solomon Islands, only to discover it came from the Cook Islands.
Frockery requires rigorous research and tact. It must pay subtle yet unmistakable homage to the traditions and crafts of the host country without laying itself open to accusations of cultural appropriation. The salwar kameezes and saris donned, respectively, by the late Diana, Princess of Wales (in 1996 at a London cancer benefit co-hosted by Imran Khan) and Cherie Blair (pick any year between 1998 and now) would invite turbulent Twitter commentary these days from those who enjoy being offended but the host nations always seem to enjoy being flattered.
If all that weren't sufficiently demanding of a frock, it must withstand the assault of a thousand cruelly distorting lenses and a gazillion fashion police. It must not turn transparent under flashlight, gust upwards even in a hurricane, crease, sag or droop. Underwear must never show; sweat is not tolerated. Is there a department in the royal household dedicated to deodorant testing? And if not, might this be a job creation scheme for the Duke of York
— The Daily Telegraph
Share this: