Kate Middleton's Casual Vogue Cover
A vintage hat is the crowning glory in a look that captures spring 2016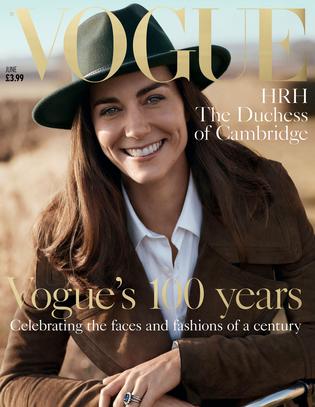 Last weekend, we were all agog at the young Prince George greeting President Obama in a personalised bath robe. This week it is the turn of his mother - smiling, relaxed and understated, on the cover of the most famous fashion magazine, British Vogue.
Since her engagement to Prince William, the Duchess has barely put a foot wrong with her style (well, perhaps a foot - not everyone is won over by her signature wedge shoes). The diplomacy she displays in her choice of glamorous but not showy garments is quite something and she hasn't dropped the ball on this important occasion.
READ: How Kate Middleton Avoided More Diana Comparisons
The brown suede coat and white shirt she wears for the cover shot are made by Burberry, Britain's biggest luxury fashion label, which has a deeply populist appeal together with a strong heritage and a Royal warrant - the perfect choice for a woman who will one day be Queen. In fact, it's surprising she doesn't wear the label more often - she's rarely been seen in it until now. Burberry is also a brand that is able to convey her love of the countryside, an effect she adds to with a dark green hat, not dissimilar to the kind she has often been seen to wear on off-duty weekends, but here sourced from the vintage shop Beyond Retro. This appears to be the first time she has worn a vintage piece - aside from Royal diamonds and an upcycled dress of her mother's. It suggests a thriftiness that The Duchess likes to display, and wins her style points - mixing luxury with vintage is the sign of a woman comfortable with her own taste and not afraid to experiment.
The rich, earthy colours and soft tactile fabrics of these garments lend a kind of 1970s Ali MacGraw style to the shoot, enhanced by the honeyed glow of the light and complementing the Duchess's brown hair and eyes.
Kate has a love of strong eyeliner, famously doing her own for her wedding. This time, the make-up artist Sally Branka, who has worked with Emma Watson on a Vogue cover, has given her heavier eyebrows, a healthy peachiness and a softer eye line.
Deciding to work with Josh Olins - at 36, a relatively young British photographer - is a refreshing choice. Olins shoots for Vogue and its international editions and has done advertising campaigns for luxury labels such as Louis Vuitton and Stella McCartney. But he has also shot David Beckham in his underwear for the high street brand H&M and Victoria Beckham, winking on the cover of the style magazine, i-D. He is the perfect photographer to bring out the Duchess's beauty and likeable nature in these informally styled images.
READ: How Kate Middleton Got Her French Style
All the Duchess's clothes are by Burberry, apart from the hat and the rusty coloured striped t-shirt by the French brand Petit Bateau. Again, it is a canny choice for a Royal and, at $73, one that will no doubt prompt sales.
What's fascinating is that this is a shoot for a fashion magazine by a fashion photographer with a major fashion brand that does as much as it can not to appear fashionable. Yet when we look back we will find that the Duchess's clothes and make-up, the setting and the mood, perfectly captures something of Britain in the Spring of 2016.
— The Sunday Telegraph
Share this: