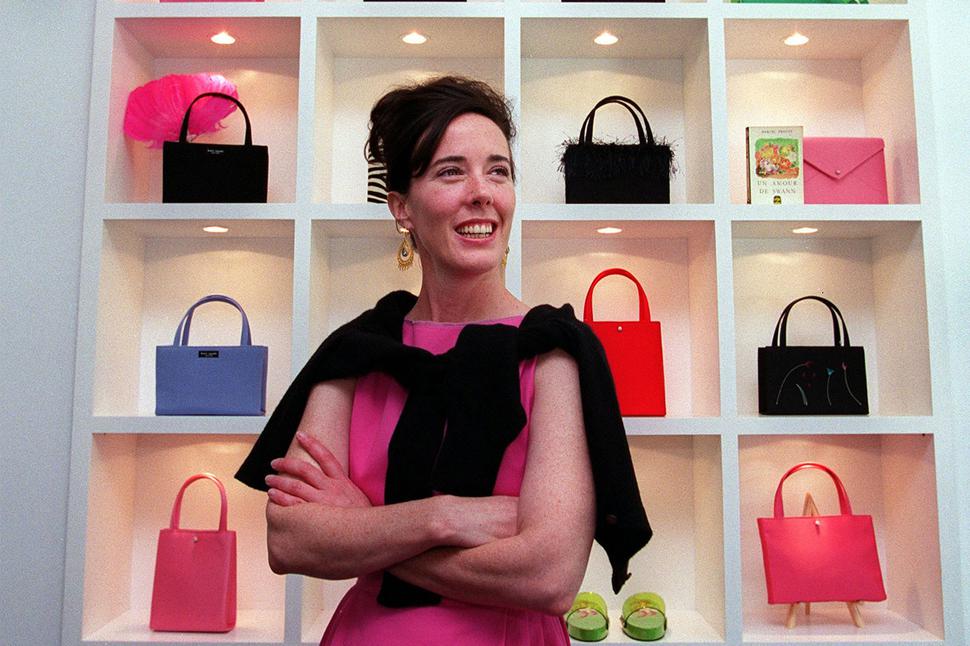 Kate Spade, Whose Handbags Were Essential Accessories For Urban Women, Dies At 55
The New York-based designer was one of the fashion world's top designers of accessories
Wednesday June 6, 2018
Kate Spade, a designer best known for her simple, colourful handbags, which became favoured accessories of professional women in the 1990s, was found dead June 5 at her home in Manhattan. She was 55.
She reportedly committed suicide, police officials said.
Spade began her career at Mademoiselle magazine, where she became, at age 28, a senior editor for accessories. Often disappointed the selection of handbags available for fashion photo sessions, she decided to start a business and design them herself.
She began in her apartment, designing handbags with paper and Scotch tape and using her savings to buy fabrics. (Her first handbag was made of burlap, the cheapest material she could find.)
"I sat down with some tracing paper, and I knew immediately what the shape should be - a very simple square," she told Fortune Small Business in 2003. "At the time no one was doing anything that clean. The shape gave me a real flexible canvas for applying all the ideas I had for a lot of colours, patterns, and fabrics."
She took her initial six designs to a manufacturer in Brooklyn and showed her wares at an accessories show in 1993. She sold a few bags, but not enough to cover the cost of the booth at the exhibition hall.
Then unmarried and still known by her maiden name, Kate Brosnahan, she tried out several brand names for her new handbags before taking the advice of her boyfriend, Andy Spade.
"Andy kept saying the whole time, 'Kate Spade, Kate Spade - listen to how it sounds,' " Spade told the New York Times in 1999. (They were married in 1994.)
Her second stroke of inspiration came the night before her another accessories trade show in New York.
"There was something missing," she told the Boston Globe in 1999. "We needed something for the eye to go to."
She stayed up most of the night, removing the small black "Kate Spade New York" labels from inside the handbags and hand-stitched them to the outside of the bags.
Her bags, often in bright colours or pastels, with simple handles and vibrantly coloured linings, were picked up by Barneys and other department stores, and Spade was honoured as one of the fashion world's top designers of accessories. Her bags were featured in Vogue and other fashion magazines, and celebrities such as Gwyneth Paltrow were spotted carrying Kate Spade bags.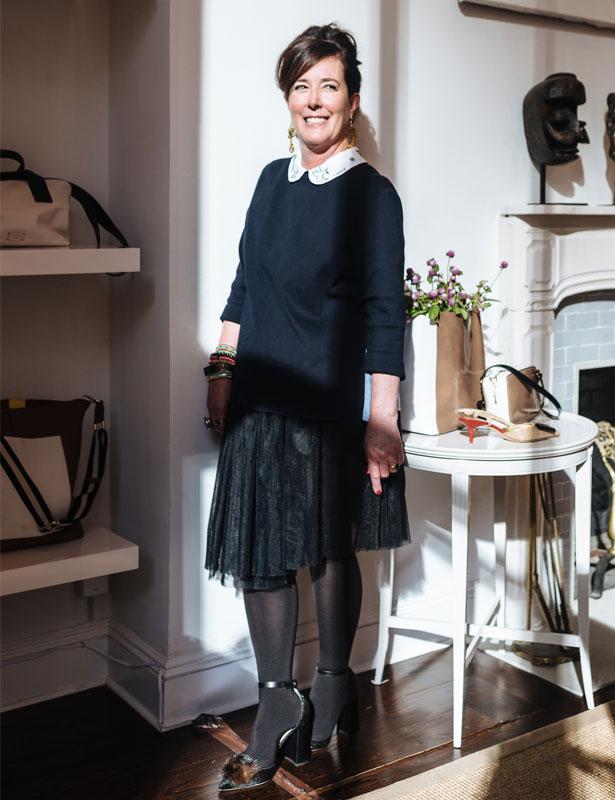 Spade launched her design company in 1993. Photo / Supplied

Her husband, who is the brother of actor and comedian David Spade, left his job in advertising to become chief executive of the Kate Spade corporation. By the late 1990s, Spade's simple but chic handbags were everywhere and were especially popular with urban professional women.

"I like things to endure because that's the way I shop," Spade told the Toronto Star. "If I buy a cashmere sweater I want it to be something I wear for a long time. That's how I feel about this company. I want it to be like a fashion version of L.L. Bean, never in or out."

In 1998, she and her husband sold 56 per cent of their company to Neiman Marcus for $33 million but retained creative control over the products.

Spade expanded her design offerings to sunglasses, shoes, luggage and clothing and even designed flight attendants' outfits. She appeared on an episode of Just Shoot Me, a sitcom starring her brother-in-law, and branched out into writing books and general lifestyle advice.

Critics said the quality of her products declined, and the market was flooded with counterfeit bags. By 2007, the Spades had sold their remaining interest in the company to Neiman Marcus, which in turn sold the product line to the Liz Claiborne corporate entity.

Katherine Noel Brosnahan was born December 24, 1962, in Kansas City, Missouri. Her father owned a construction company, and her mother was a homemaker.

She had little interest in fashion while growing up, other than shopping for bright-coloured items at thrift stores, in order to stand out from her sisters.

While attending Arizona State University, she worked in a department store, where she met Andy Spade, a fellow student. She graduated in 1985 with a degree in journalism and, after touring Europe, settled in New York, reportedly with only $2 to her name.

Through an employment agency, she found a low-level job at Mademoiselle and in eight years at the fashion magazine became an influential editor. When she launched her design company in 1993, she did so only with the understanding that she could return to Mademoiselle if the venture failed.

In recent years, Spade launched a new accessories line, Frances Valentine, named in part after her daughter.

Survivors include her husband and their 13-year-old daughter.

— The Washington Post 

WHERE TO GET HELP:
If you are worried about your or someone else's mental health, the best place to get help is your GP or local mental health provider. However, if you or someone else is in danger or endangering others, call 111.

If you need to talk to someone, the following free helplines operate 24/7:

DEPRESSION HELPLINE: 0800 111 757
LIFELINE: 0800 543 354 or text HELP (4357). Available 24/7.
NEED TO TALK? Call or text 1737
SAMARITANS: 0800 726 666
YOUTHLINE: 0800 376 633 or text 234

There are lots of places to get support.
For others, visit mentalhealth.org.nz

 

 
Share this: