An Evening with Kate Sylvester at The French Cafe
Kate Sylvester spoke at an exclusive Mercedes-Benz event at The French Cafe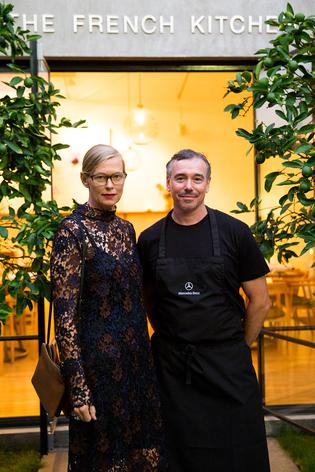 What to wear to an evening with Kate Sylvester at The French Cafe? Something loose and forgiving, so as to manage each of the four courses elegantly? Not stylish enough. This season's high-neck, Victorian-style lace dress? Perfect. But just as well I didn't. The red-lipsticked designer herself — and another guest — turned up wearing just that.
Thankfully, double-ups don't faze Kate; she still gets a kick out of seeing women wearing her clothes. An even bigger endorsement for her timeless style? When she sees someone rocking something from five seasons ago. This was one of many insights into the designer's mind, which, though I hate to rub it in, were revealed between exquisite degustation courses from The French Cafe's Simon Wright.
'Driving Style with Kate Sylvester' was the first of the Mercedes-Benz Masterclass series that will see various guest speakers divulge their success stories over Wright's bespoke menus this year. It's a synergistic event; Simon is a Friend of the Brand, and Kate was the recipient of the luxury car brand's sponsorship at last year's Fashion Week. Conceived as an exclusive celebration, it was attended by just 27 invited female guests, most of them Mercedes customers.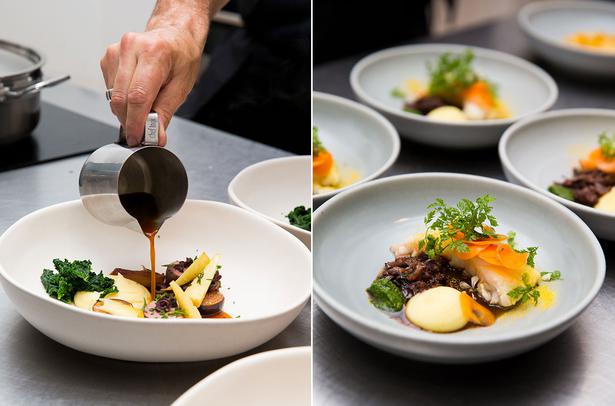 We knew we'd found the right place when we spotted the white Benz parked off Symonds Street on a strip of black carpeted footpath, lit from below like a luxury space ship. Through a discreet side door we entered a European-style courtyard lit with fairy lights. As Champagne and canapes were passed around, a coterie of smartly dressed women from all over the country mingled in the autumn air.
Soon we were ushered into The French Kitchen, Simon's culinary playroom for special events. At our long table: an architect, auctioneer, radio producer, actress. The mood: convivial. The room: warm, candlelit and smelling deeply of mushrooms. Before the first dish came out, TV3's Samantha Hayes, wearing a floral skirt and top designed by her subject, led Kate in a relaxed discussion about her road to success.
Well before she was a household name, she and partner Wayne Conway operated their small business under the label Sister; on expanding into Australia, "a bomb dropped" when the more established Stussy Sister street label threatened legal action. Letting go of the identity they'd worked so hard to build was "horrible" at the time, but the name change also railroaded the designer into self-confidence.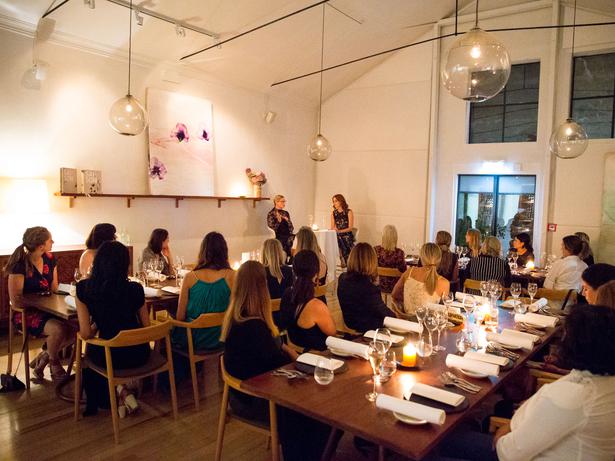 The key to that confidence? Wayne, who designs all but the clothes, she explained, from the shop interiors to the clothing tags. The other essential component? The all-important business plan of specific three-to-five year goals, even if, to start, they were "incredibly humble".
Since then Kate's style has evolved from her early, grunge-inspired designs to chic modern classics with an artful twist. Along the way she has maintained a love for those famous stripes, plus boxy jackets, a leather example pointed out on one of the guests. As Samantha noted, whenever she sees Kate Sylvester, she's wearing Kate Sylvester — the designer also confessed to sleeping in, tramping and going to the gym in her designs.
Meanwhile, we were free to peruse and debate a cryptic menu, essentially an alphabetical list of key ingredients, leaving us guessing as to whether or not the white chocolate might complement the fig, or the blueberry might be paired with the oxtail. The beauty of The French Kitchen is the theatre-like space it provides; if so inclined, you can nudge your way up to the spotless bench and watch Simon and his sous chef braising the leeks or tasting the broth — although naturally the bulk of the prepping had gone on behind the scenes.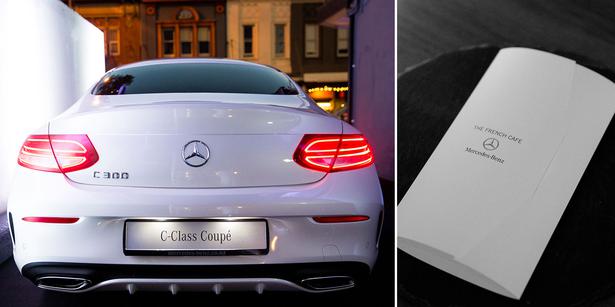 Food and fashion might not seem likely bedfellows, but Simon noted the parallels. Like Kate, he is "driven by, inspired by and dictacted to" by the seasons. This segued into the introduction of his own cooler climes collection, the first dish of the night dubbed the "little bowl of autumn", that aromatic broth with an egg yolk, confited for 65 minutes, that oozed silkily when tapped with a spoon.
It lived up to its name to such an extent, I half expected a leprechaun to leap out from beneath the celeriac and "autumn leaves". As the yolks and conversation flowed, wines from the Loire valley, Bordeaux and Marlborough were matched seamlessly by the wait staff. At one stage I dropped my pen; before I could even lean down to scrape it up, it had been discreetly replaced by a superior version alongside my plate.
Up next: butter poached crayfish with oxtail, aka "posh surf and turf," confounding most of us who'd been convinced the oxtail would be paired with something else.
"I just had a bit of a play with the classics," Simon explained, arranging pickled carrots on the seafood for a touch of acidity, along with chervil and orange, his nonchalant efficiency masking a sophisticated thought process. Then came smoked duck breast with figs, onions, goat's cheese, parsnip, kale and black olive, elements I was clueless to believe could co-existed harmoniously, and which soon had my colleague Lucy in fig-induced raptures.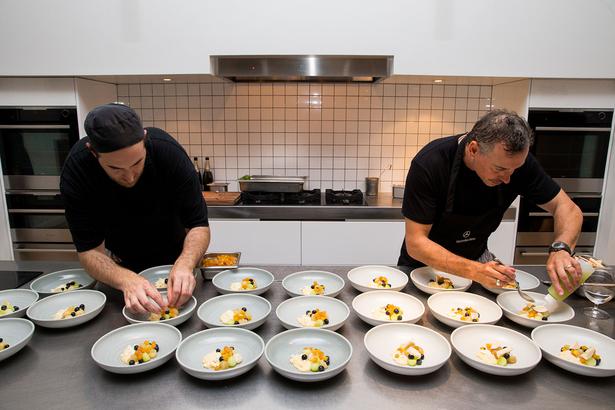 Before dessert, Sam and Kate returned to continue their chat. The designing process "all starts with Wayne," she explained, chuckling that despite his significant input, he was not allowed at tonight's ladies-skewed event.
"We have real fights sometimes," she said. "They often end with me yelling, 'You're a boy, you just don't know!'"
Each Kate Sylvester collection is bound by a theme, but it's also a collaborative effort involving discussions among the team about the kinds of pieces they want in their wardrobes. This season, the lace dress she's wearing answered that question; she's also hankering after great tailored suiting and shirts, a leather skirt, and next season? "Trackpants."
These might have come in handy by the time the final dish arrived. Teetering on the cusp of fullness, I was starting to feel terribly sorry for myself when this arrived: a zingy assortment of feijoa, green apple and blueberry, with buttermilk, white chocolate sorbet and elderflower, an equally impressive arrangement on the plate and tongue, and quite possibly the best dessert I've ever eaten.
Share this: