Kelly Coe of Augustine's Rise to Success
Designer Kelly Coe on how her relatable approach to fashion has fostered her success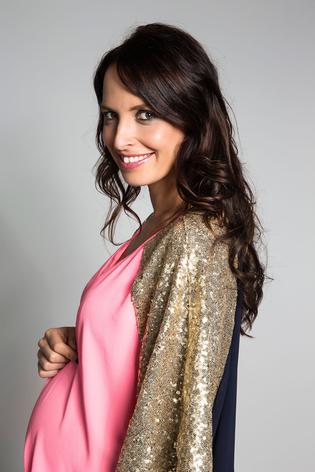 Kelly Coe knows her married name is auspicious for someone who works in fashion but she's definitely not the plain cream type. The founder of the popular Augustine International and Charlo labels is a glamorous needle in a bland city haystack. Heads turn when we meet at an inner-city cafe, the statuesque designer in an Augustine pink and gold sequined top, bright patterned skirt and tan heels. When she posted an image of the new skirt on the label's Facebook page two days earlier, she sold 300 in pre-orders that day.
"It's been crazy," says the 33-year-old, who is six months pregnant with her third child. "Facebook has been our biggest marketing tool. It's all we've ever really used."
Augustine is New Zealand's most followed fashion label on social media, with 117,000 Facebook followers who tune in to engage with and see what the prolific designer is a) wearing, and b) putting out that month. Alongside the collections are styling ideas and snippets about her life running a growing fashion business while raising two girls. Amassing such a large following is largely down to being relatable, she says.
READ: How-to Wear Colour in Winter
"I've never tried to be the cool brand, I've never tried to be all about Fashion Week and Auckland magazines, I've never tried to make it about Auckland and what's cool now. I've gone for longevity and talked to the whole of New Zealand and I think that's really why it's grown. Because I'm a mum who lives in the suburbs and that's who our customers are."
Kelly started the label eight years ago with husband Nathan Coe, and it has grown so quickly Nathan has quit his career as a property developer to focus on the business. Augustine is sold in 75 boutiques around the country: their biggest stockists are in Greymouth, Te Awamutu, Greytown, Queenstown and Christchurch. Their customers are women aged 28-65 wanting something bold, unique and reasonably priced, their clothing made in limited runs and sold for no more than $300.
They've grown to four stores — in Mt Maunganui, Newmarket, Ponsonby and the newest one in Noosa. If Nathan has his way, it won't be their only Aussie store. "He's really ballsy and nothing bothers him," says Kelly. "He'll take a risk with anything."
Whereas Augustine focuses more on "occasion" dressing, the growth of Charlo, their everyday, practical wear has, with Facebook's help, outstripped Augustine's. Likewise, without Kelly's "opinionated" followers telling her they wanted plus-sized options, she might never have launched Stella Royal, her colourful line for ladies sized 14-20, and the only one of her labels she doesn't design (being a size 8 herself, she gave that job to former High Society designer Jane Laird-Pick).
READ: Style Quotes That Won't Make You Cringe
Then there's her new label, Rain Day, which sells brightly coloured rainwear. She also does shoes and has an accessory line called Mrs Pretty. All this, and she isn't even a trained designer who can sew a garment. "But you don't need to these days. I have so many ideas of what I want to design that I just sit with my team and they make it for me."
Instead, she draws on skills that other online businesses have tried to emulate. A brief foray into journalism and advertising means she's comfortable writing, providing a valuable platform to interact with her customers. She knows what sells, having worked as national merchandiser at Nike, and how the garments industry operates, after years at High Society, the umbrella line marketed at women 50-plus.
It was during her tenure there that she spotted a gap in the market. "For $100-$250, you could only buy chain store, and there's no colour, nothing special. If I was going to a wedding and I wanted a special dress — the internet wasn't huge back then — you were stuck with Glassons, Pagani, Country Road and Max. There was nothing in between."
In 2008, with Nathan as the business brains, no kids or mortgage and the sense they had nothing to lose, the couple launched Augustine from their St Heliers garage. Of the initial retailers they approached, even the few who agreed to sell Augustine "didn't get it", says Kelly. "I was just at the mercy of what the older ladies at these boutiques thought of it."
The naysayers didn't hold back: they'd never reach the quota required by the factories in China. They were crazy for thinking New Zealanders would ever wear colour. They should quit while they were ahead. But after operating as a wholesaler for two years, they opened their first shop in the Mount. "It meant we could put products in that I liked and I knew we could sell clothes that the wholesalers just couldn't understand and weren't picking up."
READ: Lessons to Learn From French Women
A year later, two weeks before opening their Newmarket store in 277 (they've since shifted to Broadway), Kelly gave birth to daughter Indiana. A year later, they opened their third store on Ponsonby Rd. Four months later came second daughter Demi. Kelly now only works school hours, and will be employing a nanny when number three comes along. "We've always said that one of us will always be home for the kids. We've never wanted to have a business take over the family."
That down-to-earth approach has helped drive their success. "It works because Nathan and I are a husband and wife team, we are parents and we're relatable. There are some people in this industry that are not nice ... People meet me and they're like, you're exactly as you are on Facebook."
Share this: