Kenzo's Collaboration with H&M
Kenzo's artistic directors, Carol Lim and Humberto Leon, talk exclusively about their new collaboration with H&M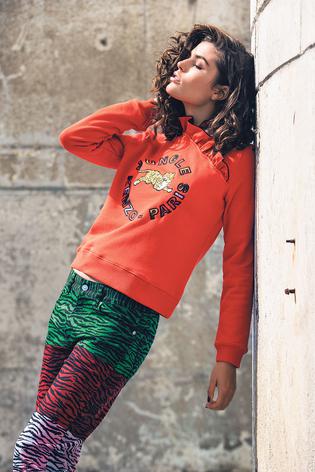 When Carol Lim and Humberto Leon were given the task of transforming the underperforming Parisian-based fashion label Kenzo in 2011, they took it to the streets.
Their predecessor, Italian designer Antonio Marras, had faithfully steered the Kenzo ship with a soft touch, playing heavily on the brand's floral motifs and romantic elements from the archives. Carol and Humberto's Kenzo ushered in utilitarian designs with street smarts, and signalled the arrival of a much stronger aesthetic in tune with the way men and women were dressing in urban environments around the world, a world recovering from the global financial crisis and on the cusp of a digital and social media revolution. (Though Instagram's effect on the industry had yet to be felt, having only launched the previous year.)
Attracting the attention of the label's parent company, LVMH, which acquired Kenzo in 1993, Carol and Humberto would soon find themselves in good company; the luxury conglomerate's roster of superstar subsidiaries include Louis Vuitton, Celine, Givenchy, Loewe and Australia's R.M Williams.
The new-look Kenzo culminated with Carol and Humberto's fourth collection for Fall 2012, a cotton sweatshirt with the head of a roaring tiger with the words 'Kenzo Paris'. The sweatshirt quickly became a brand staple despite the label never having had a sweatshirt category before.
In an interview with the Independent in 2013, Carol said the brand's floral motifs needed a shake-up. "We decided to take a break from the flower. We feel Kenzo stands for more than this one element and wanted to find something that would represent the new energy, so we decided to start with the tiger, as it is part of Kenzo's history."
READ: Why Logos are Cool Again
It's a history built from Japanese designer Kenzo Takada's vision for clothes to live a fun life in; taking his maximalist designs to the city of lights, a town already dominated by the chic Parisian daywear of Yves Saint Laurent and Hubert Givenchy. Suddenly the bourgeoisie set with their wardrobe of classics were in a tizz. Who was this enfant terrible from the East with his penchant for vivid colours and exotic prints? "He was a real pioneer in bringing together different global influences to create his look," says Carol.
Speaking to Viva from their New York headquarters, Carol and Humberto are respectful of the brand's unique history. "It was a very different time in Paris when he started his label, but for him it was natural to be inspired by different cultures and countries. Today, everyone is so much more connected, and style is a global conversation."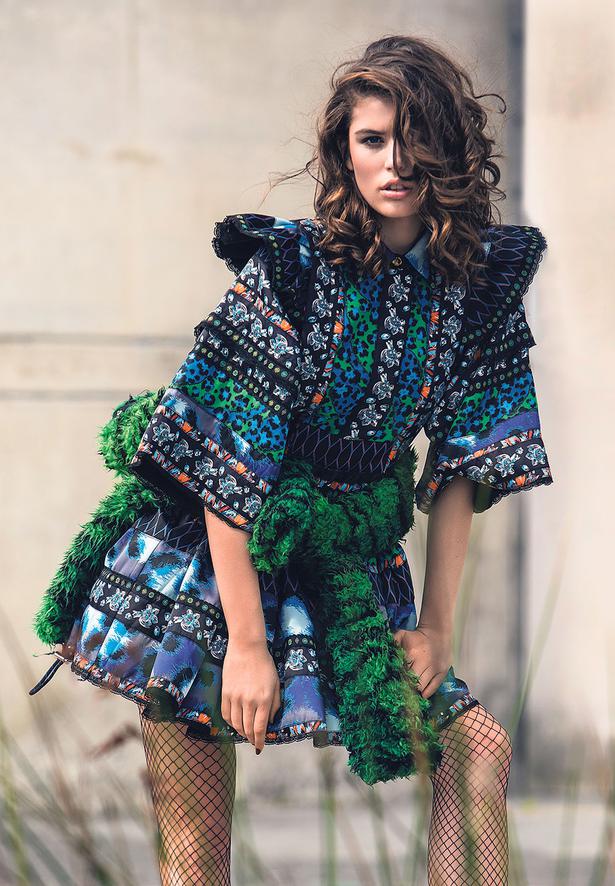 Despite never having had formal design training, the friends, business partners and University of California, Berkeley alumni have reinvigorated the brand, through their own creative understanding of the retail world. In 2002 the pair founded popular department store Opening Ceremony in downtown Manhattan, curating designers from a different country every year. This was followed by offshoot store openings in Los Angeles and Tokyo, and pop-up stores in London.
The store's ethos is collaboration and friendship, leading to several special collections with brands such as Topshop, Rodarte, and Pendleton, and creatives like film-maker Spike Jonze, actress Chloe Sevigny and artist Terence Koh. Such collaborative experience has placed them in good stead for their next project, partnering with Swedish high street giant H&M. The debut Kenzo x H&M designer collection will be available worldwide from November 3, including at the new New Zealand flagship store in Sylvia Park. Taking their mix of sportswear, streetwear and utility to the masses, the lucrative opportunity is a coup for any designer looking to target an audience outside its existing customer base.
"There'll be people who'll be buying their first-ever piece of Kenzo through the collaboration, or even teenagers who've never bought designer fashion before," says Humberto. "Then there are those who have made our take on Kenzo part of their wardrobe, who'll be coming to the collection to buy pieces that filter the archive through our eyes. It's great to think of all the different people who'll get to wear it for themselves all over the world."
The duo join a prestigious line-up of designers lured by the high street retailer, starting in 2004 with Karl Lagerfeld. Since then, H&M has collaborated with Viktor & Rolf (2007), Comme des Garcons (2008), Jimmy Choo (2009), Lanvin (2010), Versace (2011), Marni (2012), Isabel Marant (2013), Alexander Wang (2014) and Balmain (2015). Balmain was the most successful designer collaboration to date — and a benchmark Carol and Humberto are hoping to surpass in the following weeks.
"Carol and Humberto are such an inspiring duo. They're a tight team and know exactly what's right for their brand and how to make each piece extra special," says H&M's Stockholm-based creative advisor Ann-Sofie Johansson, who oversees the designer collaborations and H&M's more directional Studio collections shown at Paris Fashion Week every season.
"I love that we're following last year's Balmain collaboration with a very different vision of Parisian fashion. It's amazing to have a collaboration that connects with the fashion history of Mr Takada, along with Carol and Humberto's 21st century take on Kenzo."
SEE: The Full Kenzo x H&M Lookbook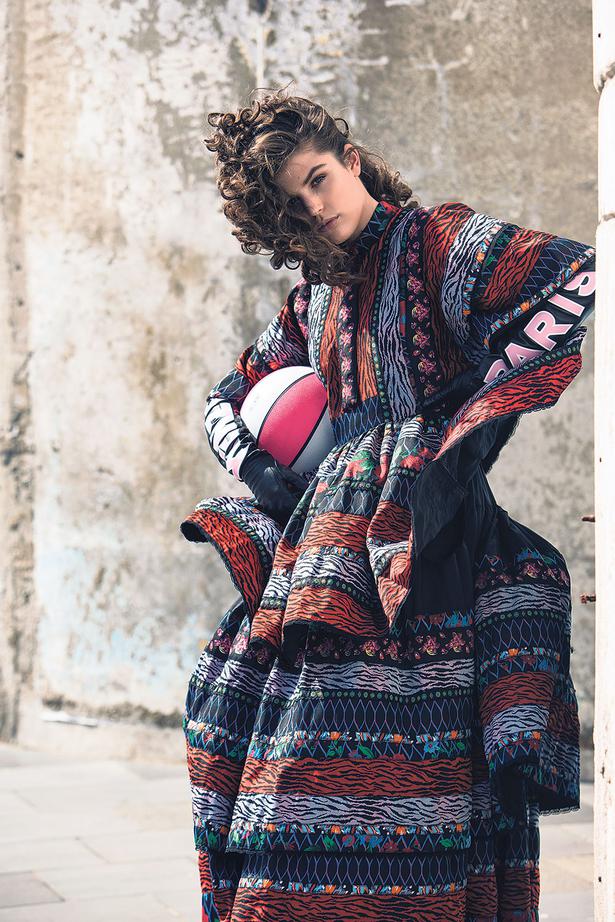 And if Carol and Humberto can create desirability from something as humble as the sweatshirt, it makes sense for H&M to want a piece of the action. "The collection works on so many levels," says Ann-Sofie. "It tells the story of how the brand started; it celebrates the amazing streetwear energy of Carol and Humberto's Kenzo, and is also a great collection of pieces for H&M customers around the world to enjoy wearing."
The East-meets-West trope is often explored in design from the oriental motifs in 1920s art deco to Miuccia Prada's regular re-working of the elegant Chinese cheongsam. Takada's Kenzo melded ideas not only from his Japanese heritage, but from cultures around the world. His references over the years included African tribal prints and Russian matryoshka dolls, always with a touch of with Japanese quirk and the irreverence of the French.
"Since we started as creative directors of Kenzo, we've never really played with the archives," says Carol. "We thought this was the perfect opportunity to look at the work of the brand's founder, and to tell the story of the brand to a new generation. We had a great time going through the archives, and it was amazing to see how modern his designs still look today. There's a real romance to so much of Mr Takada's work, and we've used his ruffles and frills on pieces like the tiger print shirt with frilled edges, or the off-the shoulder top.
"Prints are such an important part of the Kenzo signature, and we've mixed and matched them through the collection, especially for the ribbon dress, which is one of the most iconic pieces in the collection."
The Kenzo x H&M lookbook released globally last week clearly points to the brand both past and present; a ruffled dress with a multi-colour tiger print sits next to logo sweatshirts and tote bags. "We'd like to think that anyone buying pieces from Kenzo x H&M are doing so because they want to wear it for seasons to come," says Humberto. "We like it when people take fashion and make from it their own style. It's already really exciting for us whenever we see someone who's wearing Kenzo in their own way, and we can't wait to see how people mix Kenzo x H&M into their own look. It is such a diverse collection."
This diversity extends to the multicultural cast of models and creative friends who feature in the collection campaign such as Iman, Chance the Rapper, Chloe Sevigny, Rosario Dawson and 16-year-old hip-hop artist Xiuhtezcatl Tonatiuh, photographed by legendary French photographer Jean-Paul Goude.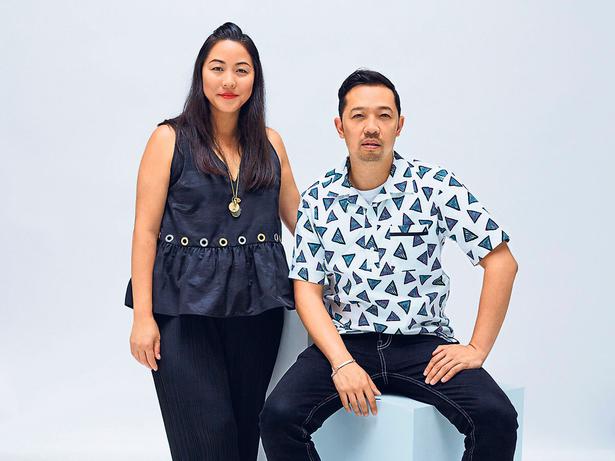 It's an idea aligned also with Opening Ceremony. Their aptly named Pageant for the People show at New York Fashion Week in September celebrated feminism and diversity and protested against voter apathy as actress Rashida Jones and Whoopi Goldberg took turns speaking on an issue important to them, then walked the runway.
"What really excites me about Carol and Humberto is there's an incredibly inclusive, celebratory approach to things," says New Zealander Ben Mazey, who has been working as Kenzo's design manager since 2012 and functions as the Paris arm for the New York based duo.
"When Mr Takada first began in the 70s, his shows were huge celebratory events with zero social hierarchy. What Carol and Humberto have built with Opening Ceremony almost felt like a modern version of that."
Ben's own formative years, growing up in the Ruapehu area and working with local brands, gives him a better understanding of the significance the collaboration with H&M will have in the New Zealand market."We're so excited with how the collection turned out. What I think will really work for New Zealand is when you see the campaign and look book, it's very strong in terms of silhouette, print and colour. It feels incredibly bold. "But when you break the pieces apart it's all really believable, and really wearable.
"It's accessible — not just in terms of price point, but there's also something really democratic about the pieces, without losing any desirability. That's what I feel will really resonate in New Zealand."
And in a time where the revolving carousel of creative directors is spinning out of control (recent departures include Peter Dundas at Pucci and Justin O'Shea's short-lived time at Brioni), Humberto and Carol continue to bank on their, so far, successful formula of collaborative fashion for the people — a success reflected in Kenzo's year-on-year revenue growth.
"They think that fashion should be very democratic and accessible to everyone, which makes them the perfect designers for this collaboration," says Ann-Sofie. "I love how they have reinvented Kenzo into a brand so desirable and wearable, but always connected to the attitude of the street."
Share this: