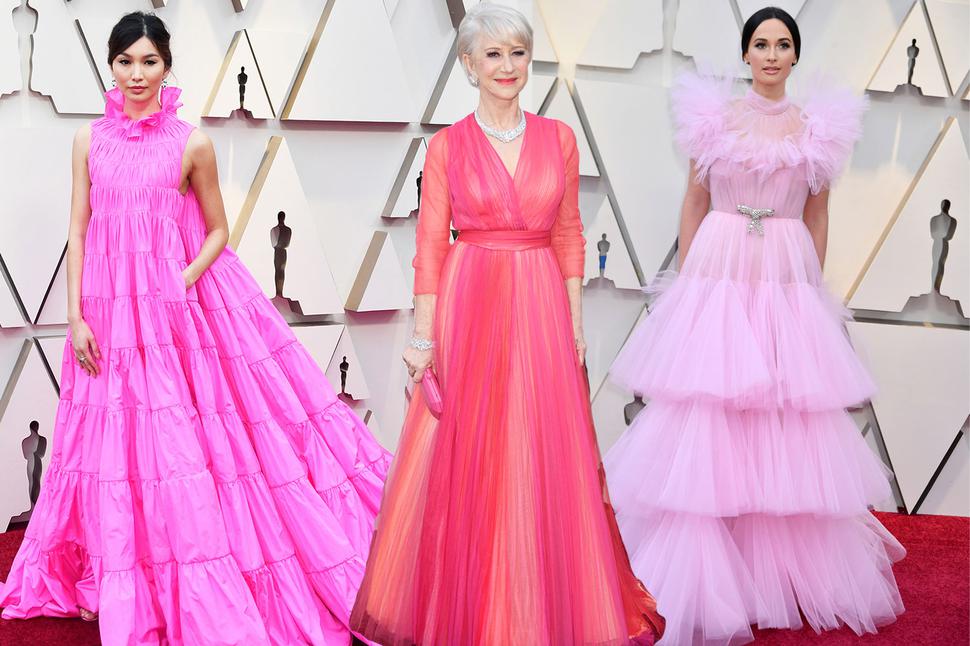 6 Key Looks To Note From The Oscars Red Carpet 2019
Gone was the sombre black of last year, 2019 was the year that pink was hot and capes and heavy metal ruled — and don't forget that tuxedo/ball gown
Tuesday Feb. 26, 2019
A decade from now, when we think back to this year's Oscars, what will be the "OMG, did you see that?" look that everyone remembers? The equivalent of Bjork's 2001 swan, say, or Sharon Stone's 1996 Gap shirt and skirt... or Jennifer Lawrence in the Dior puffball that eventually tripped her up in 2013.
SEE: The Coolest Looks from the Oscars Red Carpet 2019
I'd guess Billy Porter, star of American drama television series Pose, in his tux-on-top, ball gown-below Christian Siriano creation, will be the first man to sit alongside Hollywood's starlets in the memorably dressed hall of fame.
You'll note the use of "memorable" over "best". The rise and rise of the power stylist means that the raison d'être is less to stand out, more to have a guaranteed place on a best-dressed list. Nothing too risky. Just undeniably gorgeous.
READ: Are You Ready For The 'Woke' Red Carpet Season?
Gorgeous is a statement in itself, though. After plenty of chatter about paring back the red carpet fashion parade in the wake of last year's Time's Up campaign, and sleek black-and-white looks predominating at other ceremonies this year, actresses succumbed to the dream of frothy, feminine prettiness and knockout jewels. It's everything you want from a red carpet, apart from that one look that is so gobsmacking you might actually remember it. There's always next year. Until then, these are the key looks to note...
Think Pink!
Pink was the perfect colour for actresses to hone in on. It's vibrant and flattering but also packs a very 2019 punch, even if it does clash with the red carpet. Traditionally the colour of sugar, spice and all things nice, now, thanks to Killing Eve's Villanelle, Nancy Pelosi's committee photo look and even Theresa May at a breakfast summit with Angela Merkel earlier this week, pink carries pangs of power capital. 
READ: Turn Up The Colour Factor With Fashion's Brightest New Trend
Julia Roberts, more a fan of tailoring lately, did fuchsia Elie Saab, Gemma Chan swooshed like fashion royalty in capacious Pepto-Bismol Valentino, and Helen Mirren wore a gown by Schiaparelli, whose eponymous founder coined her very own shade of shocking pink. "Life-giving, pure and undiluted," she wrote in 1954 — and, 65 years on, the description still fits. — Bethan Holt
Comfort & Couture
The next time you're in pain at a party and all you want to do is swap your burning heels for comfy flip-flops, think: "What would Oscar-winning actress Frances McDormand do?" As she presented Olivia Colman with the Best Actress award, she took to the stage wearing a Valentino gown with yellow Birkenstocks. Her footbeds weren't the only practical style-swap. That gown had handy pockets, as did Colman's Prada look — a rarity in a world dominated by bodycon slinkiness. Rashida Jones even wore a jacket over the top of her Rachel Comey after-party dress. — Caroline Leaper
Caped Queens
For three out of the five Best Actress nominees, the goal was to look regal. Glenn Close's Carolina Herrera gown was hand-embellished in India, with more than four million beads, and weighed three stone, largely thanks to the cape trailing behind it. "She likes anything that has a little or a lot of drama, something she can play off while walking the red carpet," Chloe Hartstein, her stylist, said.
SEE: The Coolest Looks From The Golden Globes Red Carpet 2019
Melissa McCarthy also used the cape to define her poise, with a piece that grew out of the shoulders of her Brandon Maxwell jumpsuit. Olivia Colman won the night, looking statuesque in Prada with a chiffon train as she took home the award for her portrayal of Queen Anne in The Favourite. Life imitating art, indeed. — Caroline Leaper
Go Retro
The first thing I thought on seeing Charlize Theron was "Wallis Simpson". The Dior couture gown in the same spring-sky blue as Wallis's Mainbocher wedding gown, the strict brunette bob and, of course, those jewels... the Duchess of Windsor loved anything with an animal reference, so would surely have approved of Theron's Bulgari Serpenti neckpiece. (She wore 300 carats of diamonds and almost 20 carats of sapphires in total. How fabulous!) Who knows if Charlize actually meant to channel Wallis, but Lady Gaga's Audrey Hepburn was undeniable: the long black gloves, the BD (it wasn't very L), and the 128-carat yellow diamond last worn in the Breakfast at Tiffany's promotional pictures. They don't make them like that any more. — Bethan Holt
Heavy Metal
On the spring/summer 2019 runways, there were lots of references to warrior women and the idea of clothing acting as protection in a world of uncertainty. This trickled down to the Oscars red carpet via high-shine and metallic fabrics on sculptural fitting dresses. Captain Marvel star Brie Larson swapped her on-screen superhero uniform for a chain-mail gown by Celine. Featuring a high halter-neck and equally high thigh split, it's not made for fighting crime but its glimmering liquid effect would make one pause for thought. Jennifer Lopez also joined in on the dystopian theme in futuristic mirrored mosaic gown by Tom Ford, while Emma Stone opted for a burnished metal dress from Louis Vuitton, literally dazzling onlookers. Now, that's a fashion superpower. — Chloe Mac Donnell
Save The Best For After
Who really needs the Oscars red carpet? This seemed to be the mantra of myriad celebrities who opted to make their debut long after the last statuette was awarded. Lupita Nyong'o gave fans a sneak peek of what she was wearing to the ceremony via social media, but saved the full reveal for the Vanity Fair soirée. In a dress from Oscar de la Renta, she also shunned the idea of practical party dressing, with her white-feathered gown skimming the floor (and, we imagine, numerous champagne spillages).
READ: Viva Life Hacks: How To Properly Wash A Silk Dress
Similarly, Kate Bosworth eschewed the idea of a shorter dress that's typically thought to be more suitable for after-party dancing. Her choice? A full-length beaded gown with a train by Cong Tri. Elsewhere, Angelina Jolie's infamous 2012 "legbomb" dress seemed to provide inspiration for several stars including Rosie Huntington-Whiteley, who put her best leg forward in a shimmering dress by Versace. — Chloe Mac Donnell
And The Men Wore...
Not to be outdone, Tinseltown's leading men upped their game. Alongside the handsome, classic tuxedos — Bradley Cooper in Tom Ford, Christian Bale in Brioni — a host of actors embraced the more experimental realms of men's style. Full-skirted gown with your tuxedo, anyone?
READ: Men Rule The Red Carpet These Days & This Celebrity Stylist Showed Them How
That particular ensemble came courtesy of the aforementioned Billy Porter, whose velvet tuxedo jacket that cascaded into a full skirt offered a bold statement for an industry mired by toxic masculinity in recent years. Other more outre dressers included Best Supporting Actor winner Mahershala Ali in sleek Ermenegildo Zegna Couture topped off with a beanie hat, Jason Momoa in a blush pink velvet Fendi with matching scrunchie, and Nicholas Hoult in an elegant Dior tuxedo with a fluid silk scarf attachment.
Of course, the traditional evening suit is a perennial at the Oscars. And our winner in the classic category? Actor Richard E Grant, in claret-shaded Brunello Cucinelli, with a contrasting lilac-grey lapel and waistcoat, his only accessory his pleased-as-punch-to-be-there grin. — Stephen Doig
— The Daily Telegraph
Share this: