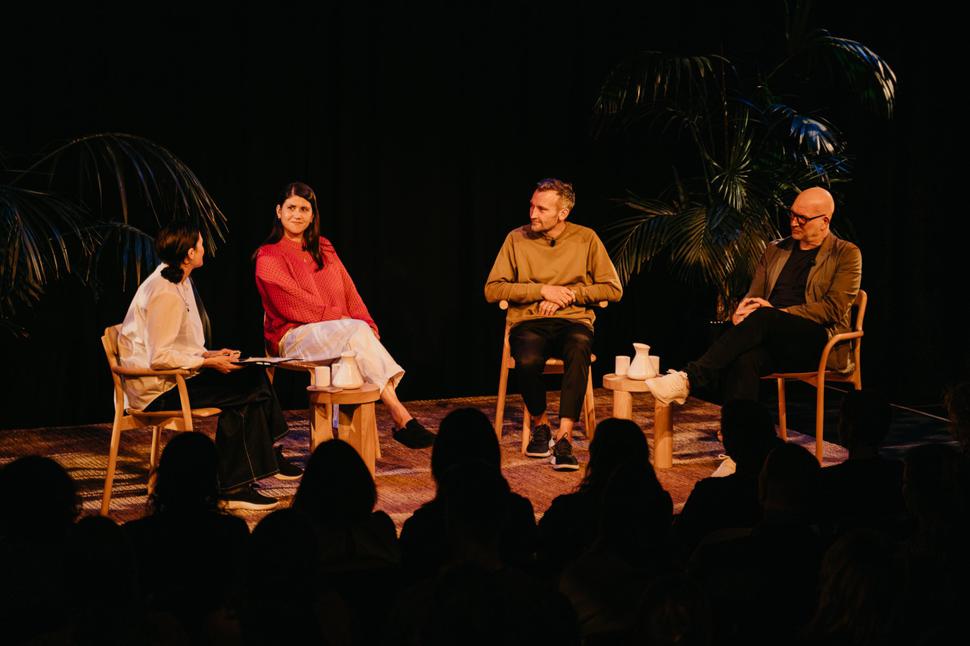 8 Key Takeaways From Kowtow's ZERO% Panel
Three local design luminaries shared their journey to a plastic-free, zero waste and carbon positive future
Tuesday April 27, 2021
Fashion Revolution Week has wrapped for another year, however discussion and action must continue. Rather than an isolated time to focus on sustainability, Viva sees the annual event as an opportune litmus test for what's new, what's not, and what to do next.
Many brands and industry figures used the week as a chance to highlight what they do throughout the year, benchmark what has changed since last time, educate the wider public, and encourage people to add new steps to their own sustainability journeys.
READ: How to be a Conscious Clothing Consumer
One such brand is local label Kowtow, which hosted a dedicated event, ZERO%, on Monday April 22 (also Earth Day) at Auckland's Q Theatre. Supported by Viva, Kowtow founder Gosia Piatek was joined by two other trailblazers — Jamie McLellan of Allbirds and Simon Coley of All Good — to discuss their respective journeys towards sustainability.
It's not often that four industry figures sit down for a frank discussion about businesses, waste, and ethics. Moderated by Noelle McCarthy, the uplifting and honest conversation spanned nearly two hours, and we were left with several enduring takeaways.
Sustainability is a journey
Nothing changes completely overnight, but rather the road to a sustainable, circular business happens step by step. All three agreed that adopting this mindset was key to realising change.
Don't let fear stop you
Off the back of the above, the panel understood how fear of doing something wrong, or fear of the magnitude of the problem, could make any change seem pointless — but countered with the importance of changing what you can now, and looking at what to change next.
Brands need to have ongoing responsibility
Kowtow repairs everything they sell, and Gosia stressed the importance of brands having responsibility beyond the point of sale. All three agreed that change would happen faster if companies were burdened with products at the end of their life cycle and had to resolve the problem in a circular, sustainable way.
A globalised market, and New Zealand's proximity, will always be an issue
Simon explained that transport carbon was one of All Good bananas' biggest issues, and it's something Kowtow and Allbirds grapple with too — both ship worldwide.
You must have some metrics
To really roadmap change and calculate success, Jamie explained that having a tangible metric to measure against is integral. For Allbirds, he said, that metric is carbon, and he wants to see it become a normalised part of labelling.
Constraints can set you free
Gosia talked at length about her decision to embrace simplicity and bring Kowtow's offering back to focus on only organic cotton, due to her commitment to phasing out plastic, and the inspiration she finds in these parameters.
Knowledge needs to be shared
Whether the scalability of sourcing offered by collective working (like several brands working together to meet minimums) or sharing research and development, the industry will move towards a sustainable model faster if businesses work together. Mentioned by Jamie during the panel and launched last week, Allbirds has announced it will make a version of the Carbon Footprint Calculator it has developed open-source, to help others work to this key metric.
The future is exciting, and close
Achieving circularity relies on technological development, whether it's science or logistical systems and quantitative reporting. Jamie in particular expressed his excitement about how close we are to technology having scalable solutions for sustainability and circularity, and it's a positive sentiment shared by everyone on the panel — speaking to hope and the power of change.
Share this: