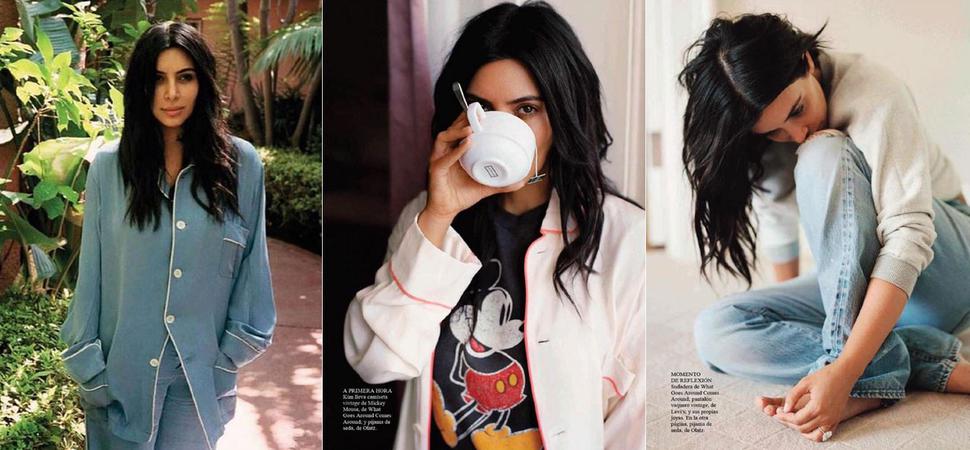 Kim Kardashian's No Makeup Fashion Shoot
And the other news you missed this week
Thursday July 23, 2015
1. In contrast to the highly-contoured Kim Kardashian West we're used to seeing, the reality TV star has gone au naturel in a shoot for Vogue Spain with both her makeup and dress. Shot by Theo Wenner and styled by Stevie Dance, the editorial sees Kardashian West relaxing at the Beverly Hills Hotel in pyjamas, undone jeans and a Mickey Mouse bedroom t-shirt, with nothing but moisturised skin, curled lashes and lip balm, according to her makeup artist Mario Dedivanovic.
2. Famed Italian fashion designer Elio Fiorucci, who rose to fame in the 1970s disco era, has died, aged 80. Of the brand, designer Marc Jacobs told the New York Times in 2001: "When I was 15, instead of going to sleepaway camp I spent the whole summer hanging out in the store. I had this wide-eyed glamour about these beautiful young people that globetrotted from club to club dressing in these fabulous clothes. It was like a living, breathing fashion show that I wanted so much to be a part of."
3. Karen Walker has teamed up with beauty giant Sephora with a set of limited-edition brushes and a compact mirror, made with a tortoiseshell finish and the designer's trademark filigree detailing. The range, which is available later this year, will available be only in Sephora stores and on sephora.com.
4. Model and entrepreneur Karlie Kloss is trying her hand at vlogging, launching a YouTube channel this week called Klossy. The trailer for the new venture tells her life story thus far, and details what will be revealed in episodes to come.
5. Taylor Swift is launching a fashion line which will be exclusively available through JD.com, the largest e-tailer in China. Swift is working with Heritage 66 Company on a range of dresses, sweatshirts and tops, designed specifically with the Chinese market in mind. 
6. Net-a-Porter and Yoox have officially joined forces, with a deal between the two e-tailers being finalised this week. Net-a-Porter founder Natalie Massenet will be the executive chairman of the new company, and Yoox founder Federico Marchetti will be the overall CEO.
Share this:
More Fashion / The Latest