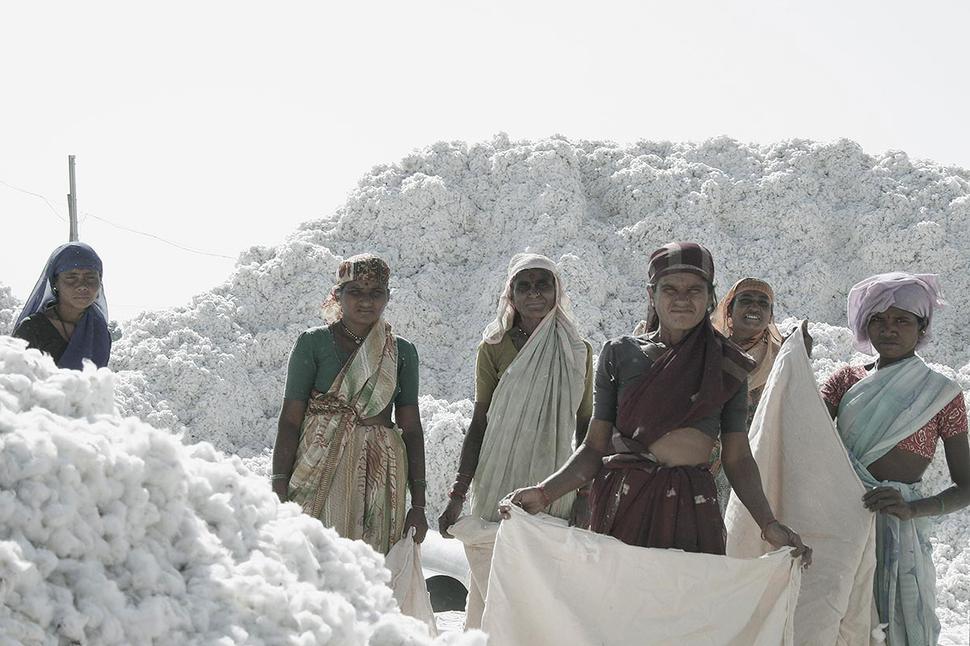 Ethical Living: Kowtow
We talk sustainability and fashion with designer Gosia Piatek
Monday June 15, 2015
Ethical and sustainable clothing brand Kowtow is a welcome world away from the excessive consumption of fast fashion. Founder Gosia Piatek's thoughtful approach to design has seen the brand double in growth every year since beginning the business eight-and-a-half years ago, with her garments now stocked in over 150 retailers worldwide.
The 100 per cent Fairtrade certified organic, ethical and sustainable clothing's production process as documented on their website thoroughly illustrates the creation of their garments as the brand effortlessly blends social sensibility with well thought out minimalist design — a far cry from the typically clouded process of most fashion brands. 
"We don't believe anyone who is truly aware of what is going on in the world would want to turn their heads and support a slave trade economy," explains Piatek. "We are limited to who we can work with and the materials we use. For example, we cannot find ethically made zips so we don't use them and instead we use Italian-made recycled hemp buttons. So even though we have major limitations they have worked to our advantage, it means that Kowtow has a very specific look — it is easily recognisable for its minimalism and simplicity."
Why do you feel so passionately about ethical fashion/living and the issues surrounding it?
It feels to me that it's the only way forward to ensure we live on a healthy planet. It's even more important to me now than ever since becoming a mother, I want my son and his children to live in a place where they can swim in clean water and enjoy fresh air. I think these things are no longer a given for our future if we don't all start doing something about it — making conscious purchases, living a sustainable lifestyle and starting these conversations. Eventually this topic will reach a tipping point where consumers will drive demand from larger organisation to make some real change
When did you first become interested in the topic?
When I was a teenager. We used to as a family spend a lot of time on the weekends in nature — at the beach or taking a bush walk. It made me realise how good I felt in nature and that I wanted my job to be an extension of that feeling.
How is Kowtow received by customers?
I'd say that customers are receiving us exceptionally well. However, we couldn't survive or grow if the only offer was our ethical and sustainable credentials. It is also about design: our shapes, colour palette, prints and fabric weights that make us so successful and have people coming back for more.
How do you ensure your brand is ethical, from how it's made down to the fabric that garments are made from?
We are certified by the Fairtrade Labelling Organisation (FLO) which works with marginalised cotton farmers to ensure they work in humane conditions. As well as this they benefit from the Fairtrade premium which is deducted from our turnover. The farmers are also certified by the Global Organic Textile Standard for organic farming techniques. From the farm, the cotton travels a complicated and lengthy production chain which FLO monitors; once picked it goes to a ginning mill where the seed is separated from the lint, then it is spun into yarn, then knitted or woven into fabric, dyed and finally ends up at the factory for cutting, stitching and finishing. We are also very happy to announce that as of Summer 15/16 all out garments are sea shipped from the factories instead of air freighted.
How do you source materials?
We only work with certified Fairtrade organic cotton and our factory develops the fabrics for us from scratch to our specifications i.e. we get to choose the weight, colour, yarn count, warp and weft. It's a very complicated process but means that no other brand will ever have the same fabric as us, which is pretty incredible.
Do you believe that all brands should be transparent about how their garments are produced?
Yes of course. If you are hiding or not digging into information that involves human rights and ethics then that feels terribly wrong. If you saw a 12-year-old child working overtime stitching your $10 T-shirt I'm sure you wouldn't want it in the end.
Are Western societies doing enough to change the situation of garment factory workers?
As a consumer you have the choice to support ethical-made production, but unfortunately most high street labels do not have a transparent production chain, and it is up to the consumer to find labels that do. High street labels could definitely make frequent and small changes to better their traceability. I feel like it doesn't all have to be done at once, baby steps are better than nothing.
Why do you think it is so difficult to increase workers' wages and improve conditions?
In the Third World (where most clothing is produced) governments tend to be more corrupt with poorer labour laws compared to the First World, so it is up to each brand to choose a factory with ethical credentials that doesn't condone child labour or very high overtime hours for example. Both the factories Kowtow uses are monitored by the Fairtrade Labelling Organisation  which audits them annually.
What can shoppers expect from Kowtow this summer? What's in store?
I am so excited about Summer 15/16! We were very inspired for summer and the collection came together  easily. In fact we have now approximately 150 retailers worldwide with this range. It feels like all the stars aligned — the colour palette is soft with an exciting introduction of organic chambray, the shapes are fresh and we have also collaborated with Houston Design Co. to create a range of ceramic pieces featuring our limited edition Dots print. I can't wait for this range to hit stores and online in August.
Share this: