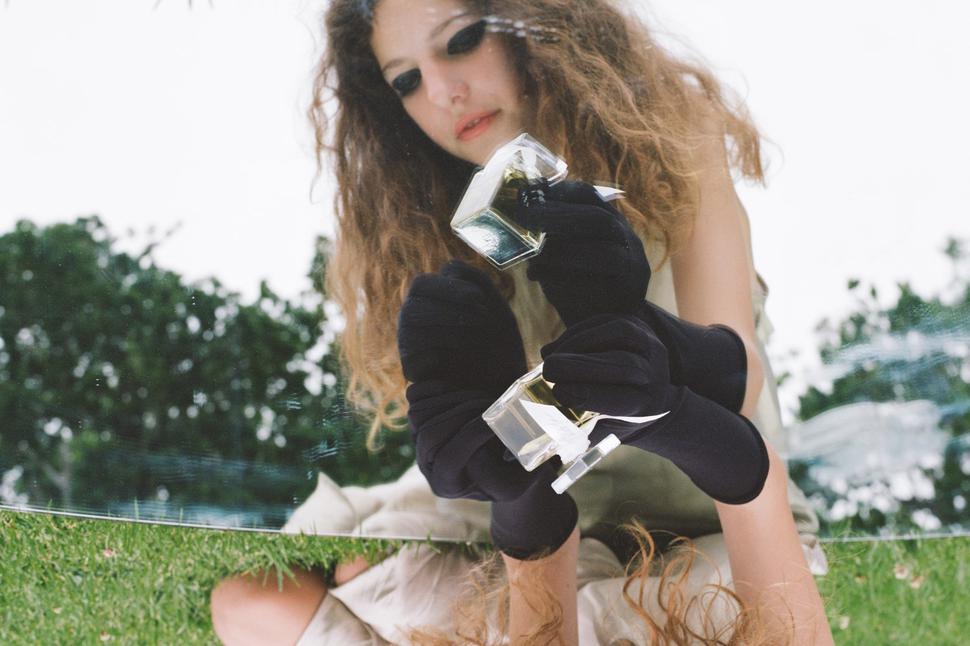 Kristine Crabb Is Back With A Glorious New Offering Of Fashion & Fragrance
Hiatus over, Gloria is the name of her new venture (and amazing grandmother)
Tuesday July 13, 2021
After some much needed time for rest and reflection — she closed the doors of her namesake fashion brand Miss Crabb two years ago — Kristine Crabb is back from hiatus with a new label called Gloria, fresh zeal, and a singular vision.
Alongside her signature garments is a fragrance, Gloria Extrait de Parfum by Curionoir. It's inspired by Kristine's grandmother, the brand's namesake, and features notes of freesia and lily of the valley, encased in a 50ml glass bottle with a charm by jeweller Lucinda Barrett.
It's a sentimental, sensory way to discover Kristine's new project. The third and final campaign video for the scent has just been released, and the evocative vignette was created by the team of Manon Elphick-Aulon, Katie Melody Rogers and Kristine's daughter Frances Barber.
With this latest creative instalment, and growing momentum behind the Gloria offering, we thought it timely to catch up with Kristine Crabb to find out more about her new project.
Could you tell us about Gloria — what's the vibe, who is the Gloria person?
Gloria is my new creative project, a platform that I can share my ideas for clothes, photography, and little events. It's a love of life, nature and bodies. It's a smaller scale so I can be more creative and make the things I dream of. Gloria… It's a state of mind… It's freedom and beauty. Our first project when we launched a few months ago, is Gloria perfume. A fragrance made by Tāmaki Makaurau perfumer Tiffany Witehira of Curionoir. It's a fragrant representation of the future project of Gloria; ambrosial, expansive, modern.
Why did you decide to launch a new label?
I don't know! The stars aligned and I just still love making clothes, I love working on photoshoots and seeing the work out there, making people happy. There are still things that I want to make, that felt that I couldn't make before.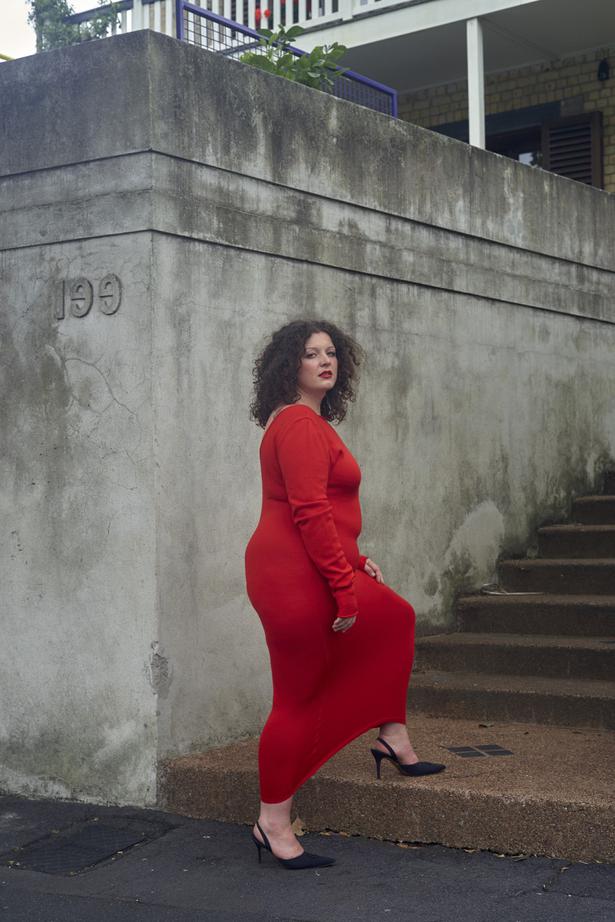 What was it like having time off after closing Miss Crabb?
I have loved my time off, a lot. I focussed on all aspects of my health, became a gardener, did heaps of cooking, did some renovations, hung out with the kids and just started working on Gloria. I nurtured my introverted ways. I was overwhelmed by the support of our audience and media which has allowed this much-needed hiatus for me, for which I am so grateful. (Thank you Viva).
READ: Why It's The End Of An Era For Cult New Zealand Brand Miss Crabb
What was the process of creating Gloria like?
It was pretty up and down, it was pretty daunting, and it still is, as it's such a lot of work creating a business and making new work. It's exposing and quite hard on my nerves. But it is also quite grounding too, it's given me faith in my talent, skills and capabilities. I'm a single parent to my three kids which is pretty busy on its own. Adding an art project type clothes business on top is a bit crazy.
What has it been like for you scaling back and starting again?
It's been really cool to be making and dreaming up new things, getting into a more structured work rhythm, I feel like this is what I'm meant to be doing. Seeing the coolest clients and customers doing nice projects, doing the photoshoots and presenting everything, the showroom, the webstore. Working with my amazing machinists and suppliers again (everything is done in Auckland, and some knitting in Tauranga). We have been pretty lucky to have this opportunity.
What will Miss Crabb fans love about Gloria?
It feels familiar yet fresh and constantly evolving.
READ: Looking Back At Miss Crabb's Greatest Hits
What makes Gloria different to Miss Crabb?
To me, it's working a lot differently. It's smaller, less commercial pressure, more intuitive and playful and hands-on. A better harmony with my life; that's my goal anyway. In terms of style, it's steadfast with my creative vision, creating newness but also enjoying the relevance all my work still has. An evolution? I make things to last forever so there's a futuristic and retrospective feel to everything, being classic and subversive at the same time. Technically minimal and complex simultaneously. I want the clothes to be strong and clever, but also a classicism to blend and sway into your life naturally, for a long time and to be passed around. Having been able to invest in my health a bit more, it has changed the way I want to dress. We live in a time where less f**** are given. The need for comfort over everything else in what we wear. Comfort is the ultimate luxury now, it's kind of revolutionary.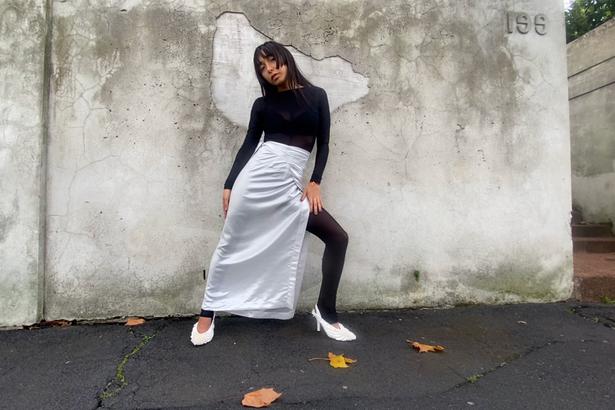 What's the range like? How many pieces are you offering, and what are the standout designs?
We have a ready-to-wear collection of styles that are produced in small runs, like editions, made in special fabric that we source. The ready-to-wear collections are new designs and my own archive favourites. It's a collection that will be built upon as time goes by, as I am inspired and have the time to make and produce new work. The Madonna and Magenta are my ultimate favourites and future classic, bias-cut pieces with one diagonal seam throughout the garment, which I started making during lockdown over 12 months ago. I've been working on some Gloria suiting separates which are launching this spring, which I am really excited for. They are extremely minimal, loosely structured and relaxed but classic and sharp enough that you feel ready for business.
Where did the name come from?
My grandmother Gloria is an inspiration and influence in my life. I look at her I think freedom and love of life. She loved people, her family; especially me, as I was the last grandchild and we lived next door when I was little. She had an amazing fragrant and wild garden with peacocks roaming and a Pania of the Reef sculpture. Interestingly, she flew planes, rode an Indian motorcycle (also to visit my pop in Matamata from Swanson), she voted Labour (down on the farm in the 20th century), and she didn't settle down and start her family until she was in her early thirties. I identify with her singularity and kind of curiosity for beauty and knowledge.
Gloria is made-to-order, is that right? What was behind this decision?
We do custom projects, yes. It's such a modern way of buying your clothes; maximum quality and service. Made-to-order is so cool and creative and actually inspires me for new work also. It's really good to meet with clients and see their interpretation of the work and how it fits the body and what they want in a garment. Our clothes are so fluid for all body types that they lend themselves so well to this way of working. We've always done projects for artists and musicians and this is one of the best bits about making clothes. I hope to one day I hope to fulfil my dream to do costumes for dance and theatre and film too.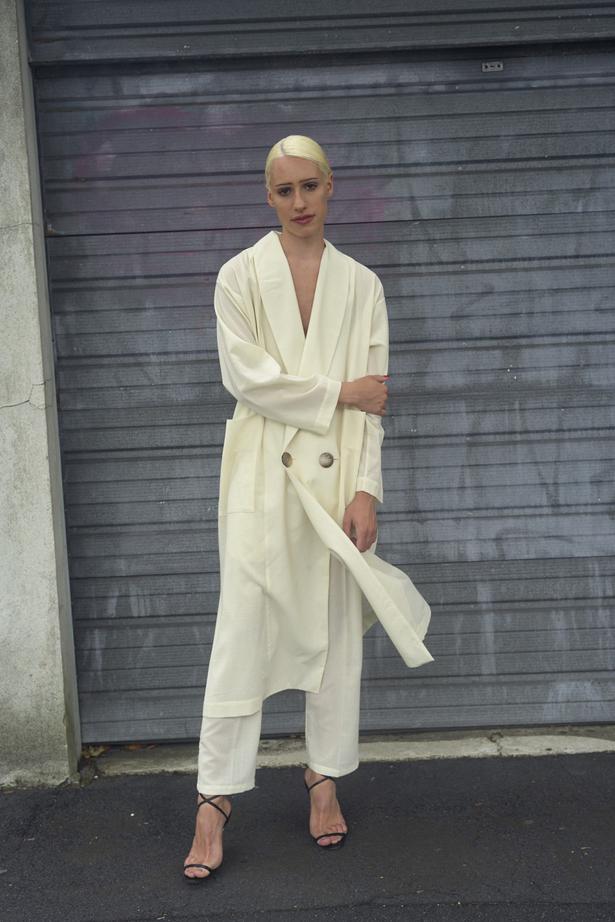 What inspires your work with Gloria?
Freedom. Colour. Architecture and sculpture for the body. Men's clothes. My dear friends who are also artists and running businesses and moms. Dolly Parton forever. My kids and how clever and free they are. My garden and perfume. Health and happiness.
What do all your design projects have in common — Rip Shit & Bust, Miss Crabb, Gloria — and how have you evolved as a designer since then?
Just freedom… Freedom for me, freedom in the style of clothes.
READ: The Auckland Museum Acquires Miss Crabb's Archives
Your own personal style is ever-evolving yet always very "Kristine Crabb". Why is this an important part of creativity, and what are you into at the moment?
I feel I'm getting back my personal autonomy. The kids are older now and don't really rely on me as much, so my body and time are more my own now, and I think that will be reflected in refinement and simplicity. Before when I was pretty stretched and the kids were little, the clothes were super flowing and hardworking at doing lots of different things for different aspects of life, because that is how I had to be. Maybe now is a chance to be more fun, more sexy, and have more time to be over the top.
You've been part of Aotearoa's design landscape for so long — what are your thoughts on how its changed, and its future?
I often say to my kids that it's such an exciting time to be in Aotearoa. We hit the jackpot being born here. I feel like Auckland is so fresh, activated; there's so much cool stuff happening, bubbling away. You can discover new things… it reminds me of the time before the Internet.
What are you most excited about, in the local fashion and creative scene, going forward?
Everything! There are talented young people doing amazing things in fashion, art, music, food, shows, performance, comedy, et al, and in all areas of Auckland and wider New Zealand. Then there are my peers steadfast, at the top of the game… constantly striving to make things better, for more people. There's a revolutionary movement to strengthen local, artisan products and businesses, to create the world that we want. I'm really excited for The Realness movement, originated by Damaris Coulter.
What would your advice be to young designers and creatives just starting out?
It's a pretty great thing to do with your life, you are given a gift of creative talent. Don't take it for granted; feed it and nurture it to keep it flowing. Stay true and singular to it and get on the journey. "Buy the ticket, take the ride," said Hunter S Thompson. You'll meet the best people and work on the coolest projects and have a marvellous, yummy life.
Where can people see the Gloria range?
Everything we do is online at Gloriagloria.com. It's such a beautiful new space, one which we update with new releases every few weeks or so. We have just added a booking system to our site where can schedule a visit, much like a therapy session, and come visit our new Ponsonby showroom and touch and try the ready-to-wear styles. Our Instagram @highascandywine is where you'll find special curations of images and video content and an easy way to access the shop also.
Share this: