Kylie Minogue's New Eyewear Collection
Kylie Minogue talks inspiration as she launches her new Specsavers eyewear collection in stores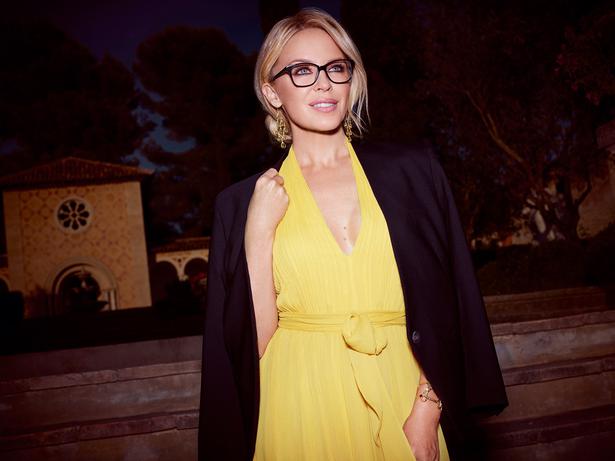 Wednesday March 8, 2017
I'd imagine you've been approached to do a fashion line many times before. Why was now the right time to pursue an eyewear collection?
This year I celebrate 30 years of making music, which is an exciting milestone and it just felt like the right time for a new project and one that was style-related.
What sets your Specsavers range apart?
The starting point was going through all the frames I already have — some of which are more than 20 years old. They were so diverse — designer brands, cheap and cheerful, vintage — and each represented a different era or style.
We then developed the collection as a mix of Modern Classics, Subtle Bling and Reinvented Vintage, including a variety of shapes, colours and textures so there's plenty to choose from. I was excited to include petite sizes for some of the frames as I know, first-hand, it can be difficult to find styles which suit the "petites" out there.
Why do you need to wear glasses?
I need glasses for reading, so usually I'm wearing them at home or when I'm working, writing, doing computer work, reading scripts, etc — often not places you might see me, aside from in restaurants looking at the menu. I wear sunglasses a lot though and find them especially useful as I have sensitive eyes.
The bonus is that beyond being practical, they will always be a fashion statement. I first started to wear reading glasses when I was about 22 so, between optical and sunglasses (and often a combination of the two), they truly are an important part of my everyday life.
Can you give some examples of how you mix different glasses with what you are wearing?
One of my favourite styles is a tortoiseshell pair. They have a very classic shape but with a slightly more masculine feel and a bit of a sexy edge, with a little bit of sparkle on the side. I would wear them every day with jeans and a crisp, white blouse, but could also take them into the evening with a cocktail mini-dress and heels.
When it comes to sunglasses, one of my favourite looks is the round-eye, retro-look frame. Perfect for summer road trips with the girls, the delicate rose-gold lens rim complements the chocolate-brown leather temples and blush tips. Pair these with your favourite one-piece bathers, chunky bracelet and a silk head scarf for a bit of 1950s luxury.
What can you tell us about your recent signing with BMG?
I've already started work on my new album. It's been so rewarding and such a good tonic to be back in the studio. I draw on a lot of experience but at the beginning of the recording process (and with a new label), it feels fresh and very exciting and I can't wait to finish it and share it with everyone.
After many years as a pop star, how do you stay current?
Passion and dedication to everything I do, whether it's music, acting or fashion and style — I try to commit myself to it completely. I have been very fortunate to have had many opportunities but I've also worked incredibly hard to get where I am and to stay relevant.
You've lived a very public life that naturally has incorporated highs and lows. Would you say you look at life through rose-tinted glasses?
I try to see the glass as half-full. Life through rose-tinted glasses is definitely a good option. I adore pink and made that part of the eyewear collection.
What do you hope the rest of 2017 brings?
Firstly, I'm excited to launch the Kylie Minogue Eyewear collection for Specsavers. I'm also excited about the new album, new performances, new adventures. Also, I'm looking forward to the Aussie film, Flammable Children being released. Working on that with Guy Pearce and other amazing actors was so much fun. It's a true slice of late 70s Australiana and I know those who watch will be in for a good laugh.
Share this: