Kym Ellery's Stylish Life in Paris
Australian fashion designer Kym Ellery talks about her new Specsavers eyewear range, life in Paris and why she thinks Australians are succeeding on the world stage when it comes to fashion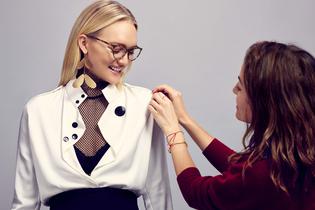 Celebrated for her bold, architectural designs, Australian fashion designer Kym Ellery - whose parents are both Kiwis - approached her new Specsavers eyewear collaboration in a similar way to designing fashion. "It's very much about working with a strong silhouette and looking for shapes that I felt would be modern classics," she told us while on holiday in Israel.
There are 20 styles in the collection, including sunglasses and opticals influenced by film characters - Diane Keaton in Annie Hall, Susan Sarandon in Thelma & Louise and Woody Allen as, well, Woody Allen.
Top Australian model Gemma Ward stars in the campaign, wearing the frames with pieces from Kym's new resort collection. "Gemma is an incredibly accomplished and beautiful model. She is the most successful model Australia has produced and she's from Perth, which is also where I grew up," explains Kym, who now resides in Paris. "She is a modern woman and a young mother - I felt that she really embodies what the collaboration is about."
How did you approach creating this collection for Specsavers, and ensuring the "Ellery" aesthetic came through?
The same way I approach any range: it's very much about working with a strong silhouette and looking for shapes I felt would be modern classics. I wanted them to be something you can wear for a long time - classic silhouettes. Eyewear is different technically to ready-to-wear. The engineering is incredible for me to see. 
What are your favourites in the collection?
I really love the gold circle frames that were inspired by John Lennon - they feel really simple and look very subtle.
How long have you known Gemma - and how do you meet?
We met first when she walked for my Mercedes Benz Presents show at Australian Fashion Week in 2015, so not that long ago - she was just coming back into her career and had just opened Prada in Milan not long before. We met at her fitting and we got along really well. She's a really beautiful woman. I love how calm she is.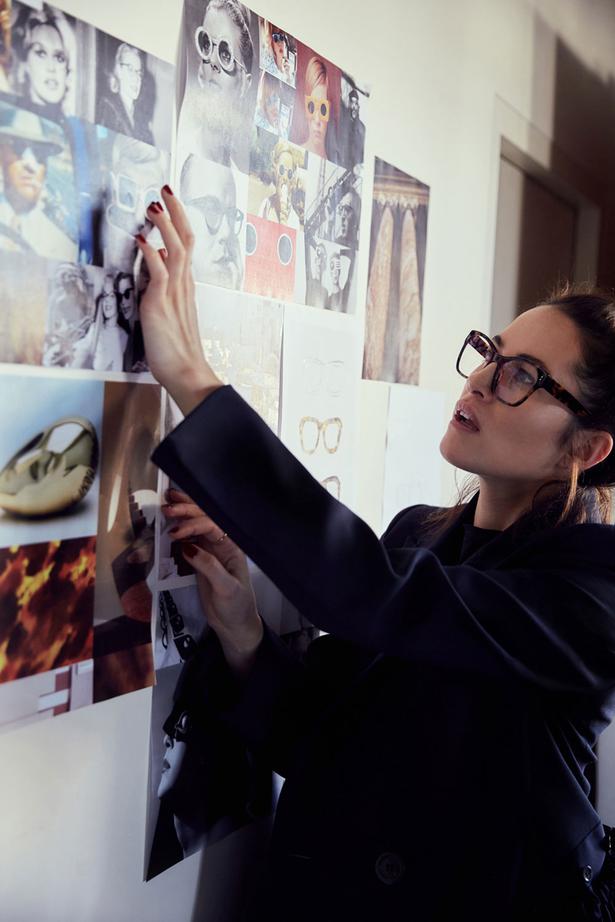 Tell me about the shoot day - where did you shoot, and with who?
We shot at Sun Studios in Sydney with photographer Darren McDonald, who I have worked with many times. We had been in the studio three days before shooting the Ellery Resort collection, so it was really great being in the same studio the next day for Specsavers and having the entire new collection there, freshly shot and to be able to put it straight on to Gemma. I found that really cool, it's always fun getting to play with a new collection. We shot the collection of 12 ophthalmic frames and at the end of the day, before we shot the sun collection, we took little risk and tried a red lip on Gemma. She looks incredible.

When you begin designing anything, where do you first like to begin?
Usually when I begin thinking about what the collection is going to be about I think about who the woman is going to be for the season. What her vibe is, her feeling and nuances. With the Specsavers collection I looked at iconic cinema personas to inspire the different frames. I thought about what frames these characters would wear as well as thinking about creating a range of modern classics. 

Tell me about your studio in Paris.
I have just moved to Paris, a very exciting step for the brand. I started relocating earlier this year and I'm about to start setting up a studio there. We have a showroom during fashion weeks, four times a year and currently we are showing out of an incredible space on the Seine in the 1st arrondissement. It's like going to work in a dream each day.
What is the best thing about showing at Paris Fashion Week?
I love how professional and hardworking everyone is there. The industry really comes together to create something great. At the end of the day that is what it's about; a beautiful memory, a special feeling, excitement and creativity. It's what I wake up for each day. 

Where are your favourite Paris spots?
- Le Relais de l'Entrecôte is this really amazing steak house. It's the first place I go to when I get off the plane. The sauce is unbeatable.
- L'Eclaireur is a multi brand luxury boutique. They have several stores all around Paris and have an incredible offering.
- I live in the 2nd arrondissement and it's my favourite area because it's very central. It's close to the Marais and also the 10th which is full of great restaurants and bars, but most of all it's close to my friends. 
- I recommend lots of the art galleries around Paris, especially a very tiny gallery called Atelier Brancusi which is next to Centre Pompidou. It was left by Brancusi to the state when he died and one of the special places that I like to visit regularly. I love to sit on the grass in Place des Vosges next to the fountain and watch passers-by. It is the perfect place to go on a sunny day and read a good book. 
- Cafe de Flore in Saint Germain is a favourite. It's a very historical cafe, always buzzing with lots of people. I love to sit on the terrace with friends and watch the world go by. 
What is your favourite thing to do on a day off?
In Sydney I love to go to the beach for a swim. In Paris I love to walk around the city and listen to music in my headphones. Sometimes I go out to the 9th and visit the music district. I love to go and look at all the different instruments. I recently bought a Gibson Les Paul Custom electric guitar so I am really interested in learning about the different pedals you can get.

Where are you mostly based?
I spend a lot of my time in different places. I have all of my things in Paris right now so that feels like home, but my team and the main Ellery office is in Sydney. I just got back from vacation in Capri, Mykonos and Tel Aviv for the last week which was amazing, who knows where I will be next month or even next week.

What are you reading, listening to and watching at the moment? 
- Reading a book by a French Buddhist monk called Matthieu Ricard, it's about what true happiness is. 
- There are so many exciting things to listen to right now. I really enjoy Jacco Gardner, Fat White Family, Tame Impala, Connan Mockasin, Jack Ladder, John Maus and Kurt Vile who I saw play in Paris a few weeks ago. 
- I watched a couple of Australian films on the plane recently, The Castle and Crocodile Dundee. It was fun to have an Aussie movie marathon.

What influence did your time at Russh magazine have on your business, brand and approach to fashion?
I started working at Russh when I was 21 so it was a really good place for me to learn about fashion and to develop an aesthetic that would eventually be what I applied to the brand. It was also a great place for me to understand how the industry works and how everything connects. When I started Ellery I wanted to create a brand, not just make clothes.
SEE: Every look from Ellery at  Paris Fashion Week
Australians are really succeeding on the world fashion stage right now, from Christine Centenera to Justin O'Shea. What do you think is behind this Aussie interest and success?
That's so nice that you say that. I'll have to let Christine know because I am actually with her at the moment in Tel Aviv! I think that the key to CC's success is not only her hard work but also her highly discerning eye. People don't necessarily always understand how intense it is to work at a magazine like Vogue. She wears it well. Justin is also a good friend of mine and his story is a special one. To come from the middle of nowhere in Australia, working in the mines to then become the head of Italian brand, Brioni, is just amazing. Justin has a very critical eye and I think that is a common thread. 

Christine recently posted an Instagram photo of you both with Demna and Guram Gvasalia of Vetements. What's your take on their brand, and how they are shaking up the fashion industry?
I think it's really interesting to see someone thinking differently about the industry and challenging the status quo. It's working really well for them and for their brand so I think it's a good, interesting move.
What are your top five favourite spots in Sydney?
1. Icebergs for dinner and cocktails.
2. Palm Beach for a paddle board or a swim
3. Fratelli Paradiso, for a beautiful Italian meal in Potts Point
4. Parlour X on Oxford St in Paddington to go shopping
5. And I can't forget our new Ellery boutique which is opening in a few weeks in Paddington. It is going to be a stunning retail experience for our customers and I can't wait to share it. 
Your business has grown so much in recent years, including your recent launch of footwear and denim. What are your ambitions?
I would like to continue opening retail globally. We are building the new Sydney store as a flagship and a template for what we would like to roll out globally in the next five years. I would like to continue to open a physical Ellery store in Paris, London, New York, Hong Kong and LA (to name a few) which will take a long time but there's no hurry. I am just enjoying the process right now. Ellery was also recently welcomed as a member into the esteemed Federation Francaise de la Couture, de Pret-à-Porter des Couturiers et des Createurs de Mode so I am really flattered to be welcomed into their club. It's an honour to be a part of Paris Fashion Week and eventually I would like to create haute couture. It's a big dream but it is something I will work towards in the coming years.
The Ellery eyewear collection is available from Specsavers stores from July 28.
Share this: