Granny-Goth Lady Gaga a Hit at Marc Jacobs
Musician Lady Gaga's presence at Marc Jacobs created buzz at New York Fashion Week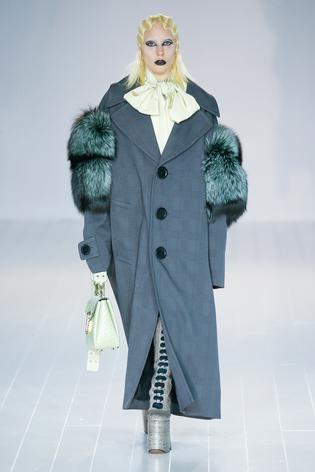 Trust Marc Jacobs to end New York Fashion Week with the most talked about show of the city - a beautiful granny-goth collection featuring Lady Gaga.
Gaga and Jacobs had worked together earlier in the week on the singer's Grammys tribute to David Bowie.
The New York designer created three outfits for Gaga that, with the addition of a lightening flash and flame red hair, helped transform Gaga into a high-fashion version of the Starman.
So perhaps it was inevitable that Gaga would return the favour: lending her star presence to the Marc Jacobs show.
Gaga's Bowie-style flame hair was gone. In its place a tight-curled, blonde, Victorian-style wig, gothed up with heavy eyeliner and black lips, as she modelled the designer's standout autumn/winter 2016 pieces.
Throw Miss Haversham into the 21st century, and this would have been the collection for her. Oversized hockey-style sweatshirts with crochet doily-style shoulders were worn with enormous knee-high platform boots that put the notorious Vivienne Westwood version, that tripped Naomi Campbell, to shame.
READ: Celebrity Sportswear, Plush Sofas and a Blizzard at New York Fashion Week
The show started early, surprising even the most seasoned of fashion editors - which meant that many missed out on this, one of Marc Jacobs's greatest hits.
The craftsmanship and imagination behind the collection was formidable.
Glittering paillette jackets, purple pussy bow blouses, metallic full skirts that fell just below the knee, thigh-skimming coats, giant furs and full skirts?... it was hit after hit.
The backstage applause post-show was almost as loud as front of house. Testament to the time and effort put in by the behind-the-scenes workers: hair, make up, production, studio hands, seamstresses and more.
But before you start thinking you're not going to be recreating Gaga's granny goth for yourself, make this your takeaway point from New York: purple is the emerging trend.
Whether in a ruched striped dress, or accented here and there in a bright bag or a pair of gloves, the colour punctuated the collection - as it has done the city all week.
GALLERY: Inside New York Fashion Week
— The Daily Telegraph
Share this: