Book Club: Legendary Authors & The Clothes They Wore
Former i-D editor Terry Newman explores 50 literary icons and their connection to fashion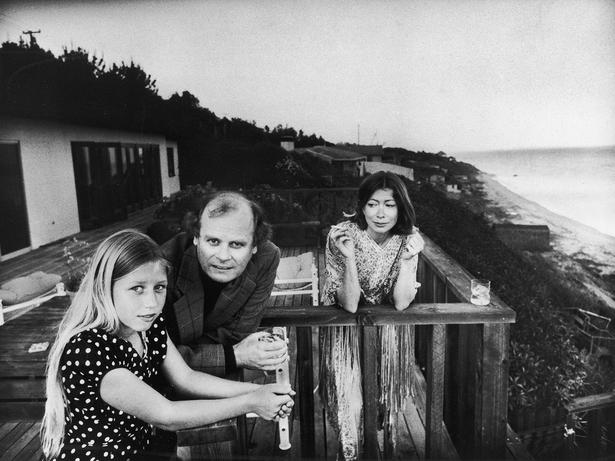 Monday Jan. 22, 2018
Opening with the "unfussy elegance" of Samuel Beckett and ending with the white-suited Tom Wolfe, this new book offers a refreshing appreciation of the relationship between style and the written word.
In Legendary Authors and the Clothes They Wore, former i-D editor Terry Newman explores 50 literary icons and their connection to fashion — from what they wore to how they wrote about clothing.
Julian Wasser's photo of fashion favourite Joan Didion leaning against a Stingray (an image shared countless times on Instagram, and replicated in a Celine campaign) features on the cover (pictured below), while inside, Terry zeroes in on writers who include Colette, David Foster Wallace, Zadie Smith, Marcel Proust, Maya Angelou, Fran Lebowitz, Patti Smith and Sylvia Plath.
Sections also focus on the recurring signature items worn by writers: glasses ("statement spectacle wearing is a shorthand for thoughtful intensity"), suits, memorable hair (Susan Sontag's streak of white) and hats (Capote and Wharton).
Throughout, you'll discover delightful sartorial details about each writer, such as that Jacqueline Susann wrote in her school yearbook that her ambition was to own a mink coat, or that Beckett carried a Gucci hobo holdall.
Kate Sylvester's 2014 Tartt collection, inspired by Donna Tartt's The Secret History, gets a namecheck, too.
Our only quibbles? Bret Easton Ellis is a glaring omission, and the likes of F. Scott and Zelda Fitzgerald, Nancy Mitford, Joan Didion and Oscar Wilde surely deserve more than their allocated six pages.

— Legendary Authors and the Clothes They Wore by Terry Newman. Published by Harper Collins, $58.
Share this:
More Fashion / The Latest