How to Try the Leggings Trend
As leggings continue to pop up well beyond the gym, Viva's editorial and fashion assistant Danielle Clausen takes the trend for a spin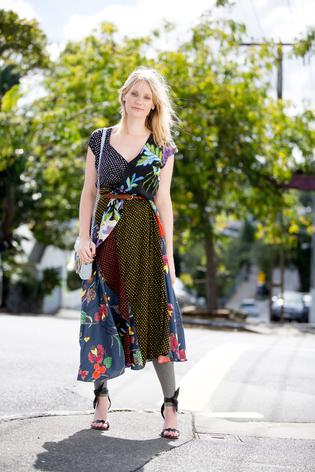 Just the word leggings conjures up the old active-wear at brunch conundrum and, most recently, caused a worldwide stir when two 10-year-old girls were barred from a United Airlines flight because they were wearing, you guessed it, leggings. Meanwhile, on recent runways at the likes of Versace, Balenciaga and Chanel, spandex has been making a comeback. 
Let's say you were game enough to take this stretchy style for a spin beyond the gym - how to proceed? Given that more often than not I'm found wearing jeans and a sweater, the prospect didn't exactly seem natural to me. 
Clever layering is the answer here, opting for levels of tightness that sit well with your personal style - in my case, a floaty dress cinched with a belt.
Master the proportions of your look and experiment with silhouette and, before you know it, you may just find yourself spending the whole day in, gasp, leggings. Although after taking them for a spin once, I'm still in need of a little more convincing that they are here to stay. 
Here are some ways to try the trend yourself:
1. I opted for perhaps the safest option of the bunch, as seen at Jill Stuart for Spring 2017. A flouncy floral midi dress with a pop of legging out the bottom is a great way to breathe new life into summer frocks, not to mention practical as autumn sets in.
Starting with a pair of super-soft Mahsa leggings ($240), I teamed them with a Diane von Furstenburg dress ($1250 from Muse Boutique), Isabel Marant Etoile belt ($229 from Workshop) and Rebecca Minkoff bag ($360 from Scarpa).
Footwear is also key: Try a pair of strappy heeled sandals, like these Ruby heels ($299), or a pair of flat slip-on mules make a great casual option. Keep this look well clear of athleisure for special occasions.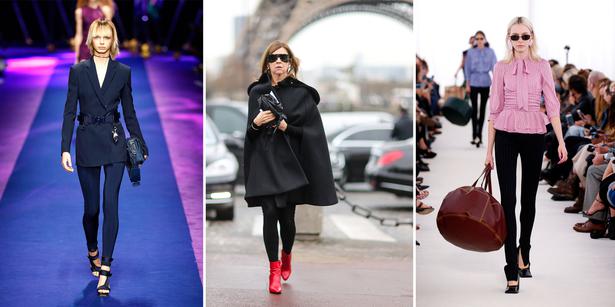 Versace Spring 2017; Carine Roitfeld; Balenciaga Spring 2017. Pictures / Getty

2. For those who love a blazer, pairing leggings with a longline version of the style that skims mid-thigh, a la Versace, makes for a modern take on the suit. Opting for tonal accessories helps to keep the look polished.

3. If you're a fan of the cape, take your cues from Carine Roitfeld during Paris Fashion Week and cosy up with a pair of leggings and statement boots - a pop of red and slick aviator shades add edge to an all-black ensemble. It's a look that also works easily with an oversized wool coat or trench.

4. Wanting to go all in? Balenciaga is your port of call, pairing romantic blouses with pinstriped variations of the legging. Oversized, geometric accessories help offset the body-skimming silhouette.

Share this: