SPONSORED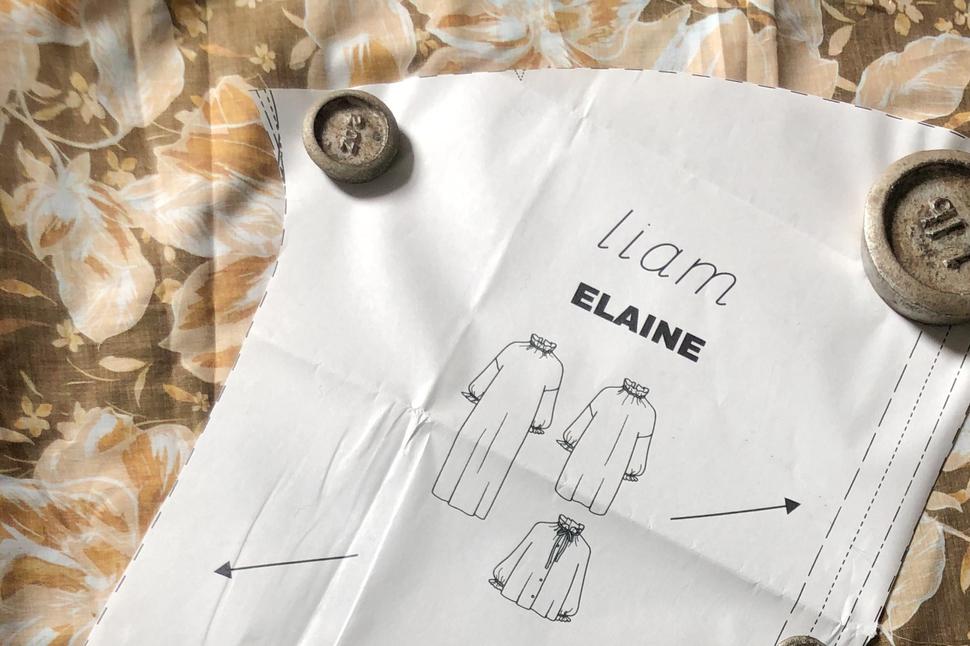 Test Drive: Liam Is Launching At-Home Patterns, So We Gave Them A Try
With resourcefulness and sentimentality at the heart of the brand's new release, Viva's Emma Gleason road-tests Liam Patterns
Tuesday Oct. 20, 2020
There has been something of a resurgence of craft, making and DIY this year – likely the result of more time spent at home, alongside heightened consideration of where our things come from and where they go when we're done with them.
Like many pastimes, sewing is enjoying a revival. Local fashion brand Liam has tuned into this movement by releasing Liam Patterns – a range of paper patterns that allow people to sew their very own Liam pieces at home – with its first collection "What Have I Got" launching Friday October 23. Inspired by resourcefulness and the raiding of cupboards, the collection was sampled using existing fabric from the Liam workroom.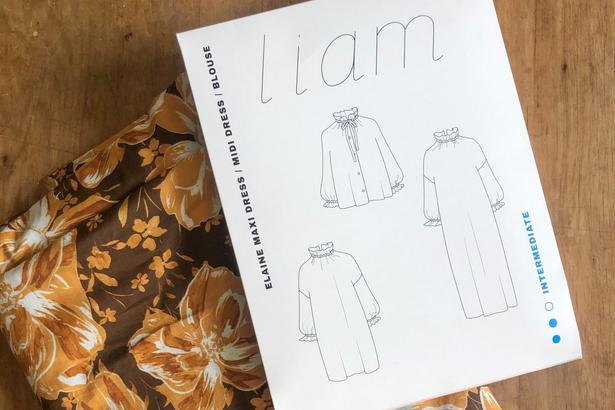 There are 16 patterns spanning beginner intermediate and advanced, divided into groups like modular (simple shapes with easy variations) and sets (designs that include different kinds of garments or details in the same pattern). It provides the perfect opportunity to learn to sew, up-skill, or refamiliarise yourself with a neglected hobby.
Prices range from $30 to $50. For those wanting to minimise waste further, there are PDFs for offcuts patterns available online – think masks and small bags. A sustainable approach applies to the patterns themselves too, made from recycled paper (the same as Viva).
The launch of Liam Patterns ideologically aligns with the brand's role as part of local industry collective Mindful Fashion New Zealand; Liam designer Emily Miller-Sharma is a co-founder, and the body aims, among many forward-thinking initiatives, to support local making and educate New Zealanders on the value of clothing.
Though Liam Patterns is ground-breaking in many ways (most contemporary designers are fiercely protective of their intellectual property) historically it was common for fashion labels to release their signature patterns to the domestic sewing market.
Home sewing used to be the norm for many New Zealanders (due to necessity, cost and skill) and it's something Viva is glad to see the return of – buoyed by the fashion industry, education sectors and online platforms that are facilitating community-building and knowledge sharing.
To celebrate the release of Liam Patterns, Viva's Emma Gleason spent an overcast Sunday at home making the Elaine blouse – a pattern which can also be used for a midi or maxi dress.
I love a big dramatic blouse, so Liam's Elaine design with its ruffled and cuffs and big '80s sleeves was my first choice after perusing the pattern range. A big blouse also calls for a big print, so I decided to lean into the retro-vibe of this design and picked a brown and orange floral that reminds me of vintage wallpaper (in the best way).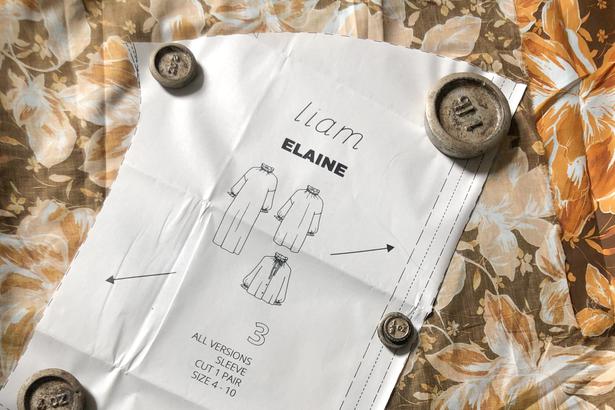 With the election over and the weather a bit dull, I set aside an afternoon for sewing. Making sure I had a clear workspace (both floor and table) and all my tools, I opened up the cardboard pattern packet and got started.
Inside are straightforward yet detailed instructions and diagrams that walk you through each step of the process, and your pattern sheets. The first step is to cut the latter out; you will need to discern your size, and cut according to the graded lines (be careful). The pattern paper used for Liam Patterns is thicker than the traditional tissue-like kind typical of at-home patterns, and seems resilient to being reused
I started with setting up the lay – the arrangement of the pieces on the fabric – rereferring to the example in the packet, and adapting it to fit the width of textile I was using. This is an important step, and you want to be absolutely sure that everything fits before you cut. Each pattern piece tells you how many of it to cut, and whether it is to be cut on the fold or not. A well-planned pattern lay helps minimise waste, and will teach you to use smaller amounts of fabric in future endeavours. Once I was happy with the lay, I weighted each piece down and traced them with tailors' chalk, and then carefully cut them out.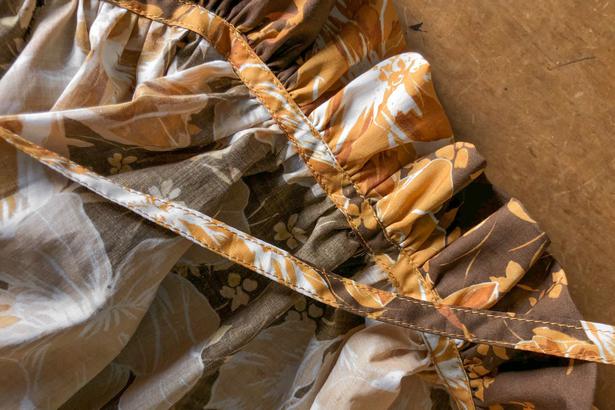 Confession: I was a bit naughty and didn't iron my fabric first (realising that I left my iron at my old house – we've just moved). But I recommend doing this, as you will be much more precise. Also important is to prewash and dry your fabric to account for any shrinkage.
With all my pieces cut, I attached the sleeves to the back with french seams (my favourite kind, and what the pattern advises). I then attached the front to the back, stitching and overlocking the shoulders and side seams.
It was at this stage that I realised I really did need my iron so, feeling guilty, I made a quick trip to pick it up. It is SO important when sewing anything that your press it as you go – it will make sewing easier, minimise error, and the finished product looks so much more professional. 
Back home again, I pressed all the seams and the button placket, then tackled the neck. The ruffle neck is a little fiddly (you have to gather) but patience is your friend here – go slow and be methodical. This was probably my favourite step of the whole sewing process, as the result is so lush and romantic.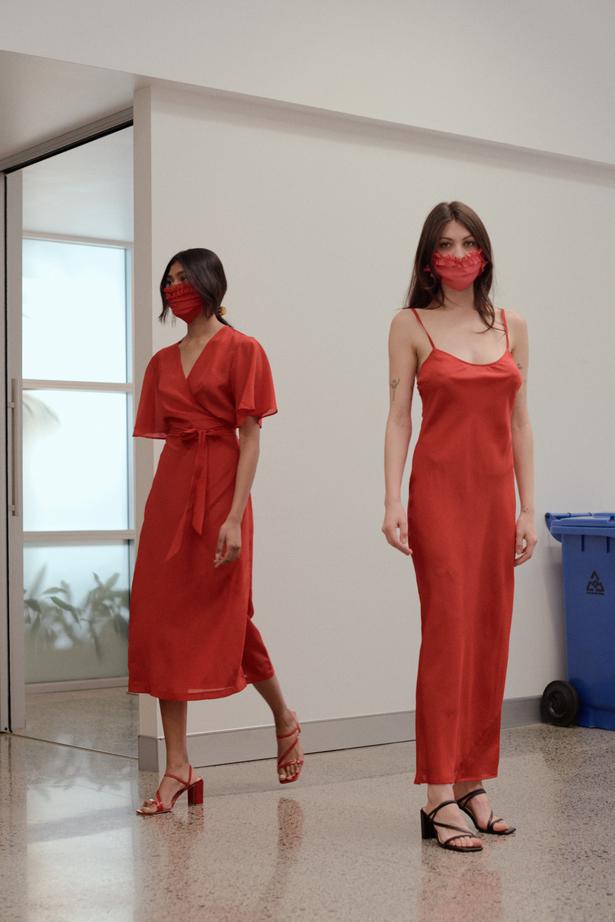 The sleeve cuffs have a similar look to the neck but require a different process, as they're elasticated. In the essence of the "what have I got" theme of the collection, because I'd forgotten to buy elastic beforehand I had to dig around in the bottom of my sewing box. Luckily I had a small length of old elastic that was JUST enough for the cuffs. The lesson here: ready what trims are required well in advance of sewing. I've become a bit spoiled by the fact that my own sewing box is seemingly bottomless – always turning up just enough buttons and the right coloured thread.
Speaking of buttons, it was now time to do those. I stitched down the button placket (and the shirt hem while I was at it) before measuring and marking the buttonholes. The old domestic sewing machine I use (and share with my mum) has a buttonhole setting. It's a bit temperamental but, with patience, does the job.
Sewing on the buttons is always the last step I do when making anything – it's methodical, relaxing and can be undertaken on the couch in front of the television. That done, I give my blouse a final press and try it on.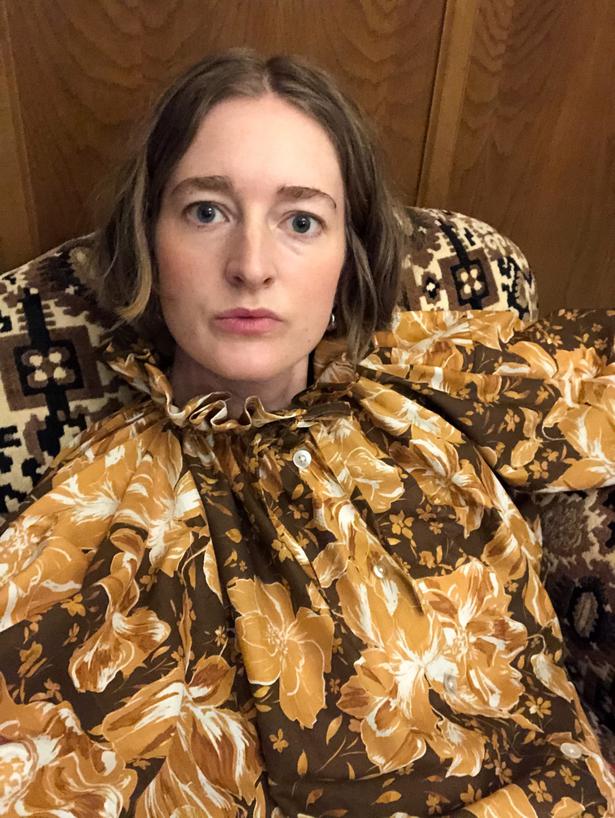 It's the first thing I've made in a long time, and took me a few hours (with plenty of breaks) but the result is something I've really worked for – and the feeling of resourcefulness and skill when a project works out is always a real high.
The task and its outcome are good reminders of the value we place on clothing; when we've given up our own precious time to create something, and consider what that time is worth, it raises the question of how a new top could cost $10 and challenges notions of disposability. Home sewing is the antithesis of an impulse purchase.
For those with the resource to do so, making something of your own – even just once – is an informative undertaking, and may just ignite a passion for sewing and thrift that could reshape the way you view clothing and fashion. It's worth a try, and Liam Patterns are a great place to start.
Liam Patterns launches online at liampatterns.com and at all RUBY stores nationwide on Friday 23rd October.
Share this:
More Fashion / The Latest