Lonely Lingerie Model Naomi Shimada on Self-Acceptance
The model and activist talks to us about what motivates her, and the importance of diversity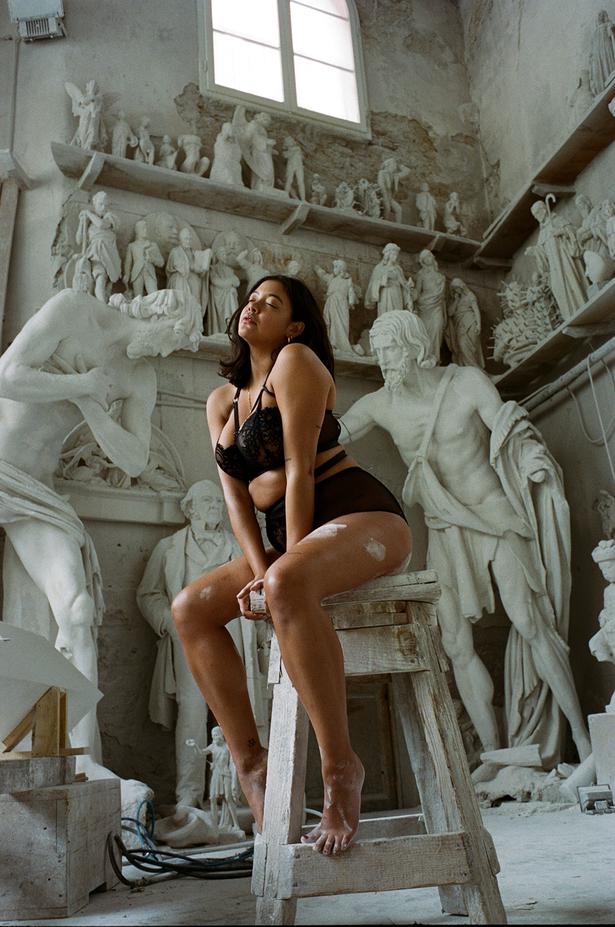 Saturday Feb. 10, 2018
With her infectious smile, vibrant fashion choices and eloquent way of expressing herself, model, activist, film-maker and author Naomi Shimada is anything but one-dimensional. Half-Japanese, she was born in Tokyo before being raised in Spain, has lived for a long time in New York and is now based in London.
Naomi is one of the stars of New Zealand's Lonely Lingerie's stunning campaign shot in Carrara, Italy, by photographer Yumna Al-Arashi. Speaking from her home in London, she shares her thoughts on social media and self-acceptance, her love of travelling alone and the importance of diversity.
How are you finding London?
Naomi: I've been here a long time on and off. I keep coming back to it. My family is here now, and it's a good city to get things going. It's such a creative hub — I feel like it's more creative than New York or Paris, really. For music, art and fashion, I feel like it's the hub.
You seem to love travelling, and recently spent time in Argentina and Buenos Aires — how was that?
It was great. I'd never been there before, so I was there for work and then I stayed for a bit longer.
I feel like being by yourself allows the world to open up to you in a way that it can't when you're travelling with other people.
It's where you test yourself, how much you've learned, and what you're open to as a person. You're forced to be uncomfortable, and it's a test of how you deal with that: like, how are you with your own company?"
READ: Talking Yoga & Self Care with Juan Diaz
So many people wouldn't be comfortable with being on their own...
You have to rely on yourself for everything. I feel like we live in a constantly updated world that we feel the need to keep up with all the time, and I think being by yourself forces you to get off your phone and interact with people.
To get the most out of an experience you have to disconnect digitally and connect with real life, which is something we could all do with. It's important to understand that social media is part of our lives and part of our professional lives too, but how we go about finding balance is a topic that I've been discussing.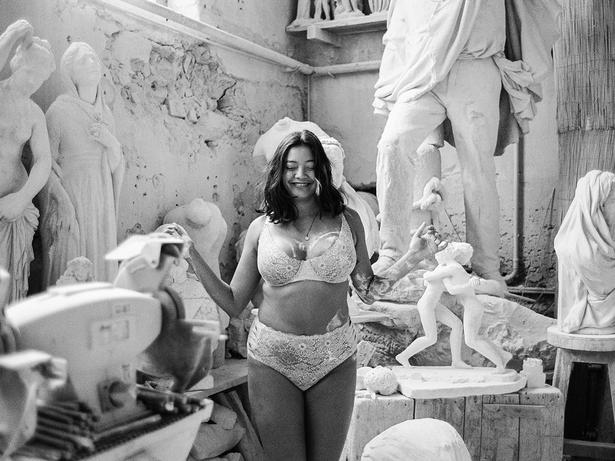 Would you say your social media presence has had a helping hand in your work, and getting you exposure?
Definitely, it's a big part of my work. Or, even if I don't think it is, I've booked huge jobs and I get there and the whole mood-board is my Instagram. Everyone in this industry looks at Instagram for beauty and style references now.
For me, it's one of the only places where, as a model, you can control your own image — your own identity almost. It's the depth and the layers of being human that interest me, which is why I want my social media to reflect that, because when you've been a model for so many years it gets pushed on you that that's all you are.
I would barely ever want to introduce myself to anyone as a model! Not that I have a problem with models or modelling, it just seems like such a short way to describe someone's humanity.
How do you feel about being a voice for 'plus-size' modelling?
I don't actually describe myself as a plus-size model anymore, because in reality, I'm not plus — I'm an average-sized person. I wanted to prove that I could be myself, and work with 'normal' brands as well. And things have changed — before, the only opportunities were to shoot with plus-size brands, so I was a 'plus-size model', but now I'm just getting booked as a model.
READ: Make Way for Plus-Size Male Models
I don't have a problem with people referring to me as plus-size, but describing myself as that takes the experience away from someone who actually identifies as that. I've spoken to a lot of 'real' plus-sized models and bloggers about it, and it makes them feel awful when people describe me as a plus-size model when I'm four sizes smaller than them.
I've been talking about this for a long time; I've not just jumped on the bandwagon. I was frustrated that our media never allowed visibility and space for girls that were bigger than a size 8.
No matter what you did, whether you were an astronaut, or a chef or an athlete, you were only allowed to be recognised if thinness went along with your talent. And I thought, 'why do I never see stylish young women that look like me?'
I think things are starting to shift in terms of representation in the media, but I also think it's because they finally realised it's good for business. What does it mean when brands are only doing it because it's good for business? Is that still a positive change? I'm questioning this myself.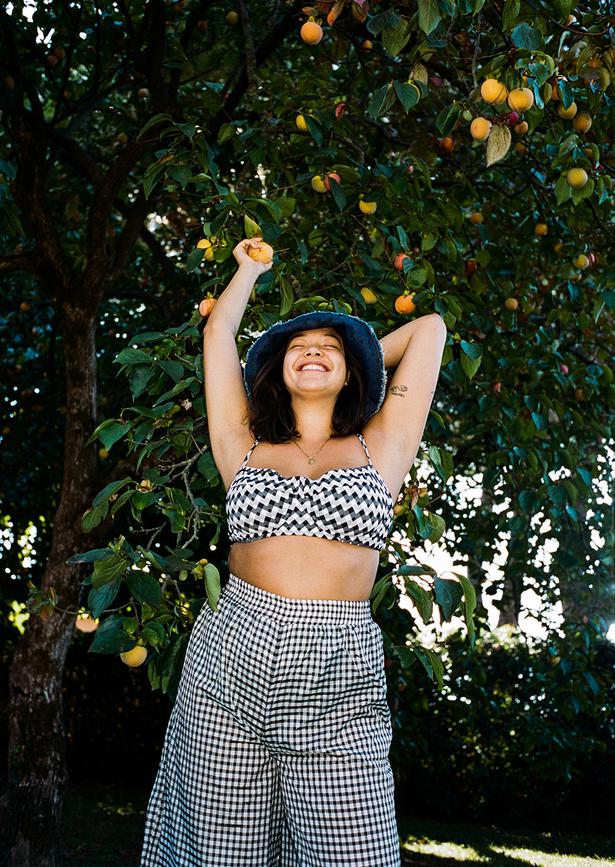 But I get so many letters from around the world from girls and women thanking me, saying they never wore a bathing suit or went swimming before they saw a picture of me, because even something crazy like me posting a bikini picture, which might seem like some thirst trap Instagram post, goes much further because visual imagery that gives women permission to be themselves is so limited.
Is diversity in fashion changing?
It's definitely changing. I've shot bigger campaigns than I've ever shot in my life in the last year. And I've been doing this a long time, so it is changing, and it is exciting. I hope it's not a fad.
The real conversation is these companies have to be employing diversity from the inside, and hiring diverse people that are actually allowed to have power. They need to diversify the heads of the tables, and that's the only way they can move away from it being token.
Any favourite brands, publications or businesses that are championing diversity in the right way?
Well, the Lonely thing we did is a good reference — it doesn't feel tokenistic. You're not cutting on quality because you didn't airbrush, you're still creating really beautiful imagery that people are remembering.
Shooting the campaign was just after all the Weinstein stuff started coming up, and I thought about all the times I've been in uncomfortable situations while working.
READ: Milkshake Models Celebrating Diversity
I can't even tell you, considering how long I've been in the industry, how few times I've shot with female photographers, let alone female photographers of colour. I've literally shot with two black female photographers in 10 years.
So it made me think about the importance of not only diversifying the people in the campaign, but also diversifying the creative team, because that's how you're not making tokenistic imagery.
We shot the best pictures for Lonely because we were all comfortable. I've been in uncomfortable situations on lingerie shoots that are shot by men, and I can't even tell you the gross things that white male photographers have said to me on shoots, and that's the tip of the iceberg of what's happened to other girls.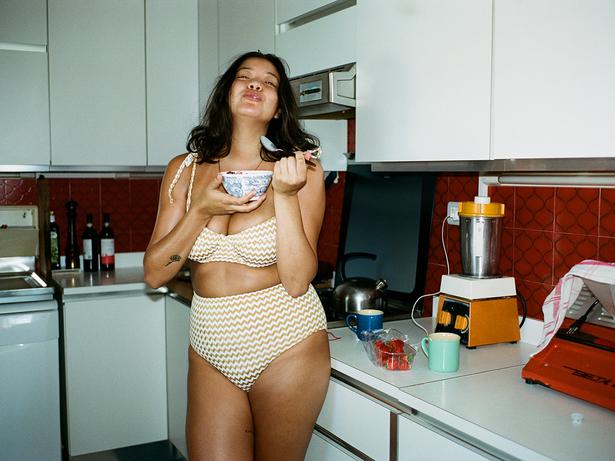 It was an amazing privilege to be able to shoot with someone like Yumna, who's such an incredible woman, and to witness the magic you create when you can work in these circumstances. Yumna had always wanted to shoot in Carrara — that was her dream. And she brought it to life, and created beautiful images that I'll be happy and proud to look at for the rest of my life.
You seem to be known for your positive energy.
I am a positive person, but I don't want people to think that I don't have negative feelings and bad days. I'm interested in the human strength and our relationship between trauma and joy, and how we deal with pain.
READ: Why It's Okay to Do Less
And, I think the reason why I'm a positive person is that I've had a rough time in the past, and I've dug myself out and survived, and I feel so blessed to be living such a fortunate, privileged life.
We're all just learning, and I feel like we live in a society where we're so afraid of doing the wrong thing. I've learned to not take everything so seriously all the time, and am trying to be kinder to myself because we're all so hard on ourselves.
How do you relax and unwind?
I dance a lot, which is a meditative process for me. It's probably why I'm such a positive person, because the endorphin release is really intense. I have a meditation practice; I have my own spiritual practice that keeps me balanced. I laugh a lot; I surround myself with people that make me laugh, which I think is super important.
I have a great family, and I'm close with my siblings — they keep me in check. They live in London too, and they're not afraid to tell me if they think I'm full of shit.
Cooking is a real meditative thing for me; it's how I switch off, so I cook a lot.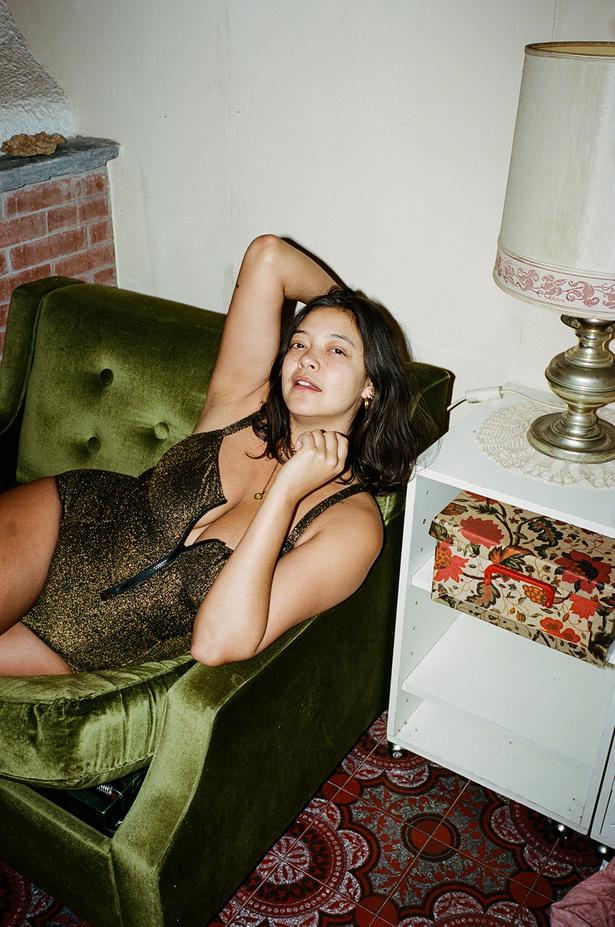 Are you still making films?
Yes, I just finished my first film. I also just finished a book proposal for this year.
The film is about the seven sisters who invented the Brazilian wax (the Padilha sisters). It's looking at their story and also at modern hair removal, and why we do it, and unpicking the behaviours of things we've learned to say, like 'oh I do it for myself'— but what does that really mean?
My book is about the importance of lifting shame from topics. It's organised by group discussions on certain subjects, so each conversation will have different women across generations, including myself.
It's about the importance of group conversations and the depth we can reach from sharing burdens, so you don't feel like you're alone in everything all the time. Because that's how shame imprisons us, when we suffer through it alone.
READ: Seven Ways to Regain your Spontaneity
I had been approached to work on a memoir, but it didn't feel right because what I'm interested in is people, and if I'm just talking about myself I'm not engaging in that part of me. This way, I can talk about myself in exchange for learning about other people, and it extends the idea of community that's so important to me.
That's my main project for this year. I've started it already but I have a long way to go. It's exciting though, merging all the things that I'm about, and practising what I preach, extending it outwards.
Share this: