Looks That Work: The suit maker
Bespoke suits have long been the domain of men, but English tailor Serena Kelsey's list of women clients is growing.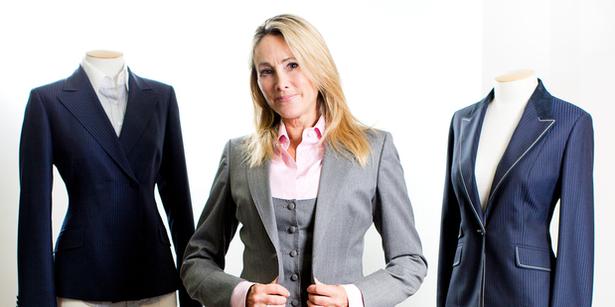 Wednesday Nov. 27, 2013
The suit has made a comeback on the runway and in real life, with designers from Stella McCartney to Dolce & Gabbana offering feminine takes on traditional men's tailoring. But increasingly women are turning to bespoke, long on offer for men but not so much for women.
Experienced English tailor Serena Kelsey is offering suits to order with a focus on women's tailoring, having moved to Auckland a year ago from London. Starting in the 1980s, she built a tailoring business that included two stores, collections in Selfridges, and bespoke suits for the likes of Kate Moss.
"I arrived here not thinking my tailoring would be required, but there was not that much on offer for ladies," explains Kelsey, whose suits are made in Europe using European fabrics. Her local client list is growing, including the likes of Michelle Boag, Wendy Petrie and Sean Connolly (she made the managers' uniforms for his restaurant, The Grill), plus "a lot of barristers and lawyers". She talks to us about made to measure, and the popularity of tailoring for women.

What is the process of getting a piece made?
I would come to you; you don't have move from wherever you are, whether at home or at work. We would talk through, firstly, what you have in your wardrobe - what do you have, what do you like, what's your job? I would go through the fabrics and show you pictures of jacket shapes and so on, then measure you up.
We'd choose the fabric, the lining, what style you like. I also recommend what would suit - some people are larger on the bust, or on the hips, and we work around all those issues. The patterns are made in Europe, and when the garment comes back I finish off the buttons and hems.

Have you noticed more women wanting bespoke suits for work?
Yes, definitely. There isn't really anything here like that for women, and I think people like to be individual - women are really strong and powerful here, and like to show their individuality.
It's nice to go to an event and know that you're wearing something which is individual to yourself; that shows a bit of character; a flared cuff, a different collar, a nipped-in waist. The pieces also last a lot longer: if you've got a really good tailored jacket in your wardrobe, you can wear it at the weekend with jeans.

Suiting in general is having a resurgence in popularity, what do you think is behind that?
Well I've noticed that - and I've been around for a while - it's all about the markets, and how buoyant the market is. The more the markets are up, the more that you can show that you've thought about what you're wearing, and you can afford to dress beautifully. That's how I feel - I saw it in London, and suddenly when things go down, people start dressing down.

Suiting also gives off a sense of power and seriousness.
Yes and it also gives you confidence - when you go into a meeting, and you've put on that suit, a crisp shirt and you're looking great - people will obviously take you more seriously if you're looking sharply dressed.
• To book an appointment with Serena, see contemporarytailors.co.nz or ph 021 0283 7895.
Share this: