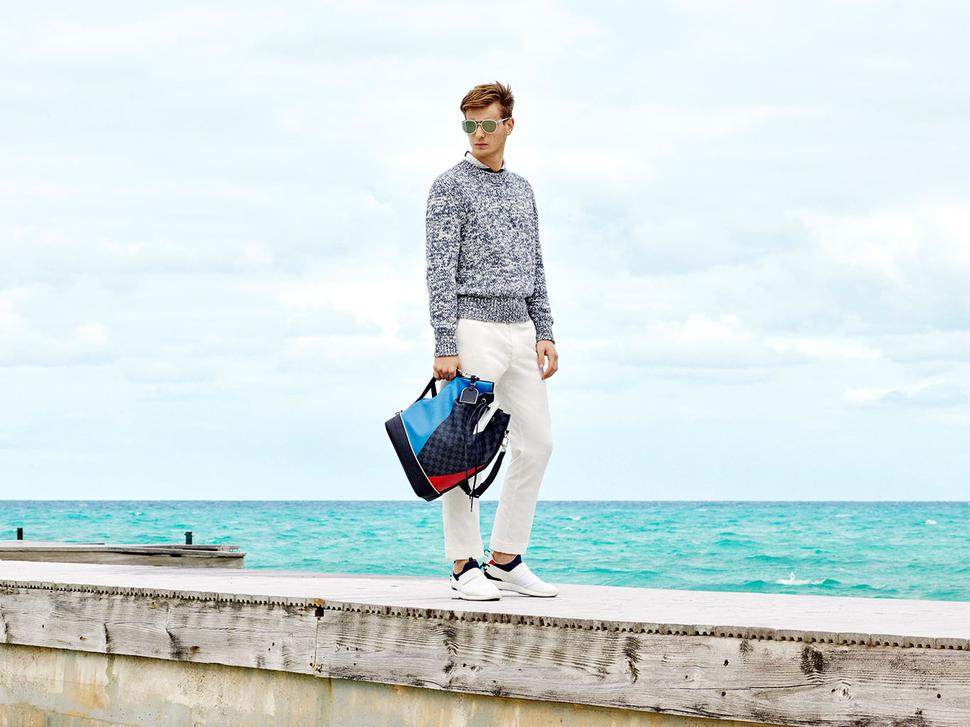 Louis Vuitton's Sportswear Transformation
Louis Vuitton is riding a wave of interest in sportswear ahead of the 2017 America's Cup in Bermuda
Saturday May 7, 2016
As sportswear has become one of fashion's key fashion messages, Louis Vuitton's America's Cup Collection captures how luxury brands are seamlessly transforming sportswear staples into everyday wear. The America's Cup is a sport that has traditionally attracted a well monied crowd, although its evolution and growth in popularity has seen people from all walks of life caught up in the action and, subsequently, the glamour and style that goes with it. Dressing the part adds to the fun.
Maritime motifs and nautical references are the most obvious fall-back for designers exploring this theme. Indeed, look at the recent commitment to the athleisure space by the likes of Derek Lam and Tory Burch. Sportswear shapes made to be worn and enjoyed every day have become the blueprint for many designers this season, a response to the pace of people's lives today and the need for an equally hard-working wardrobe that can keep up.
I saw this first-hand last October in Bermuda, where I was watching the Louis Vuitton America's Cup World Series. The throng of spectators could have been extras in a Bruce Weber photo shoot on a luxury yacht. Women in floaty slip dresses, espadrilles and straw hats; men in linen shirts or with polo tops tucked into neatly pressed Bermuda shorts, cable knit jumpers casually tied around their shoulders. It was a lesson in classic-yet-sporty attire with a modern edge.
We were there to watch the start of the challenger series for the America's Cup, which has since seen seven top international sailing teams battle it out in waters around the globe. (Right now, our own Emirates Team New Zealand is sitting at the top of the leader board.) The major event — the race between the challengers and current cup defender Oracle Team USA — will take place in June 2017 in Bermuda.
Along with the unveiling of the bespoke Louis Vuitton case created especially to carry the 'Auld Mug' — the oldest sports trophy in the world — the Bermuda event saw the first showing of the luxury brand's specially-designed capsule collection for men. Now available in New Zealand and stores around the world, the collection marks the 33 years the brand has been associated with the America's Cup, and elegantly captures fashion's current obsession with having a versatile wardrobe complete with sportswear references.
It's a concept Louis Vuitton menswear creative director Kim Jones manages to distil effortlessly, his own preference for sportswear well documented with his earlier eponymous collections prior to his appointment at Vuitton.
The collection, which will be updated with fresh pieces in the lead up to next year, focuses on technical outerwear simplified and re-worked, nylon swimwear, seersucker jackets and trousers and the type of throw-on-and-go knitwear and jumpers that are a welcome addition to any man's closet.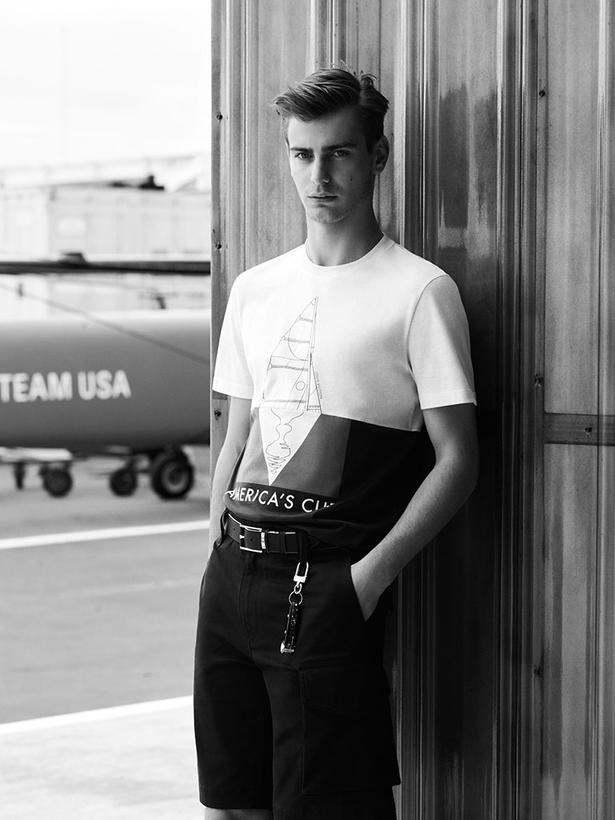 It's a brand that isn't short of archival inspiration either. A 'V', one of Vuitton's earlier logo's designed by Gaston-Louis Vuitton, has been revisited in punchy red and blue colours that pop from a distance, splashed across classic black weekend bags. An old archive image of a winning boat has made its way onto jumpers, T-shirts and slip-on shoes.
Indeed, at the unveiling, the accessories took centre stage, the Regatta sneaker a particular stand out with its easy Velcro-strap, and decorative toggle; while a whale-shaped key holder and cufflinks, shaped like anchors, added a sense of fun.
"If we were just a regular sponsor, it wouldn't resonate with our clients. What we want is to offer how you can dress elegantly strolling down a street too," explains Louis Vuitton CEO Michael Burke. "It used to be there wasn't much difference between what the public and the sailors were wearing. But look at them today; you're not going to go to a barbecue dressed like that. So how do you dress as a spectator? That's what we want to bring to the party. If it wasn't for great product that you can purchase and wear, it wouldn't be as deep an engagement with this sport."
• A selection of pieces from the Louis Vuitton America's Cup Collection is available from Louis Vuitton Queen St, ph 0800 586 966.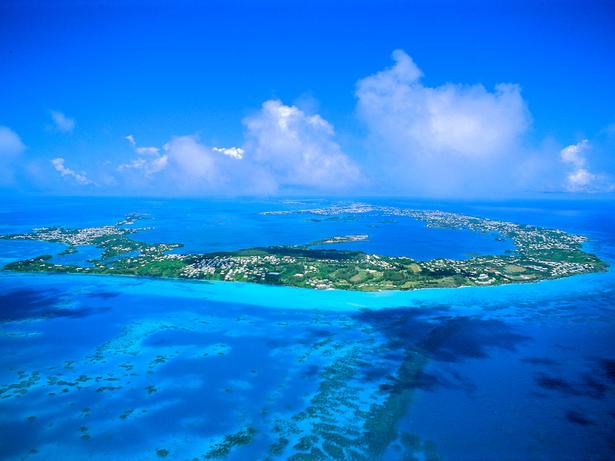 Picture / Louis Vuitton Malletier, Ricardo Pinto
BERMUDA BABY
Book in these island hot spots ahead of the America's Cup, which is raced between the winner of the Louis Vuitton Cup, and Oracle Team USA, next year.
Stay at The Rosewood Tucker's Point Hotel
This luxury resort sits on Bermuda's largest private beach and caters to golf lovers with its sprawling course. Enjoy world-class pampering at its spa facilities or lounge around in your own villa overlooking the Atlantic Ocean. Visit rosewoodhotels.com/en/tuckers-point-Bermuda
Explore the Royal Naval Dockyard complex
Built in 1795 by the Royal Navy, this gives a fascinating journey through Bermuda's often-turbulent history, from shipwrecks and whaling to the first flying boats and modern tourism. See dockyardbermuda.com
Dine at Marcus'
Situated in the Hamilton Princess and Beach Club, the official hotel of the America's Cup 2017, this hip restaurant serves the best cocktails in Bermuda and is decorated with modern art including original pieces by Andy Warhol, Liu Ye, Nelson Mandela and Tom Sachs. Led by celebrated New York restaurateur Marcus Samuelsson, this is a dining experience you'll never forget. Menu highlights include Dockyard IPA BBQ short rib for two, salmon on the grill, jerk pork belly, and the classic fried chicken and waffles. Additional dishes pay tribute to the Bermudan culture, such as grilled Bermuda onion and fish chowder bites. Visit fairmont.com/hamilton-bermuda
Shop at Lili Bermuda
Though not known as a shopping mecca, Bermuda is home to some beautiful locally-made products. Distil the sights and smells of the island with a visit to the Lili Bermuda perfumery, established in 1928. Fragrances for men and women are available, each developed on-site under the direction of perfumer Isabelle Ramsay-Brakstone.
Share this: