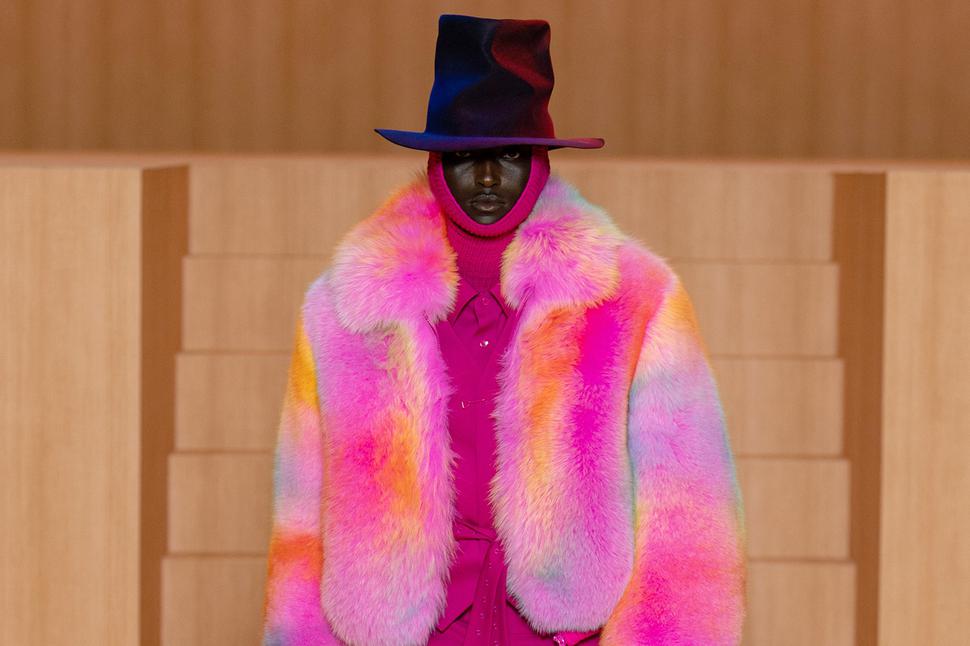 Louis Vuitton's Colourful Men's Spring/Summer 2022 Collection Spared No Theatrics
Creative director Virgil Abloh was inspired by the graphic design of chess, but his collection was anything but black and white
Monday June 28, 2021
Chess, ninjas, kung-fu, the Wu-Tang Clan, Goldie and some fairly out-there fashion; there's alot to unpick in a Louis Vuitton menswear show under creative director Virgil Abloh.
53 pages in fact, a document of which accompanied the show to detail the varying disparate strands that informed the designer's thought process in creating his spring/summer 2022 digital show.
It was titled Amen Break after a drum sample that was pivotal in hip-hop music, and featured a cast of black musicians and a storyline inspired by a Japanese kung-fu film. Keeping up?
READ: Dior's Cruise 2022 Show Confronted 1950s Fashion & Made It Athletic
In normal times, Abloh creates stupendous, sensory overload shows in physical form — from transforming a garden square in Paris into a giant playground to re-creating 1980s Brooklyn, so in moving to digital showcases it's reassuring that he's kept to his whacky, surrealist tendencies, even if we can't experience it up close in person.
For spring/summer 2022, the designer unveiled a video in which models wend their way around a forest of silver birches in clothes that spliced martial arts sportswear with tailoring.
Was this a metaphor for keeping up the fight when times are tough? Possibly — the designer accessorised his models with swamping boxing gloves, alongside some very Covid-secure face coverings — alongside a mish-mash of flag motifs (a calling card of Abloh's throughout his short tenure at Vuitton, as the first African American to run a French luxury house) and chequered patterns.
Restraint isn't part of the Abloh playbook, and the designer made plenty of noise with zinging neon leather jackets and blazers, splashy rainbow degrade on leather hoodies and day-glo aplenty.
READ: Louis Vuitton's 18 Concise Looks For Cruise 2021
80s club culture elements crept in via the checked masks covering models faces, tie dye prints splashed across enormous, swaddling coats and in one case a mountain range picked out in jacquard silk on a suit. There was even a variation of Dorothy's Tin Man in crackling silver; we're not in Kansas anymore.
There is, however, always method in Abloh's merry madness. The tie dye was a nod to the joyous days of rave, as did the smiley faces and flyer motifs on coats, while the excess of padding nodded to the protective layers of martial arts. Which if you're still trying to stay socially distanced next spring, should come in handy.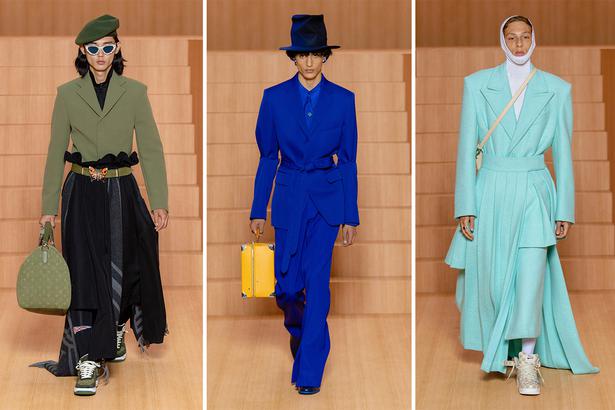 Photo / Supplied

The check patterns also took their cue from an icon of the house, the Damier check that's usually found on the house's more classic luggage. Rule-breaking has always been part of the designer's mainstay, which explained the gender fluid elements — padded skirts with jackets as well as feminine scalloped edges on a white coat and blazer.

READ: Prada Leaves Dark Days Behind In Its Men's Spring/Summer 2022 Show

Aside from the hijinks and theatricality, Abloh also turned his eye towards suits — something the Vuitton ateliers do very well indeed.

The designer offered a series of suits, ranging from dove grey and pewter to black and cobalt blue, with cinched-in belts across the waists that were sleek and sharp, with trousers that pooled around the hem, as a fluid interpretation of tailoring at a time when the suit's value in a post-lockdown world is being reevaluated.

The world would be a much duller place without his joyously eclectic, bursting-with-exuberance shows.

– The Daily Telegraph
Share this: