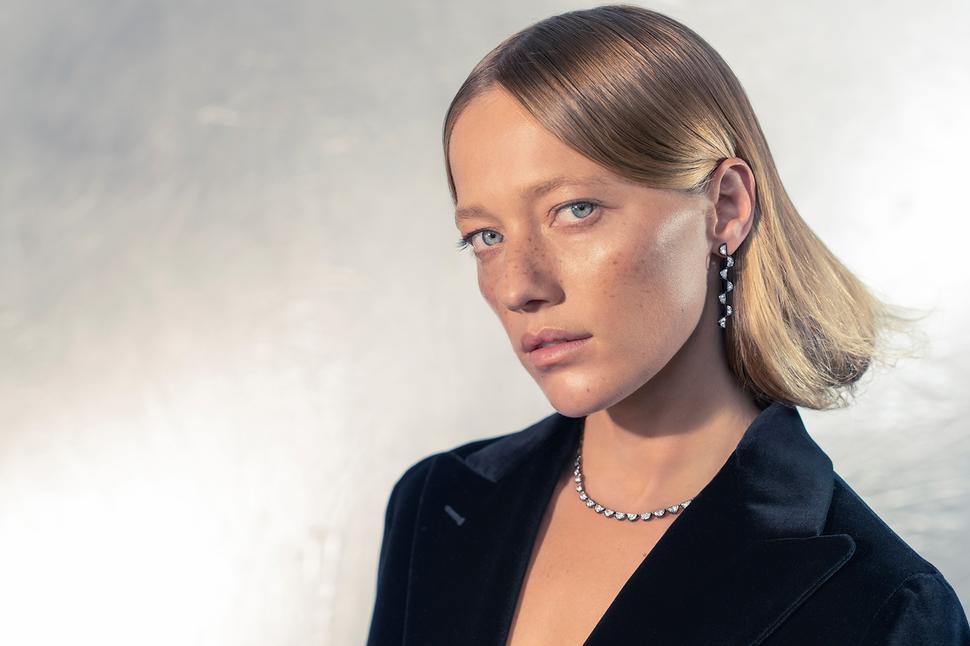 All The Details On Luxury Jeweller Jessica McCormack's Covetable New Collection
The queen of modern fine jewellery tells us about her latest collection, Moonshine
Wednesday Nov. 13, 2019
Jessica McCormack makes you see diamonds in a new light. While her eponymous brand is favoured by the likes of Meghan Markle and Rosie Huntington-Whiteley, through her narrative-led design philosphy, the New Zealand-born, London-based jewellery designer makes a convincing case for her exceptional pieces to be worn every day — not just for special occasions.
Her latest collection to arrive at Simon James Concept Store in New Zealand is inspired by the celestial — in particular, the moon. 
Titled Moonshine, the collection features jewellery formed of diamonds cut in a half-moon shape. From simple studs to a stunning pair of drop earrings, necklace and ring, the pieces are both solid and fluid, with an inherent modernity that is a pleasing interpretation of the aformentioned inspiration.
We spoke to Jessica who told us a little more about Moonshine.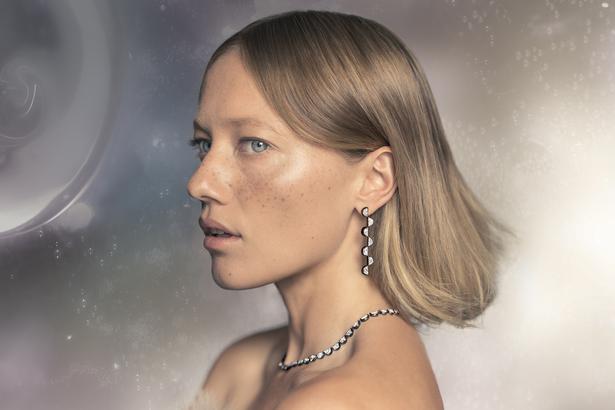 What was the starting point for this collection?
"It was as simple as seeing a little collection of loose demi-lune cut stones on the desk of our in-house diamantaire. It reminded me of an antique celestial map I have and just sparked a bit of a love affair with the cut."
Moonshine is an ode to the demi-lune or half-moon-cut diamond — could you tell us a bit more about what this means, and some of the different diamond cuts?
"The demi-lune cut is literally a half-moon, or half circle. According to our diamantaire, this cut was used in the forties and fifties by some of the top European jewellery houses, and some of the more intricate Georgian designs utilised them too.
We use a lot of older cuts of stone, so softer cushion-cuts, which are like a square with softer corners, and old-mine cuts, which have far fewer facets than modern, super sparkly cuts." 
Can you describe the process of crafting one of your favourite pieces from the collection, from design to finished product?
"The Moonshine riviere necklace is one of my absolute favourites. I was thinking about classic riviere style necklaces, which are just a row of the same stones worn quite short around the neck. When the demi-lune diamonds are laid horizontally side to side, they create this beautifully undulating line.
I designed them to be set in a blackened mille-grain surround over yellow gold to add drama to the white diamonds, and joined them with fine hand-crafted links so they're beautifully articulated and move with the wearer's neck. Our goldsmith crafts each individual mount, then our setter places each diamond within it before each piece is linked, then polished and hallmarked."
The shapes of the pieces have a pared-back solidity to them, yet in reading the descriptions they have been hand crafted to twist and move with movement — can you tell us more about this juxtaposition when it comes the design?
"Any piece of jewellery is only as good as its craftsmanship, and I wouldn't dream of creating anything that involved links or chains that couldn't move with the wearer. Obviously a solid ring or bangle doesn't require movement, but pieces that involve linked parts must be fluid and articulated or they just don't look right on."
Your last couple of collections have been inspired by the celestial — clouds, the moon, the sky. Could you tell us more about this?
"I've always been inspired by celestial maps and weather. Who hasn't gazed at clouds as a kid and wondered what it would be like to bounce on them, or been mesmerized by the moon? I think it's the fact that we see these extraordinary things all the time but can never touch them — so they always retain a sense of mystery." 
How has your design sensibility evolved over your jewellery career?
"I've definitely become braver with bigger stones and more gold, and different textures. While our signature styles like the Georgian cut down setting and blackened gold are always going to be our icons, I'm also more into super polished yellow gold, different settings and different coloured stones."
Zippora Seven appeared in your first campaign — what was it like working with her again?
"She hasn't changed in ten years. She just has that cool, laid back New Zealand vibe that is so refreshing and fun to be around."
The imagery is stunning and quite unique – could you tell us more about the creative direction behind the campaign images?
"We just wanted super fresh and simple and dewy, almost dreamy. I can't stand that traditional red carpet approach to jewellery shoots where it's all over the top makeup and satin gowns."
Share this: