The Rise of The Luxury T-Shirt
Victoria Moss on how the trophy T-shirt became fashion's most wanted item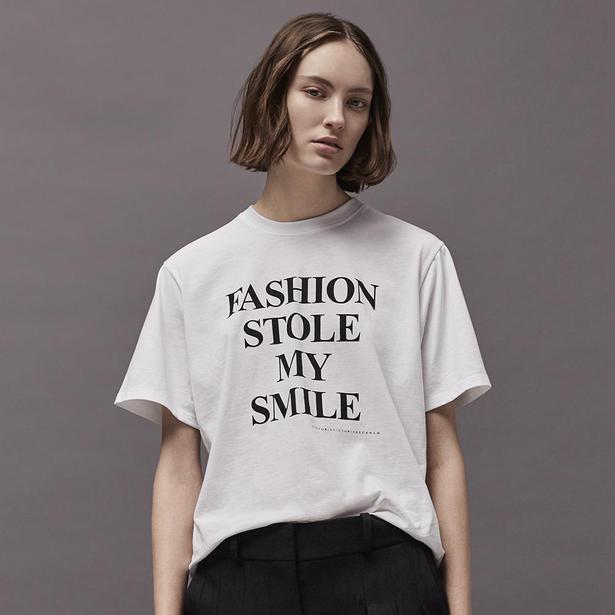 Sunday May 6, 2018
I haven't worked out a way to disclose the following without you spitting out your tea, so I'm just going in — gird your mugs: the (designer) fashion industry has reached a curious point where it feels free to charge upwards of $1500 for a cotton T-shirt.
You may well be incredulous. I am.
A buyer friend laments that these trophy T-shirts are both the backbone of the business and the bane of it. Boutiques are given caps on how many they can order, and to get these lucrative entry-level items (handbags have become so extortionate that a new carrot was needed for the aspirational customer), they have to place a proportionate order on the even more expensive ready-to-wear (which is harder to shift).
Retail is a racket. Not only are people charging $1500 for a T-shirt, but they're selling out of them! What can I say, if there are people rich and daft enough to buy them, then why not? That kind of return is just plain business sense.
READ: Should You Wear a Band T-Shirt
The median point for a luxury T-shirt — a giant logo being the key design feature (so everyone knows how much you've spent) — settles at around $600, which is the magic mark retailers have identified as the shopper's sweet spot. Enough to make you feel like you've treated yourself to something special, but (hopefully) not enough to get you evicted.
For this amount, you could find yourself a simple Gucci, Burberry, Balenciaga or YSL motif, or for the ultimate basic, Celine do a plain, stiff white T-shirt for $780 (Celine.com). If we employ bizarro-fashion logic, it could be argued that if you wear only jeans and T-shirts, buying very expensive versions makes more sense than the $600 you might spend on a dress for a wedding you'll only wear once.
What fresh hell has brought us to this dubious point, you might understandably be wondering? Helpfully, London's Fashion and Textile Museum is examining the history of the T-shirt in its current exhibition (T-shirt: Cult, Culture, Subversion).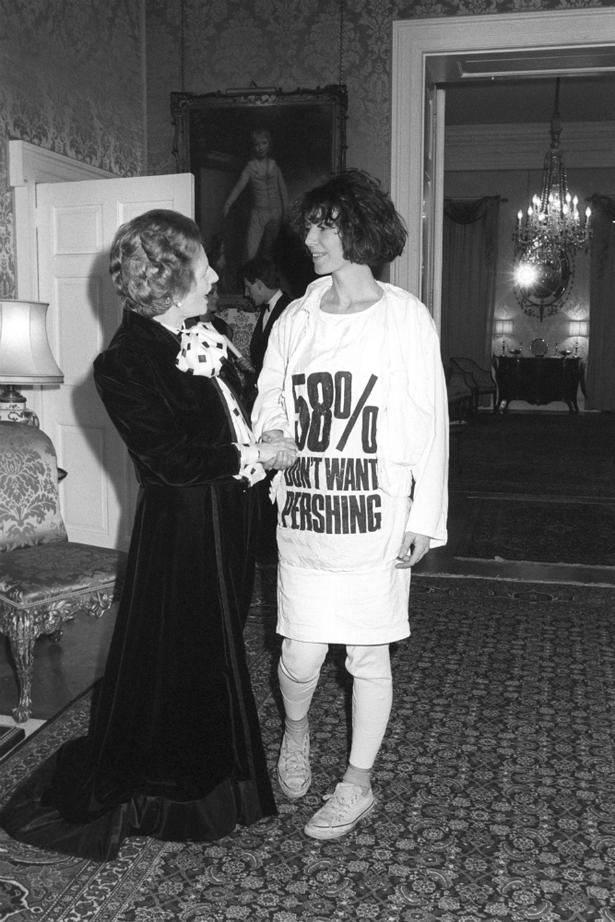 Originally a humble item of standard issue underwear for the US Navy (handy gastro-pub quiz fact: the word T-shirt first appeared in the Merriam-Webster dictionary after F Scott Fitzgerald used the term in his 1920 debut novel, This Side of Paradise), it quickly became a canvas on to which myriad projections could be made, earning hit designs cult status and peak desirability: as a promotional tool (first deployed by MGM for The Wizard of Oz in 1939); encapsulating the American dream's broken and brooding masculinity (see Marlon Brando, James Dean); politicking (Katharine Hamnett's "58 per cent don't want Pershing" statement to meet Margaret Thatcher in 1984); and subversion (Vivienne Westwood and Malcolm McLaren attired the punk movement with the provocative designs sold in their World's End store).
A T-shirt is the easiest, most egalitarian means to get your message across as well as a powerful way of demarking your tribe and its cause — and thankfully most don't cost a fortune. In 1973, The New York Times declared the T-shirt to be "the medium for the message", yet they were perhaps envisioning something with more gravitas than say, "Inspiration of the day: myself" ($16, Zara.com).
Other modern messages, ranging from worthy to completely meaningless with the odd bit of irony, coming to a slogan T-shirt near you include: "Time's Up" (see Hollywood), "Can't even" ($25, from Glassons), Ksubi's "History will be re-tweeted" ($89, Superette.co.nz), "Save the bees" ($600 — it is silk — Katharine Hamnett, Matchesfashion.com), "Bloody difficult woman" ($39, Fawcettsocietyshop.com), "I hate Rihanna" (worn by Rihanna) or my personal favourite, "Some heartfelt words" (Zara).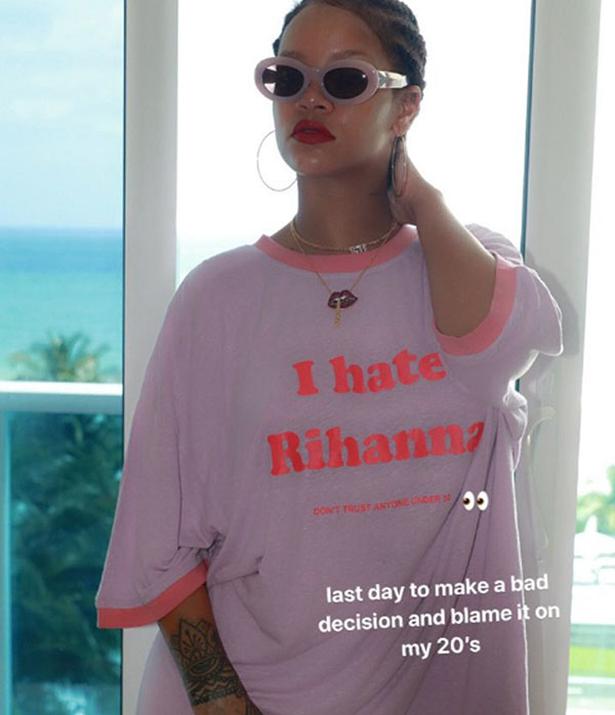 Victoria Beckham sends herself up for $195 with her "It's a dark but happy place" offering, in reference to the sunglasses she doesn't leave the house at night without, while Swedish high street hipster brand Monki commends "small actions matters" (sic) presumably referring to the $16 it'd like you to spend on its white T-shirt stating as much.
Smug statements beaming from a cheap T-shirt bring to mind the suffragette sentiment of deeds, not words. Can a T-shirt change the world? Perhaps in small measures.
Pink Parcel — purveyors of period subscription packages in the UK (containing everything from tampons to herbal tea) — collaborated with journalists Dolly Alderton and Pandora Sykes to create T-shirts which aim to take the stigma out of periods.
At the posher end of the altruism scale, Net-a-Porter partnered with brands such as Stella McCartney, Chloe, Ganni and Bella Freud to create T-shirts celebrating International Women's Day — with all profits benefiting Women for Women International.
GALLERY: Luxurious Textural Pieces To Cherish
You may have missed the onslaught of Mum-merch, but there are a growing number of women setting up shop selling mother-loving slogan tops, with a loose aim to provide community support and solidarity among parents. I believe it started with journalist Molly Gunn's "Good Tees", which has raised an impressive $1.5 million for charities (thefmlystore.com) since its inception in 2014 with a simple design reading "Winging It". In its wake have sprouted many more.
The difficulty with this growing mountain of T-shirts is the issue of sustainability. With over two billion sold globally each year, T-shirts are fast fashion's chief weapon of mass destruction (it takes 2700 litres of water to produce just one). Cheaply — sometimes questionably — produced and easily discarded, today's catchy slogan is tomorrow's landfill.
If this, rightly, concerns you then take a look at the crop of mindful brands offering a transparent approach to their ethics. People Tree is very much the pioneer; its striped tops will be tempting if you're a Breton aficionado. The newly launched Ninety Percent promises positive production with an eye on its factory workers' welfare as well as a pledge to donate 90 percent of profits to charities.
READ: Fresh Ways To Style A T-Shirt
If all this sartorial virtue signalling is a bit earnest for you, then shop sparingly and look for styles that sing rather than slogans. And let me recall for you, if I may, some advice from Nineties crooner-turned radio breakfast host Ronan Keating: "You say it best, when you say nothing at all."
— The Telegraph
Share this: