Lyn Slater, Accidental Fashion Icon
Professor Lyn Slater never planned to be a fashion icon. Then the world discovered her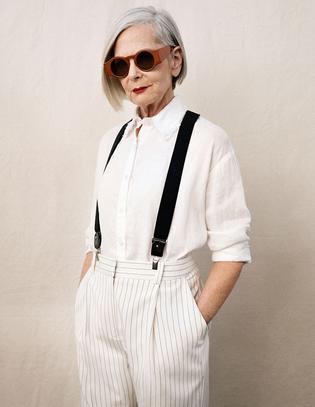 Like many women, Lyn Slater was not thrilled when she started experiencing the physical signs of age. But she was even less happy about the "solutions" she saw: the anti-ageing serums, the dying of hair, even the rhetoric.
"Retirement," for example. "It means that you kind of fade into the background. You retire, and you dress very comfortably, and you're taking care of grandchildren. The antidote our culture has come up with — anti-ageing — it's like we're against ageing."
Instead of going with that narrative, the 63-year-old Fordham University professor of social work turned to a realm that has long been associated with the young: fashion. By most objective standards she has conquered it.
Her Instagram account — largely comprising photos of herself in striking couture — has more than 200,000 followers, with some photos garnering more than 50,000 likes. Her blog has fans from around the world. She has modelled for Valentino Eyewear, Mango and Uniqlo, and in February she signed with Elite Models London.
Ruffled white collars, wide-leg trousers, textured blouses, skinny jeans, oversized glasses — all curated by a woman with a lifelong love of clothes who knows how to rock them. And her audience isn't a bunch of old ladies. The vast majority are women between 18 and 35, who gush in the comments thread.
"I live for this lady!"
"You make me feel fearless about getting older."
"Slay my life Lyn!!!!!"
"You are a muse."
READ: The Path to Ageing Gracefully
At first, their reaction surprised her. "I never intended to address ageing; I don't have an agenda," she said. "But somehow I have become an alternative of ageing that young people embrace."
Although she had always paid attention to fashion, most of her life work had been more cerebral. Along with teaching, she helped establish the first child advocacy centres in New York City, developed a handbook for family court judges and helped develop Fordham Law School's Interdisciplinary Centre for Family and Child Advocacy.
"I'd made my name in my career, raised my daughter. I was ready to do something new." So she signed up for classes at the Fashion Institute of Technology and Parsons School of Design. "I was always the oldest person in the room but the young people would say, 'Ah, your sense of style; you should start a blog.'"
She did, posting photos of herself and ruminating about the sense of style she had honed over a lifetime.
She was Catholic schoolgirl (required to wear a uniform) in Westchester County in the 1960s and early 70s, at a time when clothing was a key to rebellion.
READ: How Peter Lindbergh 'Created' the Supermodels
"I wanted to look like Grace Slick from Jefferson Airplane — the love beads, the platform shoes," she said. "I started to collect pieces which transcended trends — they were timeless and ageless."
After she started a blog and an Instagram account, things snowballed. The editor of Grey Magazine spotted her and did a cover and editorial, and then she was picked up by BuzzFeed and other sites.
Like any master practitioner, she doesn't go for trends, but rather follows her instinct. "If I want to express my intellectual self, or if I want to be a little bit provocative or seductive, I choose clothes that do that for me."
But one thing she doesn't try to do is to look young. "I don't retouch my photos. I leave the wrinkles. I'm not a model, in my opinion, although I've become one now."
In fact, that natural approach is apparently what has captivated her young followers. "A woman wrote and said, 'I've spent the last half-hour trying to get my eyebrow perfect and my friend sent me your link and it made me think, what am I doing? I'm just going to be me and put down the brush.'
READ: Linda Rodin's Enduring Style
"Now, along with teaching, Lyn gives TED talks, speaks at conferences, and attends fashion events around the world (recently she flew to Madrid for a fashion shoot). Many of her fans live in Asia, where her combination of style and hardcore academic credentials resonates.
"In China for Fashion Week I was literally flooded by young people," she said. "The version of ageing that their parents show isn't what they want, and yet they're still traditional. They like the fact that I'm a professor, a Ph.D, two masters, and I'm a mother and I'm a grandmother and yet I'm still doing this. And I'm not over the top. I'm still a woman who's very much in the world, and although I'm pushing it I'm not inappropriate."
In the United States, too, she said, "I think young people are really tired of the way we talk about ageing. They want to believe that they can keep becoming and reinventing throughout their entire life . . . They look at me and say, 'You're clearly saying, "I'm not 20 and I don't want to be 20." Whatever age you are, life is important to you and you have to make the most of it."
— The Washington Post
Share this: