Maggie Marilyn's Epic Year
The women behind Maggie Marilyn, one of the year's hottest brands, talk about taking New Zealand fashion to the world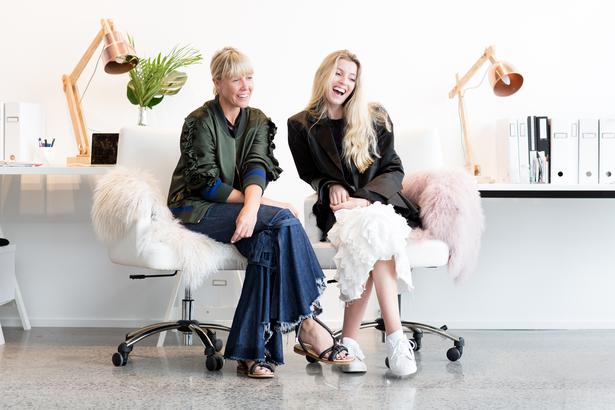 Wednesday Dec. 28, 2016
If you need proof of how quickly things can change in fashion, look at Maggie Marilyn. The local brand launched in September — scoring the world's top luxury e-commerce store Net-a-Porter.com as its first stockist — based out of an Auckland garage.
Maggie Hewitt and Jo Knight are the women behind the brand, all blonde hair and beaming smiles: Maggie the designer (Marilyn is her middle name), and Jo the managing director. They have moved on from the garage and are now based in glossy new offices in Newton — concrete floors, white walls, exposed beams and pink sheepskins and cushions — marking their swift growth in such a short period of time.
"It's gone so fast, but it also seems like such a long year because so much has happened," reflects 22-year-old Maggie. "Thinking back to the beginning of the year seems like forever ago."
The pair met in April through a mutual family friend, after Maggie graduated from Whitecliffe and had designed her first collection. Having worked in London with designer Richard Nicoll and as a fashion consultant back in New Zealand, Jo says she has been asked to meet many young designers. Any scepticism she might have had disappeared as soon as she met Maggie and saw the young designer's graduate portfolio.
"I knew straight away that it was going to succeed," says the fast-talking Jo, who offers a unique global point of view. "There was a black duchess silk blazer lined in silk satin; I thought to myself, 'this is proper, solid, luxury fashion, something I can work with.' I hadn't had that feeling in New Zealand."
Jo originally advised Maggie to go overseas, and offered to help set her up with a workroom role in London. "That's what I always say. Not because I want to send talent overseas, but because you need experience and understanding of what you're about to launch into."
But Maggie was clear she wanted to do her own thing, and Jo was convinced by her ambition and focus. The pair flew to Sydney in May to meet buyers in town for Mercedes-Benz Fashion Week Australia — including a fateful meeting with Net-a-Porter's fashion director Lisa Aiken, which helped accelerate their journey. Jo admits her relationships from London helped get them the meeting, and establish a sense of trust that they, as a new brand, would deliver.
Prepping Maggie for what they remember as a "rollercoaster of a meeting", Jo recalls telling her: "Listen, they'll probably just say, 'looks great, we'll see you next season'." But they placed a bigger order than expected and, since launching, have had to restock.
Net-a-Porter has very obviously got behind the brand, describing Maggie as "this season's hottest new designer". Earlier this month, they hosted her and other young designers (including fellow Kiwi Georgia Alice) at an emerging designers event in Los Angeles.
The website has made a conscious effort recently to offer new, exclusive brands. At the event, Net-a-Porter's vice president of global buying Sarah Rutson told the Hollywood Reporter that the website wants to be "the headquarters of discovery".
While in the US for the event, Maggie and Jo also visited New York; meeting influential press and fashion teams at the likes of Vogue, Vanity Fair, W magazine, Teen Vogue and Women's Wear Daily.
They also met Eva Chen, head of fashion partnerships at Instagram — a key marketing channel for up-and-coming brands — who passed on invaluable advice. She is one of the high-profile names to have worn Maggie Marilyn this year, as well as Rita Ora, who wore a piece on the new season of America's Next Top Model.
That 360-degree approach — social, branding, accessibility, quality and design — is reflective of Maggie and Jo's partnership.
Maggie, who talks as passionately about price point and accessibility as branding and design (she's passionate about fabric manipulation, and being an ethically conscious brand) says the commercialism is an element Jo has taught her. They both talk about the brand as "liveable luxury" — beautiful pieces women can actually wear every day — with a focus on making things accessible but still precious.
It is a growing niche internationally, and in the Business of Fashion's State of Fashion 2017 report, one of the few areas of the market predicted to have exceptional growth in next year was affordable luxury.
"You see so many brands come out through Central Saint Martins or Parsons, and they are all in that higher price point trying to compete with the big luxury houses," reflects Jo. "But the reality is the everyday fashion buyer, and often even those in the fashion industry, can't afford those pieces.
"The concept seems bizarre. So the fact Maggie was designing pieces that she wanted really made it about that accessibility, in design, fabrication and price."
Though the pair have a global outlook, Maggie wants to stay in New Zealand for now. Jo believes it adds to the Maggie Marilyn story: when they met Julie Gilhart, an influential fashion consultant and former buyer at Barneys New York, she thought it was "magical" that Maggie was from New Zealand.
Next up, the pair will shoot their latest lookbook with a photographer from New York (they won't say who) and, in March, will visit Paris again.
"The plan is to top this year!" says Maggie of 2017.
"I'm sure this team will be tripled this time next year," observes Jo, looking around the workroom.
"This year has been crazy, but I love the pace," says Maggie. "I'm really ambitious."
Share this: