The Fashion Star: Designer Maggie Hewitt of Maggie Marilyn
At 23 years old, desiger Maggie Hewitt has achieved the kind of success established designers envy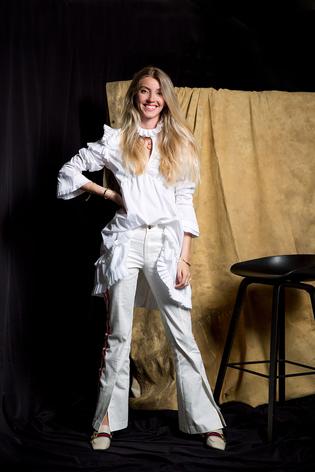 At 23 years old, Maggie Hewitt of the label Maggie Marilyn has achieved the kind of success established designers can only envy.
On the back of an already successful 2016 (she launched and secured luxury e-commerce site Net-a-Porter.com as her first stockist, and featured in our Most Fabulous list last year), the Auckland-based designer's modus operandi for 2017 involved ramping up her brand's visibility on a much larger scale.
Her clothes have been worn by some of the most photographed women in the world — so many that her team have created the hashtag #MaggieMoment.
The list includes Kendall Jenner in white denim flares, Kate Hudson in a ruffle blazer appearing on Jimmy Kimmel Live and model Karlie Kloss in a pair of striped pants out in New York. It is the women who represent stylish millennials with a social conscience that the brand has particularly wooed, however.
Activist and poet Cleo Wade is a fan, and influential Teen Vogue editor-in-chief Elaine Welteroth has worn the label on several occasions, including recently a Maggie Marilyn denim pant suit when meeting Hillary Clinton.
READ: The Feminism and Politics of Teen Magazines
There's a reason Maggie has made a particular impression in the US: her approach to casual luxury with a preppy edge nods to the luxury American sportswear market that lifestyle designers like Tommy Hilfiger and Tory Burch have successfully cornered.
Maggie's approach is relevant for right now, designing for herself and her peers clothes thoughtfully made in New Zealand.
Reviewing her new Resort 2018 collection earlier this month, Vogue Runway's Nicole Phelps described it as a "model millennial brand", noting Maggie's entrepreneurial spirit as well as her globally aware approach.
"Maggie is serving a trend-conscious demographic and, as such, she's mixing sport and finery — read: sweatshirts and silk ruffles — in ways that seem odd to older eyes, but have nonetheless come to define the look of the young in the late 2010s."
The label proves you can have international appeal without disregarding your roots, with its imagery celebrating New Zealand and taking it to the world; it balances that fine line between creativity and commercial appeal in the process.
For a brand only in its fifth season, creating desirable, stylish clothes, sustainably, to appeal to women from Auckland to Paris might seem like a tall order, but Maggie has risen to the challenge with ease.
There's no denying that up-close, these are well-made clothes, enhanced by the fact that Maggie represents a new generation of millennial business women putting ethics and inclusivity at the forefront of the agenda.
Now that's a real Maggie moment.
Share this: