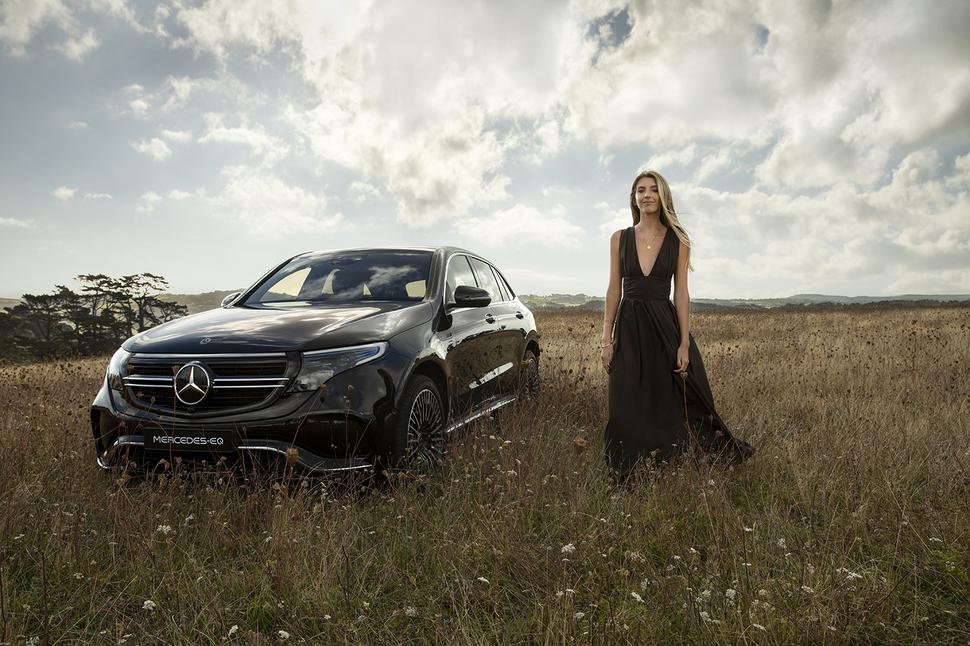 Maggie Marilyn's Exciting New Partnership With Mercedes-Benz
Fashion and cars follow the same map to a better future in this unique luxury alliance
Wednesday March 31, 2021
For Maggie Hewitt, Maggie Marilyn has always represented a different kind of vehicle. At first look, her namesake fashion label cuts its way in the world through timeless, confident, sensory clothes — but it is more than that: it has brought Maggie a sense of purpose in an industry she is endeavouring, from a legion of angles, to change.
It's easy to understand why Mercedes-Benz approached her brand a while ago for a partnership. Its company, too, is an agency dedicated to something beyond itself — technology, yes, but also innovation.
READ: The Fashion Star: Designer Maggie Hewitt of Maggie Marilyn
The car industry, like the fashion industry, is big on the mechanics of a thing as much as the look of the thing itself; the pageantry is nothing without the platform.
There was the timing, too. As Mercedes-Benz developed a plug-in hybrid, the A 25O e, and released its first all-electric EQC SUV, Maggie Marilyn came to the end of its first sustainability strategy — what Hewitt fittingly describes as a roadmap, which was outlined in 2018 as a way to measure its impact and be held accountable by customers and stakeholders alike.
The label is looking to release its next one in coming months, an important step in the wake of the pivot from a wholesale to a direct-to-consumer model.
"I think that there are so many synergies and values that align, but one of the most important ones is that we both want to champion change in our individual industries and we're both committed to evolving and doing the best we can to leave behind a better planet for future generations," says Maggie, going on to explain that this year is about repairing and repurposing garments (expect a new take-back system for the brand's Somewhere range, that allows customers to return garments that they've decided have come to the end of their life, and a repairs programme for the Forever capsules).
"I love the drive and purpose that both brands lead with and it feels like such an exciting time to partner with Mercedes-Benz."
In recent years fashion and cars have made for handsome bedfellows.
There was Karen Walker and Lexus, Juliette Hogan and Audi; and a small but potent succession of labels that were chosen for the prestigious "Mercedes-Benz Presents" title during New Zealand Fashion Week — an accolade that meant, among other things, financial support for runway spaces and included predecessors like Mary Katrantzou and Dion Lee from across more than 40 countries.
Each has been a glimpse into similar principles reflected through a prism of luxury.
READ: How Local Label Maggie Marilyn Is Taking Ethically Made Fashion To The World
What feels different about this alignment is that Maggie speaks about this relationship (and her business) in a way that an activist speaks about their cause.
"I did a lot of research to figure out if it was the right fit," she says. "We feel honoured to align not only as brand partners but to create a shared dedication towards building a better future.
"And hopefully," she adds, "we can teach each other along the way."
Share this: