Inside the Manus x Machina Exhibition
Can machine-made fashion dazzle like handmade couture? Yes, and the Manus x Machina exhibition proves it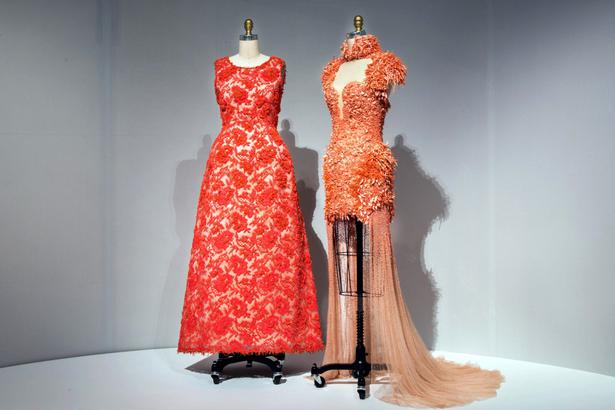 Sunday May 15, 2016
The garment that welcomes visitors to the new Costume Institute exhibition at the Metropolitan Museum of Art is an ecclesiastical ivory wedding gown with a 20-foot train that is housed in a dimly lit gallery under a dramatic dome that calls to mind the nave of a cathedral. The calming Brian Eno music that whispers in the background serves as an invitation for quiet contemplation of this Chanel haute couture masterpiece - which designer Karl Lagerfeld has constructed from scuba suit fabric.
The dress is sculptural in its form and lushly embellished. Lagerfeld sketched the vaguely baroque pattern, which was digitally manipulated and pixelated. The rhinestones were then attached using a heat press. Then it was hand-painted in gold. A bit of hand-embroidery was thrown into the mix, adding to its regal beauty.
The gown is a breathtaking collaboration of man and machine, which is the theme of Manus x Machina: Fashion in an Age of Technology, which runs through August 14. This exhibition, curated by Andrew Bolton, follows his blockbuster China: Through the Looking Glass, which was the subject of the documentary, The First Monday in May. That film offered a behind-the-scenes glimpse at the hurdles to mounting these fashion extravaganzas - as well as the accompanying fundraising galas.
READ: How to Throw an Anna Wintour Approved Party
But the film also underscored the ways his recent costume exhibitions, including Alexander McQueen: Savage Beauty, have connected with visitors. Bolton's demeanor may be reserved, but he has an eye for showmanship, and he has been able to captivate the public with installations that dazzle with both drama and emotion. He is adept at making fashion magic within the decorous walls of the Met.
This exhibition, however, is different. It is less about the emotion of the clothes than their construction - although plenty of these garments give a visitor reason to smile, laugh or even gasp in awe at an Iris van Herpen 3-D-printed pleated bodice that looks like a prehistoric exoskeleton. The setting is appropriately elegant, but it does not have the razzle-dazzle of holograms, light sticks or floating temples. In some ways, this exhibition is akin to a singer performing a cappella: There is nothing but the voice. Here, there is nothing but the fashion. It is a thoughtful exhibition about technique and craft and what it means to connect with the human form.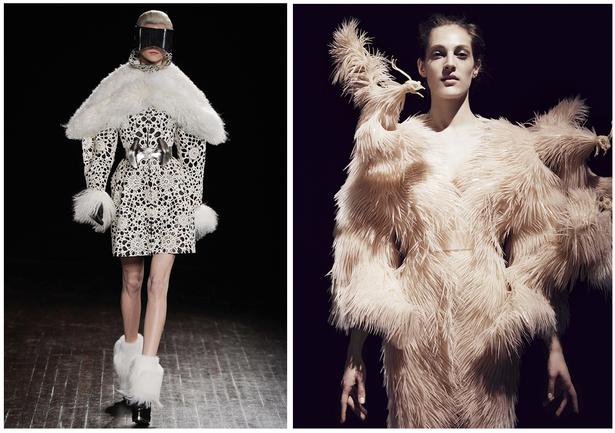 In some ways, this exhibition is also a rebuke to the gala's red carpet promenade - no longer a testament to the innovation and beauty that designers bring to their metier, but just another explosion of celebrity, narcissism and thematic extravagance. The gala once showcased actors and musicians wearing the most magnificent pieces from a designer's collection - those mesmerizing finale gowns that show fashion at its most accomplished level. But in recent years, the gala's red carpet has been invaded by E! and become a spotlight-stealing competition. Who won - Madonna in her bare-butt Givenchy gown that she declared a feminist statement, or Beyoncé in her bejeweled latex condom-of-a-dress that served as the red carpet finale? Or Kanye West in his ripped jeans and blue contact lenses?
Bolton asks his audience to shake off those distractions and consider the complicated tension between handmade garments and machine-made ones. He asks us to ponder the power of imperfection and the allure of speed. He celebrates the wonders of technology while also daring us to put down our iPhones and be in the moment.
READ: Does Fashion Belong in a Museum?
In the mythology of fashion, haute couture is considered the pinnacle of the industry, a craft that aims for a perfect fit for an individual customer. Its intrinsic value has always been based on our belief in human expertise - the skills handed down through the generations. To say that lace is handmade or a dress is hand-embroidered is to say that it has been labored over. Its imperfections are signs of its uniqueness. The human touch suggests that the dress is more than simply a frock; it is part of some continuous dialogue about beauty, emotion, and the body. Handmade clothes are a way of weaving a romance in which we star.
"Machine-made" was once associated with mass-produced clothes, churned out without feeling. And for a time, machine-made clothes lacked character and creativity. But technology has changed: Machine-made lace can be so beautiful that it becomes hard to argue for the the time-consuming, expensive process of creating it by hand. Technology helps fashion move forward. Indeed, the 3-D-printed Chanel jackets that mimic the signature quilting of its bags look far more contemporary and alive than one of the brand's suits in classic wool boucle.
But Bolton does not simply offer an argument that machines can now do the work of humans. The exhibition explores those hybrid garments that make use of both man and machine. He forces us to question what it is that makes a dress worth its price. Is it the labor? The materials? Some algorithm that incorporates both? Two dresses by the designer Gareth Pugh - painstakingly embellished with hand-cut plastic drinking straws - force this point. The one made of black plastic straws shimmers like some exalted raven under the lights. The dress constructed from clear straws is almost angelic. Both are dazzlingly inventive. Pugh has elevated the most basic, mass-produced product through imagination and hand craftsmanship.
The exhibition is sponsored by Apple, serving as a reminder of how technology that was once not even dreamed of can suddenly become inextricable from our daily lives. Technology can be aesthetically pleasing and - considering the panic that can set in over a forgotten iPhone - even emotionally grounding. Apple's products do all sorts of fantastical things. And they are aesthetically pleasing. But so far, technologically advanced fashion doesn't really do all that much for us - not yet. Much of the wearable technology feels gimmicky. But mostly, it has yet to take our breath away with its beauty.
READ: Must-visit Fashion Exhibitions
Manus x Machina shows us what is possible when we embrace technology without fully giving in to it. There are wholly handmade garments, such as the camellia wedding gown that Lagerfeld created for Chanel. It is beautiful, but it is also too much - a dress lost amidst a tidal wave of sentimentality. And Hussein Chalayan's tomb-like fiberglass dress is claustrophobic and about as compelling as a gilded hyperbaric chamber.
It's the combination that is the most thrilling. Machines allow us to see the future with some precision. The human touch delights us with its sublime illogic. And so Miuccia Prada's ink-jet printed guipure lace dress from 2008 is more captivating than the real lace it mimics because it connects our computer-driven present to the nostalgia of the past. Meanwhile, the hand-crocheted Irish lace wedding dress from the 19th century, while expertly made, seems heavy and dull.
Fashion will continue to wrestle with technology, trying to determine how best to use it. What should we savor from the past and what should we shake off. This exhibition ponders this question calmly and deliberately. Bolton doesn't provide a definitive answer. But this much is true: the answer is in the clothes - not the celebrities who wear them.
- The Washington Post
Share this: