How Marc Jacobs Runs His Empire
Marc Jacobs on running a business, New York, and Winona Ryder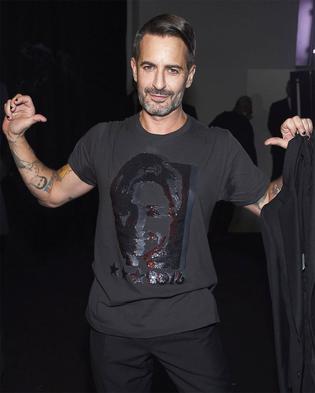 When I go to meet Marc Jacobs, the designer who turned grunge into a high-fashion statement and photographed Victoria Beckham in a carrier bag, it is exactly five weeks before his next show at New York fashion week.
Inside his SoHo HQ, there is a feeling of an art class, halfway through. There are colourful scattered remnants of show props, boards covered in collaged collection ideas, tables populated by young, cool-looking New Yorkers, patiently piecing bits of fabric together. Marc's beloved four-year-old bull terrier happily stooges around ("he doesn't do much any more," deadpans Marc's PR/Dogstagrammer, who documents Neville's lackadaisical exploits on Instagram — the dog has 191K followers).
The 53-year-old designer looks incredibly good, his taut body apparent beneath his close-fitting T-shirt, with sleeves cut high enough for his cheerily tattooed arms to be on show. On his right arm, among other brightly coloured motifs sits the yellow character of SpongeBob SquarePants. He lights a cigarette, looks away to the side and sighs: "I've had a full-on two months."
Helming an empire with estimated revenue of $US950 million is clearly no breeze. It's three years since he left his role as creative director at Louis Vuitton — a seemingly amicable parting — in order to concentrate on his own collections (LVMH also owns a controlling interest in the Marc Jacobs brand). Last year, the diffusion line of his empire, Marc by Marc Jacobs was dismantled, with every product now produced under the "Marc Jacobs" umbrella.
For Marc this means that, day to day, "I'm much more involved. When Marc by Marc was separate I looked over it and said, 'Yes, I like it, or no, I don't'." Now, all price points are under one roof — and part of one collection — so those lower-priced jeans, T-shirts and accessories still exist, as do the intricate catwalk pieces. Marc has always had a democratic approach. "It's important to me that there are things from an evening dress to a T-shirt."
As an extension of this, three years ago, after successful forays into perfume, he launched a beauty line. "I feel like makeup is the final accessory. It's accessible, regardless of what age or size you are ... It reaches a broader group of people, which is exciting," Marc says. The exercise quickly gained traction — when it launched online in 2013, the first five products sold out in hours.
"I approach it the same way we make a collection. We think about colour, texture, a look and a spirit. Everything is still a design exercise" he says.
The creative process is never a straightforward beast, however, and today Marc is distracted. "I apologise," he says at one point, while reaching for words. "Some days I'm very good at telling a story, other days not, because I'm just somewhere else. Yesterday I had such a creative day. I was very sure of everything we were doing, and I always fear that when I have a day like, the next day is going to be this indecision ... "
On pulling together a collection, he explains that "it would be nice if there were rules, because it would be much more organised — but then I think we'd all be bored. Sometimes I get frustrated because I'd like to know where the end is, because that would make working on it much more methodical. I think I'd like the relief and maths of that, but it isn't
that way."
WATCH: Marc Jacobs at New York Fashion Week:
His autumn/winter collection saw him flit from spring's blue, white and red homage to Americana to a much darker vision. "It was this idea of the ghosts of New York, and gothic heroes that we've liked in the past. We looked at some of the things we'd done, and turned them into different shades of grey, violets and blacks." There are flashes of Wednesday Addams and Lydia Deetz (Winona Ryder's character in Beetlejuice), a delicious anti-hero feast for anyone who came of age in the late 80s and early 90s, when Marc was carving out his career.
He was born and raised in New York but his early life was not easy. His father died when he was 7 and he moved around with his mother until, aged 12, he ended up living with his grandmother on the Upper West Side. He has always had a sharp eye for nailing and troubling the zeitgeist. His grunge collection in 1993 for Perry Ellis conversely saw him fired and won him that year's CFDA womenswear designer of the year award. His work framed the 90s, as did his social circle — Kate Moss, Naomi Campbell and Winona Ryder, to name but three.
READ: Marc Jacobs' Most Memorable Quotes
This winter, as Winona climbs back into our consciousness, back on sublime form in Netflix's Stranger Things, Marc has not only referenced her earlier characters but cast her (again, she has appeared previously) in his beauty campaigns. "I never think I'm nostalgic," says Marc. "I'm very much living in this moment, but I've been around for 53 years; I've certainly retained all of the moments that made me who I am. I don't question it if, instinctively, something feels right."
What is it about Winona, I ask. "It's everything, every part she's ever played ... She's a very special, smart person. On a physical level she's this timeless beauty; we're drawn to each other because we both have these minds that just don't shut off."
Marc specialises in muses with added attitude — though I'm sure he wouldn't use the dreaded "muse" word. But his imagery has always been provocative — there are no bland lineups of faceless models. Beth Ditto and Lady Gaga have both "walked" in recent fashion shows. His current campaign features actors Sissy Spacek and Susan Sarandon, musicians Courtney Love, Marilyn Manson and David Johansen, of the New York Dolls, as well as the more obvious faces of Kendall Jenner and Cara Delevingne. They were chosen for their synonymy with the collection. "I thought of Susan Sarandon and The Rocky Horror Show, and The Hunger; I thought of Sissy Spacek and Carrie," Marc says.

The designer has a Warholian knack of appropriating popular culture and selling it back to us, seamlessly merging high art with arch commerciality. He is the man who put artist Stephen Sprouse's graffiti work over a classic Louis Vuitton monogrammed handbag and created a cult hit — something coveted as much by a luxury audience as by downtown kids.
He is certainly not prone to fashion cliche. When I ask who is the "Marc Jacobs woman", he exhales his cigarette smoke, looks at me and says: "I don't know. When I read what other designers say about who their woman is, they use the same three adjectives, 'She's sexy, modern, and young ... ' I mean ... " He screws up his face. "I can't define a person by her age or physical attributes. When anybody can answer that question, I always think it's a bit of a laugh. I don't have a formula for people and what they're attracted to. I also think that as soon as you say, 'Well, that's not my thing', you close yourself off from being surprised and delighted."
His clothes run from the everyday with an edge (current collection T-shirts have rough edges and piratical black stripes), to avant garde "fashion" pieces that allow you to adopt a potent character, even if it's just a heightened way of being yourself.
"I'm not like other designers who say, 'Oh, you should wear this, you should wear that ... ' I don't like to impose what I think. Winona is perfect for that, she can come in and choose [herself] a men's suit and wear it with a blouse ... I like people who have a sense of themselves. They might like what we do, but they're not looking to be told what to do."
I ask if he still finds the fun in what he does. "Yeah, I do. I mean, today ... " He laughs. "But I, and everybody here, we love making things. And we really love putting on a show."
With that, he is off. "I'm going to go back to putting funny graphics on sneakers," he says with a serious-looking smile, "I think I've taken on too much this time, but I always feel that way."
— The Daily Telegraph
Share this: