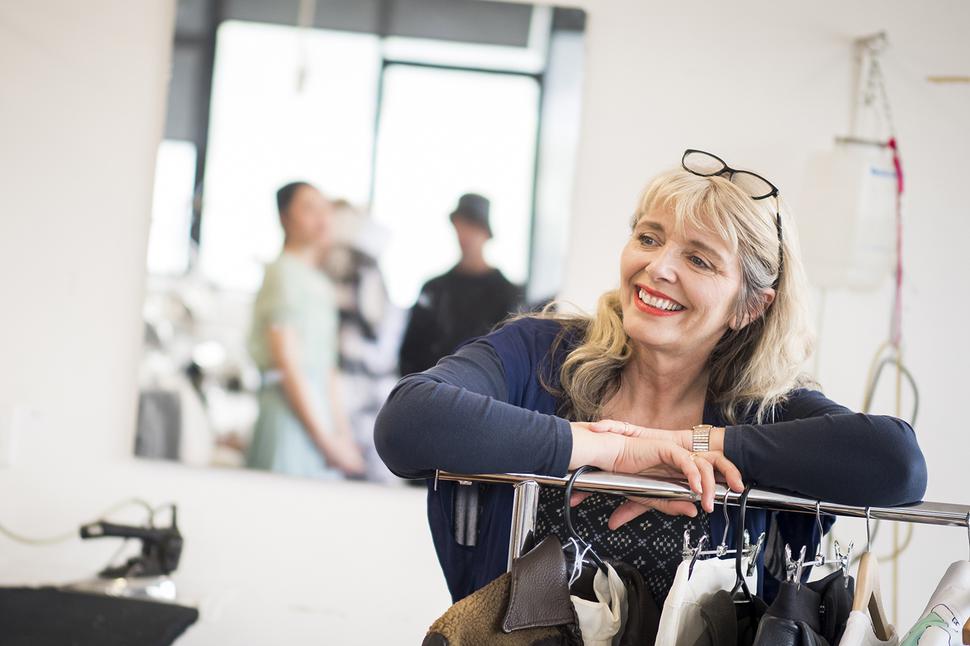 Meet Dr Margo Barton, Professor & Creative Director Of iD Fashion
The academic leader and fashion stalwart on style, balance and the challenges of running a foremost fashion event
Thursday June 10, 2021
What are you looking forward to about iD Dunedin Fashion 2021?
I can't wait for the live event, it's the iD International Emerging Designer movie premiere and runway show. 2021 is an extra special year as it's the first opportunity for us to acknowledge and recognise the top New Zealand designers with the Viva Top NZ Designer Award for the first time, this will be a real highlight for me.
Tell us about the quality of entrants this year.
I'm extremely happy that I'm not a judge because the standard is so high!
What's really interesting is that whereas in the past I could look at the cover of the portfolio and know where the student is from, this year is different. Across the board the standard is so high. Gender diverse and gender neutral designs have been growing since 2018 and its become even an stronger feature of entries this year.
Another important element of the iD Emerging Designer Awards is that everyone has to have a position on sustainability and communicate that with their entry. I love the opportunity to learn from the entrants observations on sustainability, it's very interesting.
In your role as creative director and chair of iD, what are the greatest challenges?
Without a doubt, time and funding are the biggest challenges. With more funding we'd be able to have a bigger team working on the event. It's a large undertaking and we'd love to not rely so heavily on the kindness of volunteers who want to make it succeed. That said, we're incredibly appreciative of all the hours our volunteers, board and paid team do to make this event a success.
You are also a professor and academic leader for fashion at Otago Polytechnic. Tell us about what this involves and what drives and inspires you.
Being the academic leader allows me to work with a fantastic team of talented and passionate staff and I feel privileged to work with them.
I'm also lucky that part of my professorial role enables me to work on iD Dunedin and in that task I'm fortunate to have the support of Otago Polytechnic and the fashion team to undertake this. I'm passionate about sustainability in fashion and believe it's important for us to communicate the importance of this.
As part of my role as a professor, the Otago Polytechnic School of Fashion funds academic development and this year I'm pleased to support the annual Otago Polytechnic Symposium at Otago Museum on Friday June 18.
When you wake up in the morning, what's the first thing you think or do?
I'm inspired by water, so I look out my window to the wide blue ocean of St Clair Beach and across to White Island. Every day the Pacific Ocean changes.
Do you believe in work/life balance? What does this look like for you?
It's essential. All work and no play makes for a dull person. I try to get out to the beach, go swimming or head out to Purakaunui on my paddle board. I love going to gigs and get out to plenty, I'm particularly interested in seeking out people who aren't widely known. I have a couple of friends who head out with me, and last year we discovered a young band from Logan Park High School.
I make time to get through to the wide skies of Central Otago. I'm a big fan of Wanaka, Frankton, Glenorchy and Hawea, where I have my 1969 caravan parked up to escape too. I take my paddle board through to Central Otago too and make sure that when I'm there I leave enough time to get out and discover new orange wines.
I'm also a member of the Dunedin Film Society and love movies.
What is it like living in Dunedin, good and bad?
The good — whanau and the Otago Polytechnic — I love the sense of community and relationships with great people. Another bonus is the proximity to the beach, the city and the people — everything is so close. My window at home look out across St Clair Beach and I watch sun rises and sun sets from my home — that's definitely part of the good.
Up until Covid I was a regular overseas traveller and have family all over the world, so at this time I am missing the opportunity to travel further.
LOOKBACK: The Winners Of The iD International Emerging Designer Awards 2020
What is a podcast you're enjoying at the moment?
Side Hustle — it's so inspiriting to hear all these different stories and it makes me think if only I had more time. I love hearing them to pass on ideas to family and students. The Business of Fashion podcast. I never miss At the Movies by RNZ.
A book you're reading, or one you've really enjoyed lately?
Boy on Fire: The Young Nick Cave.
Which TV show do you love at the moment?
Why isn't there more Rake? I remember Richard Roxburgh from Australia. Call My Agent — the clothes are fantastic. Swedish Dicks — I know the name sounds terrible but they are private investigators sporting great clothes and are very funny.
What's a travel destination that'll be your first port of call when we can travel again?
Recently I went to Russell for the first time and it was fantastic. It's definitely on my list again. When the borders open I'm looking forward to seeing more of Italy. My daughter Ella is in Milan and I plan to go south towards Puglia. I've even found a restaurant in a cave I'm planning to visit.
Design item or piece of homeware that you bought recently, or want to buy?
On a recent field trip with students I found an incredible blue wool coat from Toffs [a secondhand clothing store in Dunedin] and I just had to have it. The jacket is incredible and I can't wait for winter so I wear it. I'm a huge fan of vintage shopping and when buying new it's usually local designers.
Favourite place to shop?
Any vintage shop. Especially ones in unexpected places.
What's on your playlist right now, a song on repeat?
I'm listening to CDs at the moment compiled for me by a friend. Nick Cave and Jeff Buckley are constants on my playlist and new favourites are Teeks and Troy Kingi.
Beauty item or product you like to use?
I always use IT cosmetics because they include SPF 50.
A piece of clothing you'd like to buy right now?
A good pair of quality black denim jeans.
A show, event, performance or festival you have on your calendar that you're looking forward to?
Is this a real question? Of course it's the iD International Emerging Designer Awards. Dunedin, Saturday June 19, 2021.
What's your favourite item in your wardrobe?
It changes all the time. However, the one thing I'd grab if the house was on fire would be my NOM*d designer 'Sincerity' coat upcycled from a Hallensteins suit from the 1950s.
Dunedin bar/cafe or restaurant that you really like?
Woof! Because everyone who works there is so wonderful and lovely and they have orange wine and cheese balls. The Esplanade is another regular haunt, I go for the coffee and wine and stay for the view over St Clair beach.
Discover all 43 finalists for the iD International Emerging Designer Awards 2021.
Share this: