Styling Tips From Celebrity Fashion Stylist Marina Didovich
The Sydney-based stylist shares some of her top wardrobe tips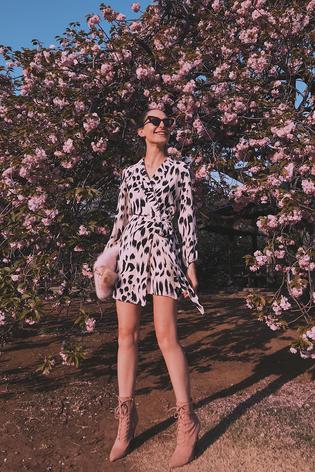 Sydney-based freelance fashion stylist and consultant Marina Didovich has a seriously impressive resume that includes work for magazines like Vogue Italia and Harper's Bazaar, and styling celebrities like Cate Blanchett, Jennifer Hawkins and Delta Goodrem.
READ: Model Ines de La Fressange On Smashing Ageless Style
She recently came to New Zealand to style Ruby's latest collection, Faux Pas, and hold one-on-one styling sessions at the brand's Newmarket store.
We thought it was the perfect opportunity to catch up with Marina, and get her thoughts on elevating an outfit, her current favourite trends and her fashion philosophy.
Could you tell us a bit about your career journey, and how you got to where you are today?
I started my styling career by doing work experience for approximately 12 months at ACP Media for Fashion Quarterly, Cleo and She magazines. Slowly this progressed into small paid freelance jobs for these titles and eventually, I was offered the position of fashion stylist at Cleo magazine. That's really where it all started.
READ: Zoe Kravitz on Style, Diversity & Her Latest Role as a Beauty Ambassador
What about the process of styling your clients – how do you find the balance between their personal style and your own?
This tends to grow organically while building a relationship with each client. I always try to gravitate towards styles that give each client self-confidence. I also place a huge emphasis on ensuring that each client (and myself!) explore different style directions and never overlap.
Who are your favourite designers? How would you describe your own style?
I don't really have favourite designers or a certain style…. To be honest, I think I'm a bit of a schizophrenic and very much dress/purchase depending on my mood.
What's your fashion philosophy?
Wear what YOU feel good in. Nothing looks more amazing than self-confidence.
Any trends that you can see are taking over, or are about to be big?
Pastels and dusky tones. We are going to be seeing a lot in the new season. We are also going to see logos everywhere.
You're great with accessories – are there particular accessories that you think really elevate an outfit?
I feel like people really underestimate how much a great belt can elevate a wardrobe or outfit!
Do you have any advice for someone that is looking to update their wardrobe or style, and isn't sure where to start?
I would say Instagram is a great place to start. Scroll through and start a folder of celebrities and bloggers whose dress sense you aspire to. You'll start to see a common thread of pieces or trends which you should start investing in.
READ: How to Wear Basics (and Not Look Basic)
Do you have a favourite fashion era?
In LA, there is a vintage store called What Goes Around Comes Around. Literally, anything they stock is from an era I'm obsessed with!
What are some easy ways that people can incorporate bright colours into their wardrobe if they're a little nervous to do so?
Choose one key piece (e.g. a dusty pink blazer) and team with basics such as denim, a t-shirt and your favourite flats. Venture into it slowly by incorporating favourite basics already in your wardrobe which you have confidence wearing. That way it's not too scary!
Share this: