How to Dress Stylishly While Pregnant
How does a fashion editor deal with dressing for pregnancy? Mainly by avoiding all maternity wear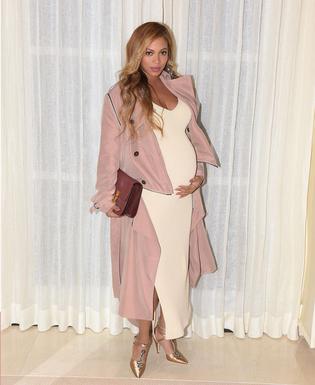 Getting dressed while working in fashion is never without its challenges. Getting dressing while working around a rapidly expanding belly (containing eight and a half months of fledgling offspring) becomes a game of wardrobe roulette, when every day a new item fails to do up.
Then of course there's the consideration of how modern one should be. Should I profile my "looks" on Instagram with the smug #stylethebump? (answer: negative/shudder). Where is my floral backdrop, mismatched underwear and coloured veil for a full-body-exposed announcement?
READ: Lena Dunham Wears Lonely on The Ellen Show
I've so far posted one grainy black and white picture of my belly not fitting into my coat. This mostly came about, as all selfies in my life tend to, from a moment of pure boredom and lack of eye-rolling husband in the vicinity.
Thankfully, the bizarre fetishisation of famous pregnant women's valiant efforts in getting dressed doesn't seem to spill out into real life. Half the time, people don't even seem to notice the bump at all, especially say, in the morning rush-hour when more nimble commuters have no problem elbowing me out the way to get to a seat.
But aside from travel-angst, I've never been more grateful not to be an international pop star (Beyonce) or indeed human rights lawyer (Amal Clooney) accused of flaunting my newly "blooming" body or "working a stylish pregnancy look".
Ditto, that I'm not having twins — though not according to the designer who took one look at me during fashion week and enthused that there must be two in there. That really is something to give you second thoughts about an oversized jumper.
My first pregnancy purchase was a pair of Celine trainers. I know. But I'm a fashion editor. Those ergonomic flats with built-in wedge cushioning may be practical, but they're no lookers. The trainers — slip-on, chunky-soled and, critically, chic — have turned out to be excellent mat footwear, and cheered me up immeasurably through my nausea.
The only shoes to beat them in terms of pure practicality are my Gucci loafers. A backless shoe is the single best thing a pregnant woman can waddle her foot into. No fastenings, no stress, no bending down. And despite my mother gleefully insisting that any minute now my feet will swell up to the circumference of an elephant's backside, so far they remain the same size they've always been.
In lieu of throwing money at impractical fashion-week clothing options (no point), footwear splurges seem entirely reasonable. I'm currently eyeing up a pair of velvet Chloe sliders that I reckon may be the ideal pushing-pram-around-all-summer option. I figure before this child turns up and my budget is beset by demands for breast pumps and travel cots, I have one self-indulgent purchase left to make.
When it comes to clothing, my natural bent towards loose, oversized items has been immeasurably useful. An Emilia Wickstead swing top I bought last summer is going strong, a flowing Ganni floral maxi dress still covers, old favourite long-line T-shirts have been completely accommodating. Which is helpful.
Having cast an investigative eye over the official options, I've found that maternity clothes generally adhere to a basic yummy-mummy handbook: they are bland by necessity so as to appeal to the largest mum-ographic. Tops are largely striped, jeans are skinny, cardigans are waterfall and dresses are ruched jersey.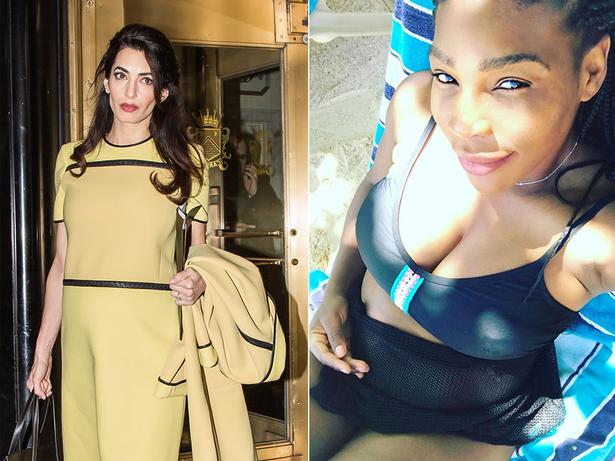 But, given that I'm having a baby, not a taste crisis, this is all easily avoided. First, I thank the fashion gods that I'm pregnant during the age of athleisure. I'm sorry if you had the misfortune to procreate in the shazzy 00s, with its tyranny of bodycon and perilously high shoes. But in an era when comfort is king, being pregnant is a relative sartorial breeze.
Me+Em offers poshed-up sportswear (its side-striped trousers are a signature), which is more than passable as office wear. My fancy track pants from the label are still going strong (purchased in a size up), as are a pair of deliciously cosy wide-leg cropped knitted trousers.
Elasticated waists — no more just the preserve of toddlers and octogenarians — have become my dearest ally. The key is to look for soft-bend ones, I bought a pair of smart navy trousers early on, which I had to abandon at about seven months for being too stringent.
READ: A Stylish Guide to Pregnancy
However, soft-pleated trousers have of late populated the high street in a fairly blatant "homage" to Issey Miyake's Pleats Please (buy the original from Scotties boutique) — or indeed anything from the collection would make excellent mat wear. Topshop's matte plisse Awkward trousers are thankfully less shiny that its earlier incarnation (they also seem to come up large, so you possibly don't even need to go up a size, just wear them low).
One label that I'm obsessed with is the Californian Raquel Allegra, who kicked off with a line of (artful, rather than hippy dodge) tie-dye T-shirts more than a decade ago.
This has expanded into a range that manages to encompass comfort and cool, and is cut loosely to be the perfect unintentional mat wear. I'm fully intending to cruise around in my button-through (ergo breastfeeding-friendly) soft cotton maxi dresses throughout the entire summer of mum.
Nineinthemirror.com is a website that stocks "normal" labels that can easily work for the pregnant (basically anything cut wide or with an empire line). It is, however, at the pricier end of the market, but would be handy if you have an event you need to throw some sartorial cash at, and these pieces will be wearable well beyond pregnancy.
When it comes to maternity jeans, most options are bleak. I don't wear skinny jeans normally, but this seems to be for the most part what is on offer — and, less flattering, made from even more stretchy (hence, more clingy) denim than normal ones.
Also, don't imagine that, just because they have a giant elastic waistband, maternity jeans will be any easier to find a good fit in than normal ones. Not being able to get into a pair of these is a low I never thought I'd reach.
The best ones I've found are from J Brand, which offers its Selena (cropped flare) style with elastic inserts at the waist — you need to be quite advanced in the pregnancy to wear these, however. I tried them too early and they just fell down (from seven months on, they're perfect).
The Current/Elliott X Hatch range is also good (and has boyfriend options). In actual mat-wear land, I have found Seraphine's black slim leg and Isabella Oliver's relaxed maternity jeans to be the best fitting. These labels also offer very handy longline, stretchy-cotton T-shirts, which I never thought I'd want, but they turn out to be a lifesaver for layering — especially under my new Kitri kimono, which I've taken to wafting around in.
READ: Locally Made Earrings to Top Off Any Look
A final word on accessories. Giant jewellery (earrings, rings) purchases are especially satisfying when one can't fully indulge in a season of new clothes. I've ditched bags you have to hold with your hand, too — roomy cross-body (that are long enough to sling over to one side) and backpacks are best in the face of sciatic/back pain bore. But they must look good, obviously.
— The Daily Telegraph
Share this: