Maye Musk's Ageless Style
Maye Musk, the 68-year-old model and mother of inventor Elon, is enjoying a 'greynaissance'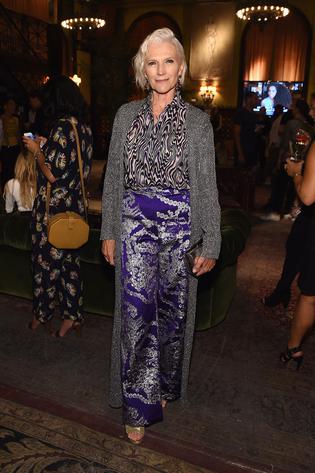 Paris Fashion Week's break-out star wasn't a teenage model or edgy young designer. Instead, it was Maye Musk, the 68-year-old fashion industry veteran, who proved that age is no barrier to impeccable style. Thanks to a new modelling contract with Gisele's model agency IMG, Maye found herself sitting on the front row for the first time and being accosted by street-style photographers eager to capture her avant garde look.
"It was an amazing week," she says over the phone from her home in Los Angeles, where she has been kept busy since her return. Hours after landing, she was in jeans and trainers planting vegetables at one of the schools that benefits from The Kitchen Community, a charity founded by one of her sons.
Ah, yes — her sons. While Maye has found international fashion fame of late, she's already known as the mother of Elon Musk, the billionaire inventor who recently announced his ambition to put people on Mars.
Born in Canada in 1948 but raised in South Africa, Maye — who began modelling at 15 — married her high-school sweetheart, Errol, and trained as a dietician. The couple had three children: Elon, his brother Kimbal (the entrepreneur targeting America's reliance on fast food) and a daughter, Tosca, a film producer and director. When they divorced in 1979, their sons opted to live with their father, and Maye found herself a single mother, struggling to make ends meet.
Modelling helped her do just that — as a kind of glorified Saturday job to her dietitian's business. "After I had my third child at 28, I was asked to do runway shows as the token 'old' model, showcasing a 'Mother of the Bride' look," she recalls. "At 42, I did my first advert modelling as a grandmother. By then I'd moved to Canada and was the oldest model in the country. But I had three teenagers. I needed to work."
Maye's modelling forays have included catalogues and catwalks, as well as cover shoots for fashion monthlies and cruise magazines. She also appeared in advertising campaigns for Virgin America and Philips, "and once, I even played a 90-year-old Alzheimer's patient".
READ: Linda Rodin's Enduring Style
It's a world away from the modelling assignments Maye is taking on today, after a scout spotted her on Instagram. "My best friend Julia Perry has been styling me for 26 years, and she said: 'You have to get on Instagram, every model is on there.' You don't think of these things at my age, but social media is the best thing ever."
On the day we speak, a campaign she has worked on for La Ligne, a chic New York-based brand founded by former Vogue editors, is released. It shows Maye reclining in a bath in luxurious silk trousers and posing in an armchair wearing trainers and tracksuit bottoms. "Who would believe at 68 you'd be getting better jobs?" she asks. "I wouldn't have believed you if you told me that when I started 53 years ago. It's so much fun."
With her striking silver-grey hair ("I decided when I was 60 I would see what my natural colour was"), it's easy to see why IMG was so keen. But Maye's signing is also part of a bigger "greynaissance" happening across the fashion industry, which recognises there is a huge untapped market among older people.
Caryn Franklin, fashion commentator and professor of diversity in fashion at Kingston, recently challenged stereotypes about how older people are represented with a photoshoot in which she dressed 74-year-old model Anna-Marie von Ruden in clothes by young designers, as part of The Age of No Retirement initiative.
"We didn't retouch anything," she says of the shoot, before citing a study from 2007 that found shoppers are 300 per cent more likely to buy something if they see it in an advert worn by a model who reflects their own appearance. Women now want to look good for their age, not younger," she says.
READ: Advanced Style to Follow on Instagram
It's a movement that Maye — who says she was considered "ancient" 20 years ago — thinks can only be a positive force. "When I'm on a shoot with teenage models, they feel very inspired when they realise there's a chance they can model later in life," she says. "Even after having children."
Maye has been modelling for five decades, but says the industry has developed idiosyncrasies that now make fashion week "a huge palaver".
"I love walking, but when you're in high heels and there are cobbles everywhere and it's a bit rainy, you get a car. You go from event to event and you change each time — even the hair — because you have to have a different look for the street-style photographers."
Normally she lives in jeans and T-shirts, but it helps to have a wardrobe filled with pieces by designers like Dries van Noten, Lanvin, Carven and The Row to fall back on.
"In Paris, I wore a Lanvin dress which I've had for eight years, but then we added beautiful Swarovski jewellery and an edgier jacket to give it a different look," says Maye.
In a lighthearted aside that casts light on the fashion industry, she says: "A lot of clothes arrived and many were size 0 or size 2. I'm a UK size 8, so I'm considered huge."
What does her billionaire son — ranked the 83rd wealthiest person in the world by Forbes magazine last year — make of the fashion world? "He likes to dress well, he likes good quality, even if it's just a T-shirt," she says, before refuting any suggestion that he might have learnt his good taste from her. "I haven't taught my kids anything," she says. "They learnt it all themselves."
— The Daily Telegraph
Share this:
More Fashion / Features & Profiles