Meet Keva Rands, Designer Of Auckland-Based Fashion Label Papa Clothing
Papa Clothing is known for its sophisticated made-to-order pieces crafted from natural fibres. Rosie Herdman chats to Keva ahead of her new collection launch and pop-up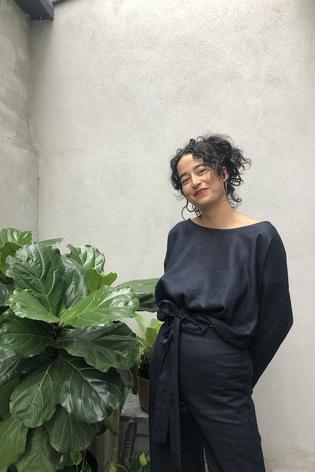 Local label Papa Clothing is known for its made-to-order staples, sophisticated yet simple silhouettes and emphasis on natural fibres like linen and cotton.
Designer Keva Rands is gearing up to launch a new collection - we caught up with her to find out more about how she got started with Papa Clothing, her philosophy behind the brand and her up-coming pop-up on May 3 at Strange Haven in Auckland.
Firstly, could you tell us about your background and what you were up to before you started doing Papa?
I'm a northland born farm girl with mixed Pacific and Pākehā heritage, now working and living in Auckland. Through my Mum I'm linked to Fiji, Hawaii, Tongareva and Samoa and my Dad is 4th generation Pākehā.
Our family moved from the country to Auckland when I was young but we have always returned and it's a huge part of who I am. After highschool I studied fashion design at AUT and started working for various design and fashion labels over the years.
Before starting Papa I was always making the odd piece of clothing for friends and family.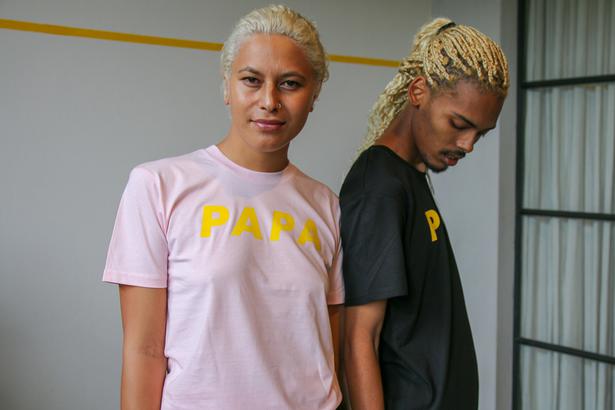 When did you start the brand?
In 2014 a former tutor of mine from AUT, Linda Jones began a collective made up of local, emerging designers. Being part of that initiative gave me the opportunity to design and produce capsule collections for our pop-up events rather than the one off pieces I had been making.
Because everyone in the collective was in various stages of starting out, we could offer each other support and advice in the early days of our respective brands. It can be really scary to start something like this, but through that process of working collectively I remembered how much I love to design.
I named the brand after my namesake, who was known to all of his mokopuna as 'Papa'. After the last four years of developing the brand it's now available on our website, papaclothing.co.nz and via our beautiful stockist, Ena in Wellington.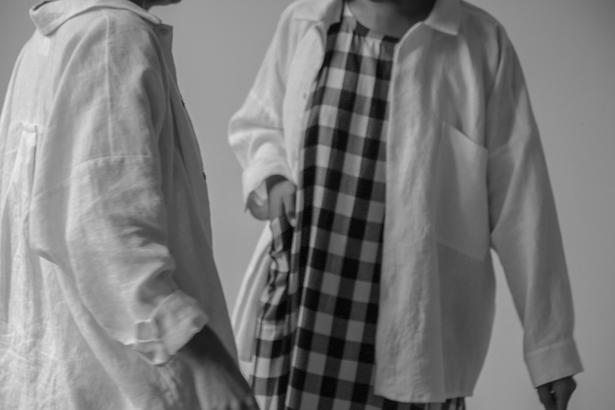 How would you describe the aesthetic of Papa?
I would describe it as contemporary, pacific influenced design. We make a mix of sophisticated made-to-order pieces alongside street ready clothing you want to throw on when you're not sure what to wear.
My love of linen and natural fibres inform the design through shape and functionality making pieces that show off the qualities of those textiles. In that way it's simple but highly considered.
I think those who enjoy Papa appreciate the time I've taken to design something that is so easy to wear in any situation and that suit a wide range of body types.
Why did you start it?
Someone once told me, 'when I put on your clothing it feels like I've come home'. Hearing that I knew I wanted to keep going with the project. I didn't even understand that that's what I set out to do in the first place but it was beautifully put and perfectly in tune with my clothing philosophy - to make beautiful things that people feel like they belong in.
You like to tie in aspects of your heritage and personal background with your design and process – can you tell us more about the ways in which you do this? And why this is important to you?
For me it's important to draw inspiration from my own experiences and surroundings. Looking at the legacies of textile, pattern and colour from the Pacific I feel really inspired to translate that through my own experiences as a young Pacific woman living in Tāmaki Makaurau. It's important to me to find a style that pays tribute to my roots and makes sense in this place.
My parents founded Ecostore and I was lucky to be raised around their creative and entrepreneurial spirit. I have always felt a strong sense of responsibility to our natural world and the importance of sustainable practices. It's something I keep in the background of every decision I make for Papa.
READ: Local Label Bruno's Creates One Of A Kind Pieces To Treasure
Can you tell us about your latest collection release?
I'm really excited about this collection! I'm introducing a bright Tangelo colour for the coming colder season as I love seeing pops of colour in the Autumn and Winter months.
There are design influences from Hawaii and across the pacific while also paying tribute to several amazing women of colour who have incredible personal style and influence like Sade and Nina Simone.
I've collaborated with one of my favourite models, Leah Pao and an amazing photographer Chloe Manickum to produced our lookbook for this collection. It's a priority for us to work with other women of colour as we know how important representation is.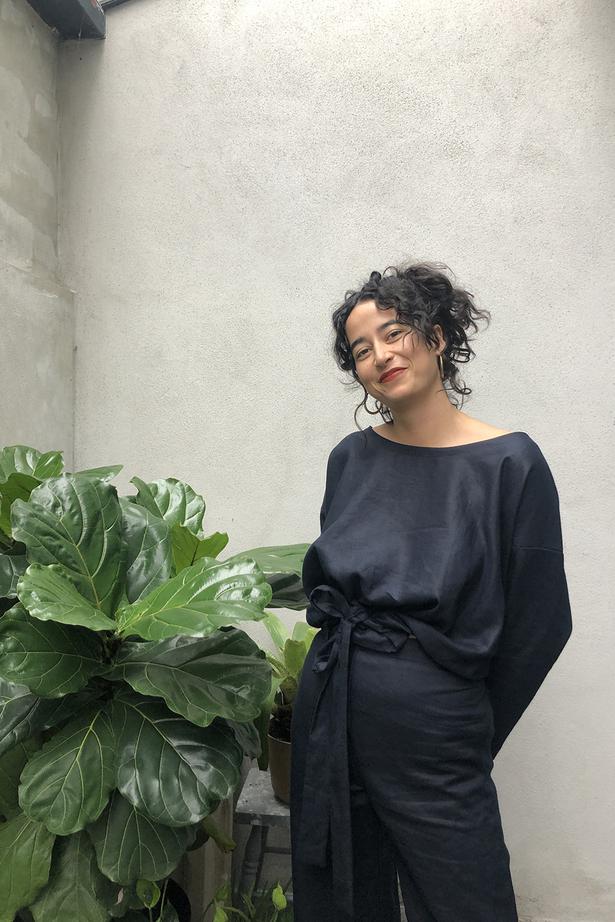 What's one of your favourite pieces?
I've just started a new love affair with white button up shirts so I think the new Ehu shirt would have to be my current favourite even though it's hard to choose just one thing.
Ehu loosely translates a Hawaiian person with light hair and in this case I'm doing a shout out to a cousin of mine, Cassandra. The collar is modelled on the Aloha shirt which traditionally has no 'stand' giving it a relaxed structure.
It's in a heavy weight linen so it's almost like an overshirt or light jacket. It's a versatile piece and can be worn in many ways.
There's a bit of a movement towards custom and made-to-order fashion brands –why do you think this is? What about doing it this way works for you? And why do you think it appeals to consumers?
Sustainability is finally starting to get talked about in our industry. We need to consider ways to reduce waste and environmental impact.
I find making things to order prevents the risk of dead stock and frees up the linens I have to be made into the many different styles that I have available on the website.
I'm also a big supporter of slow fashion, clothing that is made to last. I think the value I offer is in the considered and personal experience you get when a piece of clothing is made just for you.
As for our clients, I think it opens up the opportunity for customisation and collaboration in the design process. I can make pieces in unique colours, altering length, width and other details depending on what clients are looking for, and it's amazing to be able to have that conversation directly with the people who will be wearing them. This also creates an intimate connection for our clients to have with their new Papa piece.
READ: How Your Favourite Brands Rated In The Ethical Fashion Guide 2019
Some brands strive to be 'exclusive' and maybe a bit elitist, whereas you have said "family is at the heart of Papa, and each carefully crafted piece is an invitation to join." Is this inclusivity what sets you apart from other labels, do you think?
I hope so. I feel so proud to work with the clients I have. Sometimes, because we do end up spending a bit of time talking and coming up with the perfect fabric and fit, we get the chance to really share that pride in the finished product.
I even have a dedicated Whānau page on my website where I get to share photos of people wearing their pieces. Family is important to me and such a foundational element of being of the Pacific. Papa is hugely important to me, and being able to share what I do with such a diverse group of people is a privilege.
You have great personal style – what informs what you wear day-to-day? And how does your own personal style inform Papa's aesthetic?
Firstly thank you very much! I wear mostly Papa clothing every day but my obsession with being cosy means I have quite a street casual style with Papa linens dressing up a t-shirt or hoodie (the most comfortable thing I can get away with leaving the house in).
I think my own style has informed my design through the practical functionality of each piece. This means having generous pockets or making sure you can take big strides in a long skirt - features that work with you.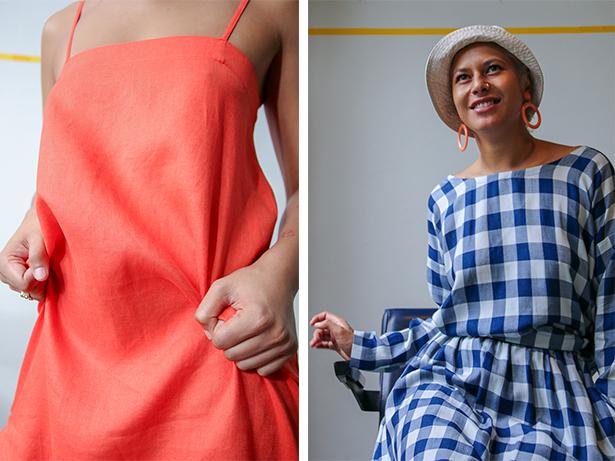 What or who inspires you?
My family. They like to call Papa the family uniform. I love making things that enhance their beauty and dressing them has always been helpful for me to test styles on a range of body types. Papa pieces are all named after family and loved ones.
Papa's upcoming pop-up – tell us more! You've got some amazing women on board to collaborate on the event with you. What can we expect?
Super excited about this pop-up. My sister Ahilapalapa and I are collaborating with the amazing Kolose sisters from Hunting Ground who sell really great recycled streetwear/American vintage.
We've sought out collaborators like DJ's Andy Heartthrob and Half Queen to provide music for the opening night. A few artists will be showing some work in different mediums and we also have support from Rudi's beer along with other delicious sponsors.
Opening night is Friday the 3rd of May and the shop will run from 10am - 6pm, Saturday & Sunday of that weekend at Strange Haven at 281 Karangahape Road.
Share this: