Meet The London Design Duo Behind Vintage-Inspired Label Rixo
Ahead of their new collection arrival to New Zealand, Viva speaks to designers Henrietta Rix and Orlagh McCloskey behind coveted label Rixo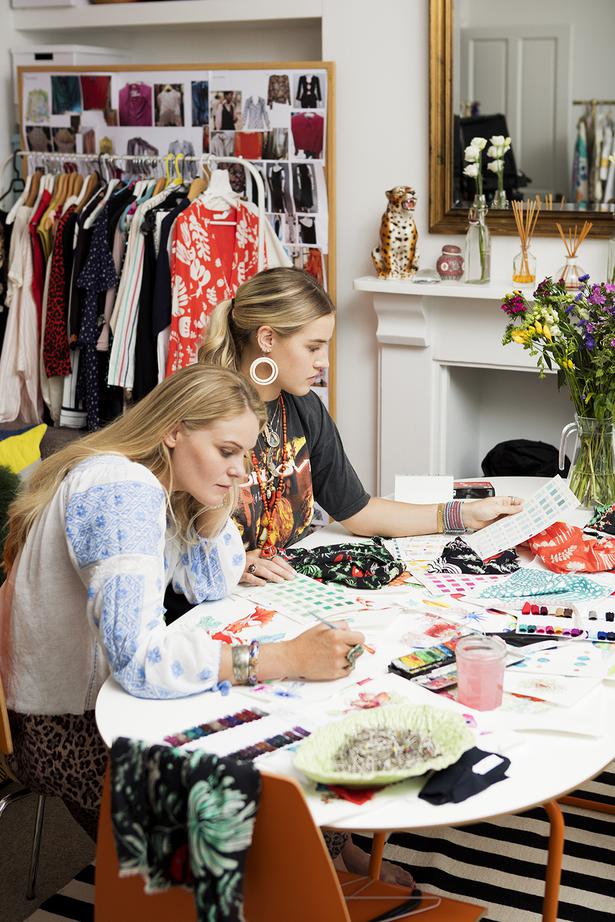 Tuesday July 9, 2019
Meet the namesake pair behind the vintage-inspired brand Rixo, making waves in the fashion scene globally and on your Instagram, and worn and respected by fashion names such as Lisa Aiken, Laura Jackson, Pandora Sykes and Sabina Socol.
READ: Meet Harajuku Street-Style Star Chloe "Choom" Michaud
With the brand's new season pieces impending arrival in New Zealand, we talk to budding designers Henrietta Rix and Orlagh McCloskey about their beginnings, inspiration and what the future holds for the label.
Tell us about the beginnings of Rixo. Where did the inspiration come from?
Henrietta: Orlagh and I met when we were both studying fashion management at London College of Fashion. Orlagh got into our first lecture late and ended up sitting next to me. I think the first thing I asked her was "Where's your bag from?". It was vintage, of course.
We got talking after that and I couldn't believe I'd found someone who loves vintage as much as me. We'd scour charity shops and vintage fairs together all over London and the UK hunting for vintage treasures. We still make time to do this now.
Whenever we go anywhere abroad the first thing we do is look up the best flea markets, vintage boutiques, charity shops and Salvation Army stores. Our shared love for the cyclicality and timelessness of vintage was the inspiration for Rixo. The brand name is a combination of both of our names. 'Rix' is from my surname and the 'O' is from Orlagh's name.
Orlagh: We had the initial idea at university after working on a project together. We felt there was a gap in the market for flattering vintage-inspired pieces at a contemporary price point. There just wasn't anything like Rixo out there at the time! After that, it was only a matter of time before we set up Rixo.
As soon as we graduated in 2014 we worked behind the scenes on Rixo on weekends and evenings — every spare minute we had that we weren't working at our other jobs! Eventually, we quit our jobs and Rixo was launched from our living room in September 2015.
Henrietta: Our beginning was very humble! Our kitchen and bedrooms quickly became stock rooms and each month our landlord would take away more furniture to make room for more Rixo stock. It was all very organic. We'd go to the post office daily whenever our website orders came through and pick and pack them ourselves.
It was a big risk; we quit our jobs, invested all of the little money we each had saved and spent our first year or so doing absolutely everything ourselves, but we haven't looked back. There was no plan B! We really believed in what Rixo could become and were determined to see it be a success.
How do you describe Rixo's aesthetic? What type of woman wears it?
Henrietta: Rixo is a fusion of vintage-inspired and hand-painted prints on timeless easy-to-wear silhouettes to flatter and empower every woman irrespective of age, size, body shape, season or time of day.
Our customers are our universe. We feel passionately that our pieces are made for all women regardless of age, size, nationality, fashion knowledge… We want women to feel amazing, like the very best version of themselves, when they wear our styles.
The Rixo woman could be a woman in her twenties, her mother or equally her grandmother… We've even had lovely messages from customers in the past in which all three generations are fans. We really believe that a woman's style is eternal, no matter her age.
Orlagh: We don't design for one specific type of woman and we don't follow fashion trends, we want Rixo pieces to be timeless. Something that our customers can cherish and pass down to their daughters and even granddaughters — future vintage.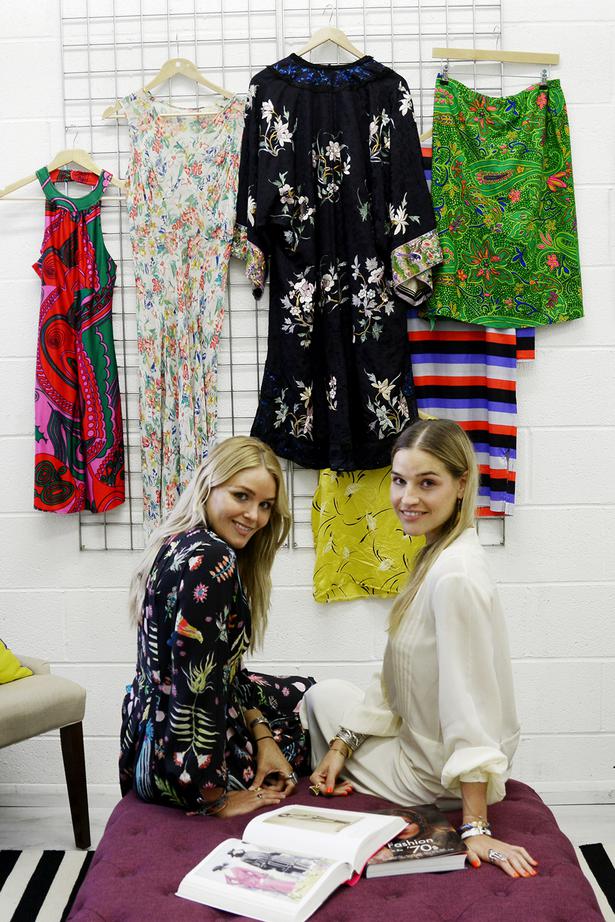 Tell us about the inspiration behind the latest collection.
Henrietta: We're inspired by so many different things — art, vintage, places we travel to, our favourite icons… The main inspiration for our latest collection Venus (pre-AW19), is 'The Birth of Venus' painting by Italian artist Botticelli.
What's the process behind the prints? What do you love about working with various prints?
Orlagh: Our prints are hand-drawn and designed by me and then digitally or screen printed onto our chosen high-quality fabrics — most of which are 100 per cent natural fibres. I design every print. Because it's always my handwriting and eye for placement and detail, it will always look like a Rixo piece. Hand-painted prints are innate to Rixo, however sequins and embroidery pieces are also a huge part of our ranges and are increasingly popular with customers.
When I design prints, the first thing I think about is the shape it would work best on. We wouldn't design a print and put it on 10 different dress shapes — it's about the print and shape working together. With print design, it's having the eye and natural flair for print, colour and mixing that helps create the final aesthetic.
When it comes to mixing prints it's all based on personal taste - what we actually love to wear and mix together ourselves. There's no magic formula, we just know when something works or it doesn't!
READ: How Vintage Fashion Became The New Celebrity Must-Have
What are your thoughts on modest dressing and how does the brand cater to that growing market?
Orlagh: With every piece I start the design process by thinking who, where and when it might be worn, so I can envisage what I think would work best. This could be, for example, raising or lowering the hemline, sleeve design, strategic lining or no lining, changing the fabrication on certain panels to suit the feel when wearing ...
Our #HumansofRixo Instagram hashtag has really helped with this process — seeing our amazing community of customers and how, where and when they wear their Rixo in turn helps us design our future collections for them.
We have a really broad customer base of various ages, sizes and nationalities, so we always try to ensure our collections flatter and cater to all women's needs, from shorter and strappy styles like our Christy or Twiggy dresses to more modest pieces such as our Maddison or Elsa dresses.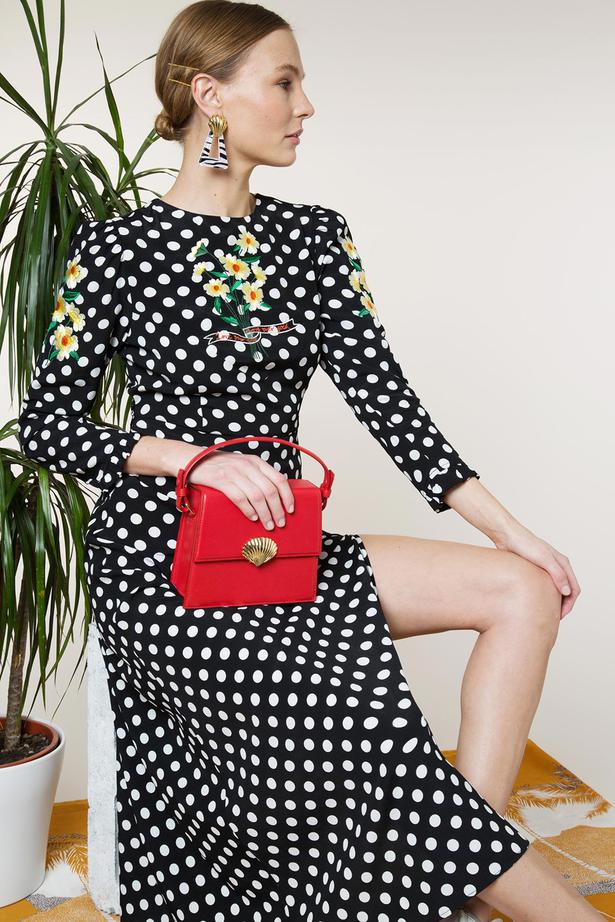 How do you see the brand progressing? What's next for Rixo?
Henrietta: We're expanding into new categories so people can shop the whole Rixo look. We just launched swimwear and accessories in February and in August, with our 'Liberated Territory' collection, we'll be launching knitwear for the first time.

Orlagh: The new categories were in response to the demand from our customers. We'd style up Rixo ready-to-wear pieces on Rixo.co.uk with our own vintage accessories and we always had customers asking to buy the full looks — sometimes we'd end up having to sell or loan own vintage belts and bags to customers who were coveting them.
Henrietta: We also have our London Fashion Week presentation in September. It will be our third time on the official schedule and is set to be our biggest show yet — stay tuned!
• Visit Muse Boutique to shop Rixo at 11 Teed St Newmarket and 264 Ponsonby Rd, Ponsonby or Museboutique.co.nz
Share this: