Meet The Maker: Visiting Glenn Yungnickel, The Tender To Auckland's Fashion Set
The co-owner of Apparel Attachments is a master of detail, trading in finery and finishings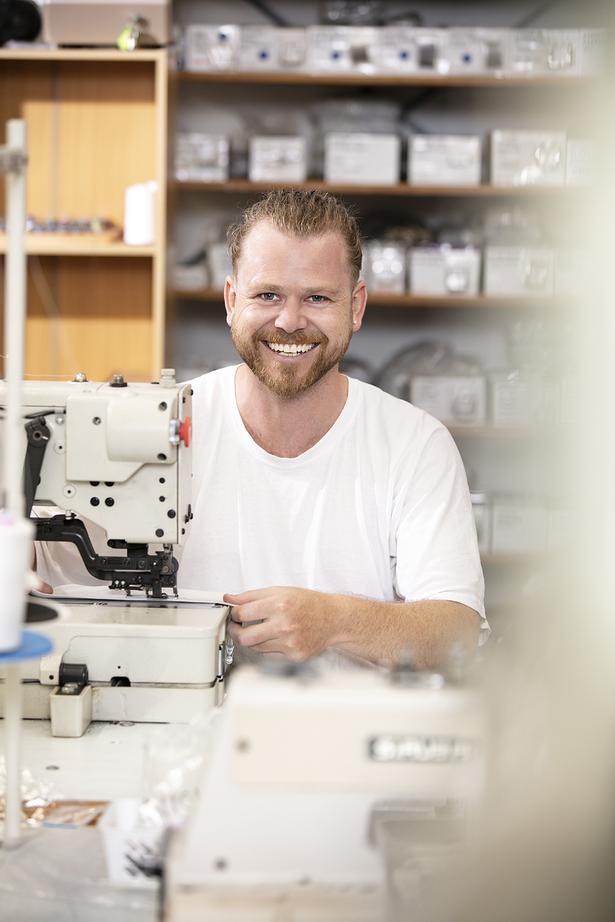 Monday Feb. 14, 2022
Glenn Yungnickel's craft is built as neatly as a Rubik's Cube. "As creatives we are problem-solvers," says the co-owner of Apparel Attachments, which offers finishing and attachment services such as blind hemming, studding and making buttonholes to local designers.
"We come up with an idea on paper then have to solve how to transform this 2D idea into a physical working form." The only difference from being a designer, he says, it that he currently works on other people's products rather than his own.
Glenn's story in fashion feels as much a charming tale of generational experience as it does a willed one. He learned to knit from his mother, and his grandmother was a dressmaker, both shaping an early understanding of the ways that clothes piece together.
READ: Learn How To Care For Your Vintage Garments With These Tips From An Expert
An honour's degree in fashion design from 2009 followed, as did years spent carving his way from design assistant at a local menswear company to lecturer in design at AUT.
Then, in 2019, after an OE in London, Glenn and his partner, Alberto, moved to Brazil. They planned to start their own men's lifestyle brand.
The pair returned to New Zealand in 2020, following Covid-altered plans, still hungry for their own sartorial vernacular. The acquisition of Apparel Attachments the same year was a deep breath, a restart, a way to grow both personally and professionally in something that allowed them to be hands-on.
"I have never had my own business before," he says, "so even though there have been challenges to overcome, the time we have put in has been worth it as we are progressing for ourselves rather than someone else."
Their day-to-day work now speaks to a world caught in the fluidity of constant, detailed motion. "Every day is different depending on the season, the time of year and who we are working for.
READ: 6 Local Makers To Have On Your Fashion Radar
"Some days we will have a full rack of samples to finish for a brand, then we may work on a run of production jackets, attaching keyhole and buttons, then move on to riveting jeans for a local maker. In the height of summer, we work on heavy woollen coats for the following winter."
That they recently bought GDL Trading, which specialises in metal hardware and fittings for leather and apparel, has only expanded this realm of minutiae into greater, but familiarly scrupulous, territory.
In his downtime, Glenn describes himself as an active relaxer. He makes. He sews. He elevates the stylish and the elemental. "This is my therapy."
Share this: