Get To Know Kowtow's Artful New Designer
The sustainable brand welcomes Marilou Dadat, with a debut collection of swimwear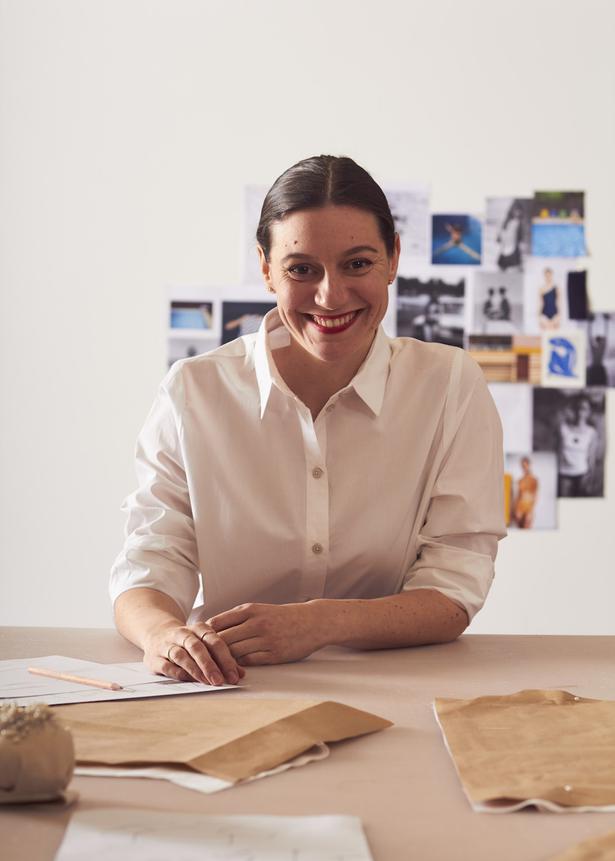 Thursday Oct. 25, 2018
Fans of Kowtow's sustainable point of view can rejoice — come November 1, the local label will debut its first collection of swimwear just in time for summer. Made with Econyl, a regenerated nylon manufactured in Italy, the unique textile consists of pre and post-consumer nylon waste material including fishing nets, discarded carpets, plastic components and fabric scraps. The range was designed by the label's new designer Marilou Dadat, a former head lecturer for Fashion and Textiles at AUT and who's worked with several luxury brands in her native France.
"It was a complete breeze and very inspiring to work with Marilou" says the label's founder and creative director Gosia Piatek. "She actually came in with pages and pages of sketches for the swim range when we flew her down to Wellington for the interview. She asked in advance what we are working on and I told her I was excited about a regenerated swim range. She blew me away in the interview with her initiative and a range already in motion."
READ: Ethical Consumption With Kowtow's Gosia Piatek
"Marilou and I share a lot of similarities with aesthetic and sustainability — we are both complete minimalists (we joke about our houses being empty as we cannot decide on furniture) and feel that sustainability and design go hand in hand. We both agreed very early on in the design process that it made sense for the range to have no extra clasps and for it to be made entire from the one fibre. This is so that we can take the swimwear back at the end of its life cycle and create a circular loop by regenerating it into yarn."
We chat to Marilou about her new role and what it means to take on one of the pioneers of sustainable fashion in New Zealand. 
Why was the decision to debut with a line of swimwear?
The designs started in my head before I stepped in the Kowtow workroom. Before I flew down to Wellington for an interview, I asked what they were working on and Gosia wrote to me that they were thinking of a swim range as she had sourced this amazing swim fabric made from Econyl, which is regenerated yarn from nylon waste and fishing nets. I remember getting this email and being inspired right away that I had to start thinking and sketching. I was already very eager to design for Kowtow, but that especially inspired me and I came with a proposition for the swim range. It was exciting to start with a new category for the brand because there was no history at all.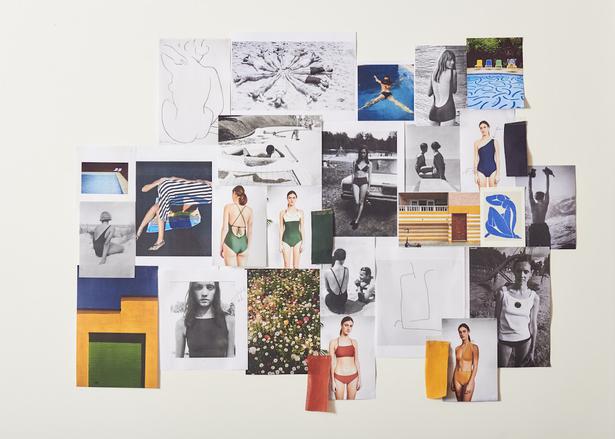 The Kowtow swimwear and resort wear mood board. Photo / Supplied.

The design came naturally, in that it would be quite minimalist with a sense of play. We played with the ties at the back, the assortment of different geometric shapes and also the colours, of which both Gosia and I are fond of. I debuted at Kowtow during a very exciting time for the company with the desire to ultimately offer a whole wardrobe that is produced sustainably, whether it is to wear everyday, to go out, and now to go for a swim.

I notice on your mood board the work of Matisse. What about his work do you love and what other artists inspire you in your work?
Matisse has always been an inspiration, especially his cut-out series Les 'Nus Bleus', his work is constantly on my wall, at work, at home and it was back at my parents' in France. I love that 'Les Nus Bleus' looks both spontaneous and sharp — it's beautifully simple, which is difficult to achieve. From this inspiration, I use scissors a lot when I design — a technique I think sometimes concerns the fit models. The list of artists is too long and keeps adding, but another permanent resident on my wall is Bruno Munari. In Munari's work there is this sense of play with simple visual ingredients and great colours which constantly inspires me and that is very Kowtow too.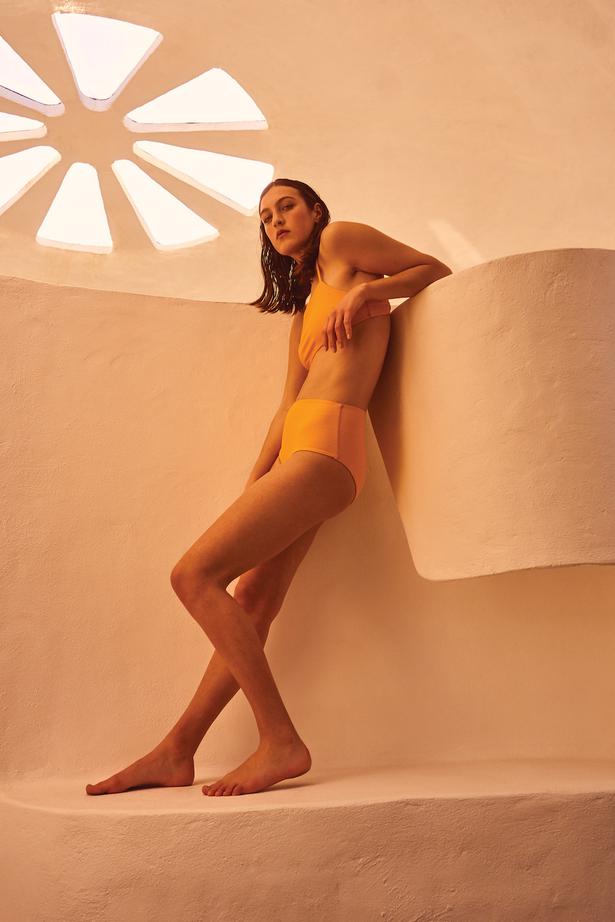 Kowtow swimwear. Photo / Supplied.

What drew you to Kowtow and what values do you love about the brand?
Both the style and the way things are made here at Kowtow. I love that until a material fits our sustainability criteria we just don't use it, for example we would never have designed swimwear if it meant generating more plastic. I don't know many brands that are that specific to every aspect. I get amazed eyes when I explain this to my fellow fashion designer friends back in Paris. I love this strong integrity about Kowtow, and it is what makes us look in the future all the time. It goes with Gosia's personality who is always encouraging us to see what is next.

Coming from a huge industry where imagination is usually the only limit, this commitment to our ethics is very special. I actually think limitation makes you more creative and makes you cherish every material. We design every single fabric for our core range, which is the basis is fair trade certified organic cotton. Back in France, I was designing for luxury brands, but the opportunity to design fabric is the real luxury for a designer.

Every process at Kowtow is very natural. The respect for the environment flows at every scale of the company, from day-to-day workroom life to our worldwide sea freight logistics, it just feels normal, not preachy, balmy or anything. We just do our best.


You now call New Zealand home. Where are you based at the moment and what do you love about New Zealand?
I live in Wellington CBD with my partner and our two-year-old son. Wellington is such a cool city to live in and we love it here. It sounds very cliché but what I love most about New Zealand are the people and the nature. It took me a while to adjust to the friendly 'chit-chat' after living 10 years in Paris but it makes such a difference to live in a place where people connect and care. A smiley 'how are you?' from the person serving you a flat white is still very exotic to me. I appreciate it so much — you'll understand if you ever been served at a cafe in Paris. I think those little connections brings a healthy bit of happiness to everyday life.

The nature is stunning and I love feeling like a tiny human in a gigantic landscape. Also being followed by fantails during a bush walk is probably one of my favourite things — I am not into princesses or anything but in that case I do feel like I am one in a Disney cartoon.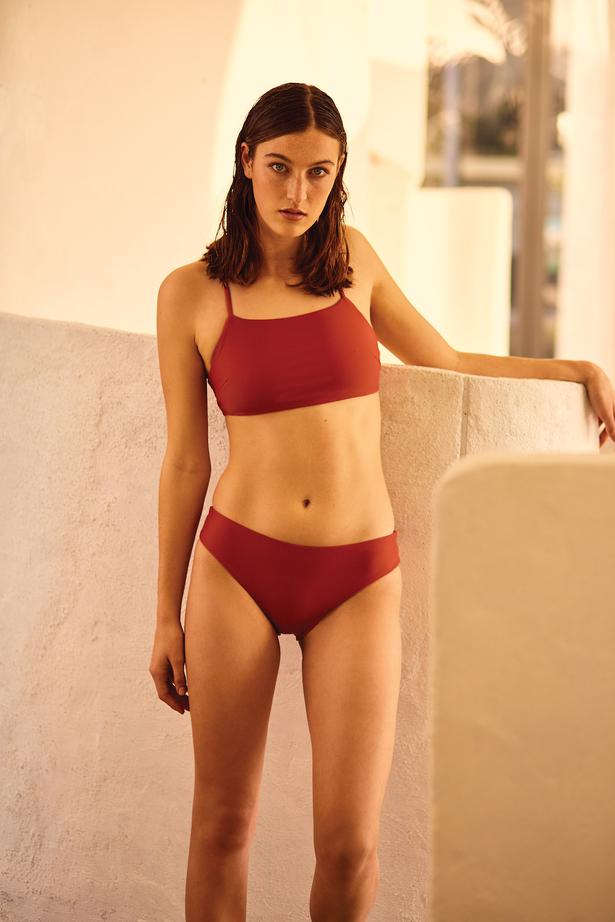 Kowtow swimwear. Photo / Supplied.

What were some of the key elements important for you when it came to putting together this swimwear collection?
Swimwear is so close to the body, getting the best fit was essential. The range has two different one-pieces, two bottoms and two tops to choose from. We wanted to have varied shapes because there is not one body shape the same in this world and everyone has different cuts that fit them better. We fit the prototypes not only on the fit model but on different people with different body shapes.

From the beginning we naturally agreed with Gosia that we wanted a no-fuss design which means the balance of cuts and proportion were essential. Like I mentioned earlier with Matisse, the simplest things can be the hardest to achieve so I worked every millimetre to get the design right — scissors in hand. Also, using only one component (the fabric and no clasp) both suited with the minimalist aesthetics and the feasibility of recycling after use. Working on nice backs was an inspiration from the beginning too. It is so nice to have those ties details on the back with a plain front, I think it adds a beautiful feminine element that is not too loud.

READ: Meet Tigra Tigra, The Cult Clothing Label Celebrating Indian Craft

What are some of the important factors people need to consider when it comes to buying swimwear?
The experience is different for everyone, but I think every woman can agree it's not always the easiest. There is a balance of feeling covered enough and showing the right amount of skin, you need to find the one that works for you and makes you feel confident.

Can you talk us through the benefits of working with a textile like Econyl?
It is like any good quality swim fabric with the benefit that it is regenerated nylon instead of generating more plastic. I like the idea that a part of it is recycled fishing nets and it is linked with the ocean.

What pieces will you be wearing for summer? What are your personal favourites?
I was in summer a month ago while I was in Europe, so I had my premiere with our samples. I went with the high waisted briefs and bandeau top in midnight blue. I had so many compliments on it and felt like I was wearing a secret.

What are you working on at the moment?
We are working on three different seasons at the same time. Each wall of the workroom is covered with mood boards except for one — I need a blank wall to keep the flow of my ideas. I have just returned from a trip to Europe to finalise Summer 19/20 with Gosia and was so inspired for design on Winter 2020, which I have just started. I found more inspiration than I could imagine.

There is a lot happening in our workroom. Thanks to my team, we have a new toile coming out every day. It is such a busy and creative atelier.


READ: How To Be A Conscious Clothing Consumer

Where are some of your favourite places to go swimming in the world?
Cheltenham beach is the first I ever swam at in New Zealand (my partner grew up five minutes walk from it). I think it will remain one of my favourites because it sold New Zealand to me when I came over for the first time. The view on Rangitoto is very graphic and again you feel like a little human.

During our travels across New Zealand my favourite spot was in Spirits Bay, I can't really describe it — it was magical especially because there was just the two of us in this perfect natural landscape. Auckland has the best public pool and next time I go to Auckland I have to go to Tepid Baths, I've missed it, the light is so beautiful there.

Swimming in Stockholm archipelago during those long summer days in Sweden is pretty special too. It is a shame there is no place to swim in Paris during summer. I remember when we first met with my partner who is a Kiwi, there was a heatwave and he escaped Paris because there was no water to swim — I got a bit offended that he left to go to the coast as soon as he could but living in New Zealand I get it now.
Kowtow swimwear. Photo / Supplied.

Kowtow's creative director Gosia Piatek's thoughts on the new swimwear collection:


This collection feels like such natural progression for the label. Why was the time right for the brand to venture into swim and resort wear?
I initially attended a talk at the Copenhagen Fashion Summit by the founder of Econyl and was blown away by their work cleaning up the oceans by pulling out discarded fishing nets and regenerating them into a yarn. This made complete sense to me and got me excited thinking about new technology and advances in sustainability, so we decided to concentrate our efforts on a swim range using this progressive fabric.

The majority of our sales is in New Zealand and Australia and both countries are completely surrounded by water. We are spoilt for choice with beaches, so a sustainable swim offering just made sense. Over the past two months, we also took the ranges to America and Europe. The collection was well received and will launch in selected boutiques in the Northern Hemisphere in time for their summer too.

The imagery to support the collection is beautiful. What was the concept behind this?
Thank you. Our design aesthetic is always art driven and the shapes of the collection draws upon geometric shapes of architecture. We knew we wanted to be in space that would complement this, so we found this incredible architect's house on the Kapiti Coast, which had a dome indoor swimming pool and oasis with lots of natural light. It felt like California meet the Mediterranean.

Where are some of your places to go swimming in the world?
What a lovely question. I am very fortunate to split my time between New Zealand and London. I have been living summer to summer for the past five years, so there has definitely been a lot of swimming. This summer we took a road trip to France and we swam and surfed on the west coast (where the water is warm) and also in the Dordogne river where you get your own little sandy bays with views of 15th century chateau's. The Mediterranean is amazing too, it's like a bath. But for me, nothing beats New Zealand, the water is freezing and half the time its windy but the remoteness and majestic beauty of our country blows me away and nothing compares.
Share this: