Meet The New Grown-Up Royal Style Stars
As Sophie, Countess of Wessex, hits her mid-fifties, Bethan Holt takes a look at the older royals every bit as stylish as Meghan and Kate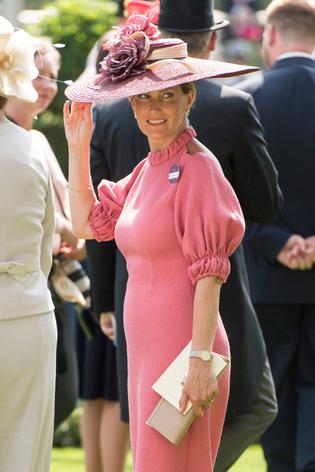 There is a plot thread in the second series of The Crown which shows the Queen starting to feel like she might be a bit frumpy, a bit past the dazzling glamour of her youth. The irony, watching in 2018, is that the world is currently in the grips of adulation for the stylish Meghan Markle who, at 36, is a similar age to the Queen in those episodes set in the early Sixties.
Ms Markle and the Duchess of Cambridge might be the women who most often make headlines with their M&S jumpers, couture dresses and ability to transform the fortunes of any brand they wear, but there's another group of royals, in the UK and abroad, who are a decade or two ahead and have become the new poster women for ageless regal style. They would be giving that fretting 30-something Queen serious heart.
It is Sophie, Countess of Wessex, celebrating her 53rd birthday this weekend, who most often prompts this conversation on The Daily Telegraph fashion desk. At the Royal family's traditional Christmas Day church outing, Kate and Meghan stole the show - understandably, given it was the first time they had been photographed together - but Sophie was the quietly chic fashion victor in a beautiful floral printed frock-coat by Erdem with simple navy heels and a velvet headpiece.
READ: How The Crown Captures the Royal Style of the Swinging 60s
Last year, she clocked up many more elegantly put-together looks; at Ascot, there was a lovely dusky rose Emilia Wickstead dress, at the Royal Windsor Horse Show, a neat Prada leather jacket and Gabriela Hearst wool skirt, and a sculptural fit and flare Alaïa dress at Wimbledon.
"Sophie's style confidence has grown significantly in the last few years as she seems to have found her fashion formula: a feminine knee-length dress with a nipped-in waist that perfectly complements her body shape," observes Jill Wanless, deputy editor of Hello! Fashion Monthly, who cites "the millennial pink Valentino dress with elegant bell sleeves she wore to the Chelsea flower show last year" as a "triumph".
READ: The Duchess of Cambridge's First Shoot for British Vogue
She has got all the accoutrements that go with looking properly polished in place, too. Sophie wears her shiny, honey-highlighted hair in simple updos or sleekly blow-dried, and her natural freckles are enhanced with a subtle bronze glow. In 2016, she completed six months of intense training for a 450-mile bike ride challenge to raise money for the Duke of Edinburgh award, an example of her dedicated approach to fitness.
Now that she is patron of London College of Fashion and a keen supporter of British designers - Victoria Beckham, Mary Katrantzou and Roland Mouret are favourites - Sophie's sense of what looks good seems innate, but it was not always thus. A decade or so ago, she was certainly never considered particularly stylish - accusations of frumpiness were even levelled at her thanks to ill-fitting tailoring and clumpy hats.
READ: The Real Story Behind The Crown Jewels
Now, it's like the magic wand of glossiness and confidence has been cast over her."I sort of wrestled with that one for a little while and slightly caved in at the end of the day," she has since admitted of her decision to embrace fashion. There were suggestions that the arrival of Kate on the official royal circuit prompted Sophie to up her game.
Whatever the reasons, she has joined in on the powerful movement of the last few years which sees age as no barrier to looking great.
In the Royal family, the Queen herself exemplifies this attitude. Even as a nonagenarian, she began a trend for neon after wearing fluorescent green to Trooping the Colour and will make even a simple trip to King's Lynn station into a fashion moment by wearing a silk scarf and a Cadbury purple coat.
READ: Dissecting Kate Middleton's Diplomatic Wardrobe
Closer to Sophie in age are Queen Letizia of Spain (45) and Queen Rania of Jordan (47), both of whom are never knowingly underdressed. Letizia, who wore Topshop on a visit to the UK last year, has mastered the high-low mix of affordable and designer like no other high-profile woman, with Carolina Herrera and Stella McCartney jostling with Zara and Mango in her wardrobe.
Labels like Loewe and Givenchy send out the same proud press releases when Rania wears one of their items on a charity visit as they do when an actress chooses them on the red carpet.
READ: Tziporah Salamon's Ageless and Original Style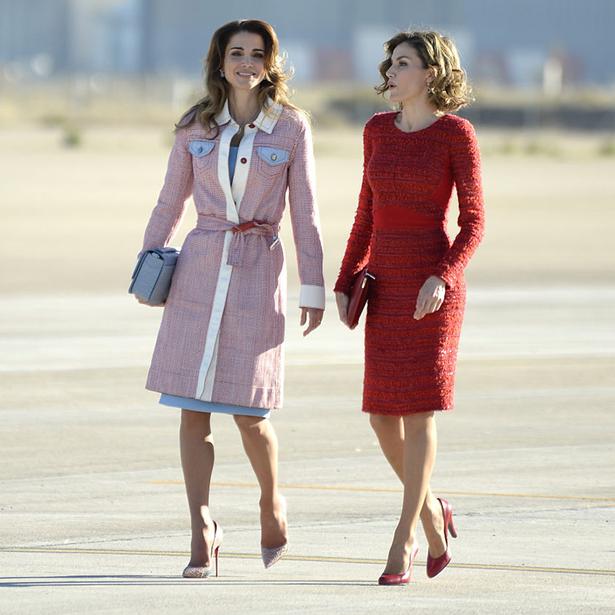 Born in Kuwait to Palestinian parents, Queen Rania has embraced high fashion whilst also adhering to the demure dress codes of her adopted country, rendering her a muse of the modest fashion movement that dominated catwalks, TV screens and our own high street last year.
Unlike other royals, her recognition of the power that comes with looking fabulous is brilliantly blatant. Her Instagram account, which has four million followers, is filled with images that could be from a glossy magazine shoot but detail the plights of charities - instead of outfit credits - in the captions.
It's likely that Sophie, Rania and Letizia could all be seen at Meghan and Harry's wedding in May. And there's no doubt they'll be the best-dressed.
— The Telegraph
Share this: