Meet The Team: Saru Krishnasamy, Digital Editor
Get to know Viva's Saru Krishnasamy ahead of NZ Fashion Week 2019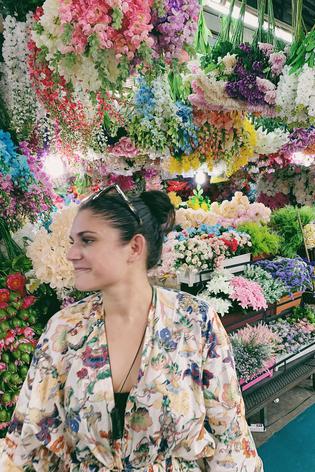 What is your role at Viva?
I'm Viva's digital editor. Basically I run Viva.co.nz and ensure it's up to date with fresh, interesting content for our readers, every day of the week. It's an ever-evolving beast that needs to be fed constantly. 
What will you be doing at New Zealand Fashion Week 2019?
I'll be chained to my laptop! My days will be spent managing all the digital content, creating daily e-newsletters, posting to Facebook, pitching stories to Nzherald.co.nz, liaising with my Viva co-workers on the ground and supporting our commercial commitments. It's our most full-on week of the year so I'm prepared put in some long days and late nights.
And what are you looking forward to at NZFW this year?
I'm keen to see how everything will operate now the event has departed the waterfront and come full circle to its original home at the Auckland Town Hall. 
What's your second career option?
I find true crime incredibly fascinating, so maybe something in that realm — perhaps an investigative reporter or a detective. 
How would you describe your personal style?
I seesaw all over the show when it comes to my personal style. I don't feel like I have a 'signature' look (except always scraping my extremely curly hair into a bun and often sporting a red lip). I feel myself dressed up in a bright silk dress and statement earrings just as much as dressed down in track pants and Jordans. It all depends on my mood and the occasion.
What's one fashion trend you love?
I thoroughly enjoy the fact it's trendy to wear trainers with just about everything. I think I look like a newborn fawn in heels, so it's music to my ears that it's now considered 'cool' to wear a fresh pair of sneakers to something fancy.
And what's one you wish would go away?
I am definitely not here for the neon trend.
What song is currently number one in your rotation?
Well this is quite embarrassing. I am not a fan of mainstream pop music but the 'Lip Synch For Your Life' between Yvie Oddly and Brooke Lynn Hytes in season 11 of RuPaul's Drag Race was one of THE best things I've ever seen. Hence, my current most played song is the bop they battled it out to, Sorry Not Sorry by Demi Lovato. It just takes me back to that moment.
Where's your go-to spot for dinner and drinks with friends?
My husband's restaurant Gemmayze St is always a good time (I swear I'm not biased). I'm also very fond of the happy hour at Coco's Cantina, and can't say no to a BYO at Nishiki or Sri Pinang. 
What are some of your handbag essentials for NZFW and life?
Ecoya Rinse Free Hand Wash, a pottle of gum or mints, Tom Ford Black Orchid perfume, red lipstick, a pen and a collapsible umbrella to survive Auckland's unpredictable weather.
What are your favourite New Zealand stores or brands?
I was a diehard member of the Miss Crabb cult (RIP). Now I am enjoying branching out to different designers like Ingrid Starnes. I recently bought a coat of hers that I adore. I've also been coveting a Yu Mei handbag for quite some time.
What do you like to read outside of Viva?
The Cut is one of my favourites, along with the usual suspects like The Washington Post, Telegraph and The New York Times. I love The Spinoff — their niche coverage of New Zealand pop culture is gold. My guilty pleasure is the dirty Daily Mail if I want to catch up on some Love Island goss.
Whenever I have some downtime you'll most likely catch me reading a murder mystery.
Who are your favourite people to follow on Instagram?
Benito Skinner aka @bennydrama7 gives me life. I also enjoy @officialseanpenn for its refreshingly bizarre take on pop culture and merch (Judge Judy towel, anyone?). The satirical headlines from @beetootaadvocate and @reductress always make me laugh, and @cooksuck (aka the Internet food police) is the ideal antidote to Instagram's perfection with their posts of very, very sad meals.
Who is your celebrity spirit animal?
She may be fictional, but Liz Lemon is me in a nutshell. 
Share this: