SPONSORED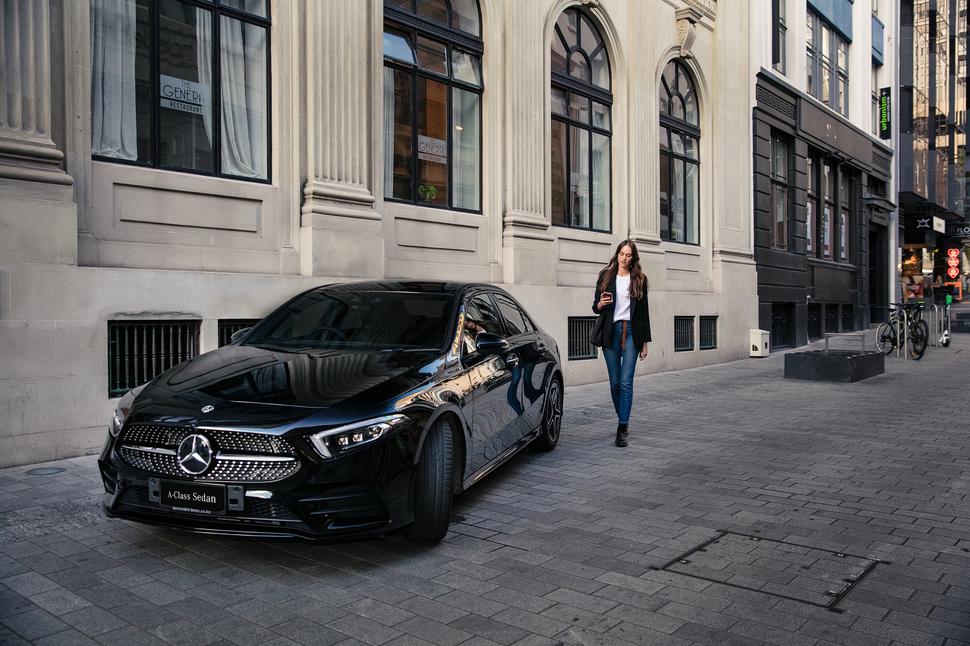 Meet Viva's Newest Fashion Assistant
Viva assistant fashion editor Rosie Herdman discovers the team's new recruit is every bit as stylish and practical as she'd hoped
Monday July 1, 2019
As Viva's assistant fashion editor, no two days are the same. My role involves a host of different responsibilities; from writing features on fashion trends and curating fashion pages, to interviewing creatives and assisting Viva's fashion and creative director Dan Ahwa, I'm on the lookout for an assistant who can keep up with my fast-paced workday.
Imagine my surprise, then, when I realised my new assistant had four wheels instead of two legs. I was thrilled to have the new Mercedes-Benz A-Class acting as my assistant for the day, which made sourcing for an upcoming fashion shoot a breeze. I don't usually have someone helping me when I drive around sourcing clothing and props from stores (a surprisingly physical task).
With one major box ticked, here's a list of other tasks my Mercedes-Benz A-Class successfully completed on our day out together.
1. Making a good first impression: Working in fashion, I'm always conscious of looking my best. On first meeting the A-Class, I'm pleased to note the sleek black exterior and customisable settings will be my stylish accessory for the day. Using the dashboard touch screen, I change the ambient lighting to blue (to match my outfit, naturally!) and away I go.
2. Organising my day: Time is money, as they say, so when I'm out sourcing for a shoot, I want to be efficient. Rather than waste time with manually searching for store locations, I use the A-Class's voice activation system to map out my routes for me. My first stop is a fabric store to choose some backdrops for the shoot.
3. Doing the 'heavy lifting': As I leave the fabric store, two large rolls of linen in my arms, I realise I don't have a free hand to open the boot, and don't want to put these beautiful (and borrowed!) fabrics on the ground. Luckily, the A-Class has a Comfort Entry boot opening system, which works when I wave my foot under the back of the car, and the boot pops open. Comfort Entry, where have you been all my life!? I'm pleasantly surprised by how spacious the boot is too – for the number of things I need to fit in there today, this can only be a good thing.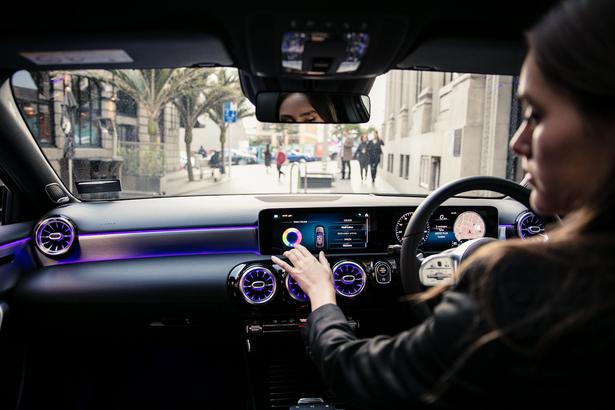 4. Learning on the job: There's a lot of to-ing and fro-ing on days I'm out sourcing, with breaks to head back to Viva HQ in between. The A-Class navigation system has my work address saved, so all I have to do is say "take me to work" and it tells me exactly where I need to go, which is a lifesaver when I get text I'm needed in an urgent fashion meeting.
5. Anticipating my every need: When I'm driving around solo, having good music playing is a must. I use the touch screen on the dashboard to connect to my iPhone, and put on one of my favourite playlists. It's simple and intuitive for me to work out how to skip a track or change the volume; flicking between this and the GPS screen is a breeze.
6. Energy boost: Although it sounds glamorous, today has been a huge day, and I'm in an area I don't normally go to and feeling like I need a bit of a pep up. As the location is unfamiliar, I'm not 100 per cent sure where to head for a coffee, so I say to the A-Class, "Hey Mercedes, where is the nearest cafe?", and it conveniently shows me great cafes nearby that I can head to. Time to refuel… myself, not the car.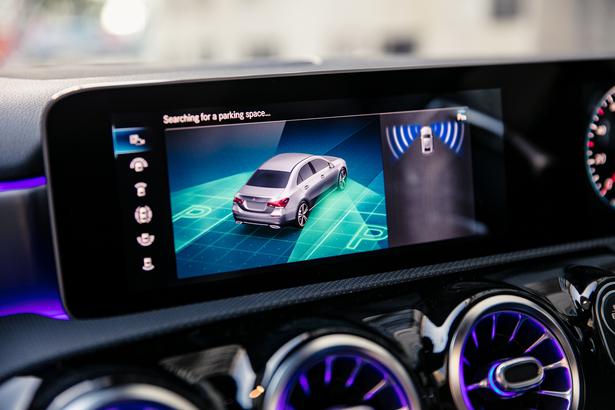 7. Making my life easier: I need to pick up some pieces from a store with particularly limited parking. But the parking gods are on my side, with a parallel park available right outside — it's a little tight, but with of the Active Parking Assist system, I'm able to relinquish control and let the car park itself. Phew. 360-degree cameras mean I can see all around the car, and sophisticated sensors ensure I'm never worried that there's going to be a collision — a feature every Auckland-dweller will appreciate.
Sourcing for a photo shoot has never been so easy; with the A-Class as my assistant for the day, a host of features meant every need was anticipated, in the most stylish way possible.
Hey Mercedes, you're hired.
• For more information on the new Mercedes-Benz A-Class, visit Mercedes-Benz.co.nz/ASedan
Share this:
More Fashion / The Latest