Get to Know: Megan Annear
How radio presenter Megan Annear found happiness in people laughing at her expense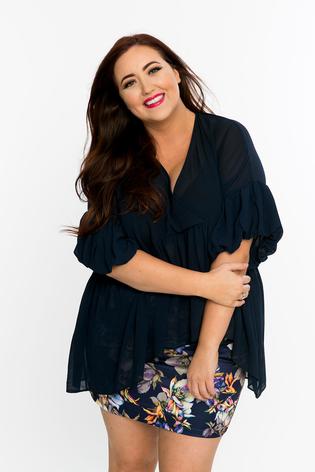 Watch Megan Annear's YouTube videos and you would assume she has always had abounding self-assurance, filming herself squeezing into pair of jeans or jumping around in a strapless bra. For the plus-size vlogger, it's all about being relatable and never hiding the reality behind the scenes. "I make sure that my channel encases everything when it comes to clothes shopping for plus size - and not just the highlights reel of when I find the perfect outfit," she explains.
A radio presenter for The Edge, Megan launched her YouTube channel MeganOnAir eight months ago, after overseas-based plus-size channels had helped her get over her "fear of shopping".
"I would wear clothes until they would pretty much disintegrate so that I wouldn't have to shop for more. But watching vloggers like LoeyLane and LearningToBeFearless, who wore these bomb outfits, made me realise that I was holding back and not allowing myself to express who I wanted to be and how I felt through clothing. I couldn't find anyone in New Zealand with a channel so I thought I'd start my own.
"The message I want to share? You are so much more than your looks. All of these wonderful humans are weighing their whole self-worth on what's seen as attractive and they are so much more than that."
The channel has taken off, with more than one million views, and she now also features boyfriend Guy Mansell in her fun videos. "I'm just beyond happy that it's helping women find happiness and confidence and for them to have a good laugh at my expense."
Where are your favourite places to shop for clothing?
Mostly online. I used to be so nervous at the idea of not being able to try on clothes before purchasing but now there is almost a thrill to it. If you know what shapes and styles suit you and have your measurements sorted, it's nearly 100 per cent of the time fail-proof.
For 'cheaper' everyday clothes, Forever21.com has a huge range for plus and straight sizes (and because we are in opposite seasons, a lot of the time the clothes I need are on sale). You just have to set up a YouShop account to get the clothes sent to NZ, which is easy as.
I adore RUE107.com for their well-made standout pieces and Eloquii.com is incredible as well. Stella Royal is a new plus-size brand launched in New Zealand earlier this year - it's on the higher end of the price scale but they always release beautiful, bright and colourful ranges and are great as go-to staples.
Have you always been confident when it comes to your body?
God no. I was terrible as a teenager, and to be fair I was bad in my early 20s as well. I didn't go to the beach for years on end because I refused to even fathom the idea of a bikini or togs. I would say no to leaving the house because I hated how I looked so badly. I think knowing how far I have come with my confidence, I knew that I had to show others it could be done. I just couldn't care less now if a stranger thought I was unattractive, it doesn't change my life in the slightest.
What are your top tips for summer dressing - and trends will you be trying?
A good chafing cream! How I lived through summer before I discovered it, I'll never know. I love the 'cold shoulder' look at the moment, and after finding a great strapless bra from City Chic, I will be wearing a lot more off-the-shoulder tops in the warmer months. I love bright designs, my good friends bought me a wrap dress that's covered in watermelon slices and I'm dying to wear it.
Anything that makes me happy and fits my shape well. I don't look too much into trends - they can sometimes throw you off. No matter how 'cool' a shift dress is for example - it just won't look nice on me. So I stick to whatever I like the look of, and just wear it with confidence.
READ: The Coolest New Plus-Size Collection
Who are your role models?
I have different role models for different aspects of my life. For fashion and confidence, Barbie Ferreira is a bad-ass curve model who has had a huge rise in fame in the past year; she's incredibly cool, unapologetically high fashion and just radiates confidence.
For YouTube, Jenna Mourey (Jenna Marbles) is the queen of timing and comedy and pretty much the internet in general, 16 million loyal followers and growing daily.
Radio, JayJay Harvey is the absolute best in the business when it comes to meeting with listeners and connecting with them. I always look at her in awe when she is surrounded by people wanting to talk to and take a photo with her and she gives her time to every single one of them.
And, of course, my mum is just my life role model. She is the most creative human being I've ever seen (she made me a skirt to wear to the NZ Music Awards last week), she always believes in herself, is painfully selfless at times, and has an incredible connection with animals and nature.
READ: Meet Celebrity Favourite Christian Siriano
What inspires you most?
The countless emails, tweets, Snapchats, comments and messages I get from teenagers and women, from literally all over the globe pushes me to get going and keep uploading. Last week, I received an email from a new Mum who said she felt like shit of the earth, because she was desperately waiting to lose 10kgs before she (god forbid) liked what she saw in the mirror. But because of my videos she is changing her mind-set and seeing herself differently.
It killed me. Hell yeah, be healthy, eat well, exercise, but you should never hate yourself and your figure for the place it's at. That's not helping anyone, especially yourself. As long as I get emails telling me that I am helping, I will keep on going.
Any personal beliefs or values that are meaningful to you?
I adore animals, and I believe that we should be the voices for them. I only buy cruelty-free make up, hair and skin products. I cried for hours when I saw the wee cow family stuck on 'Quake Island' after the recent earthquake. I always root for the underdog and despise any sort of bullying.
That's about the only time you will see me really fire up at someone, if I believe they are being treated unfairly. There are two quotes I always tell myself: 'Anger is holding onto a hot rock, and expecting the other person to get burned'. That one is a goody. Secondly, 'The definition of insanity is doing something over and over again and expecting a different result'. That one pushes me out of my comfort zone and gets things moving.
Share this: