The Politics of Dressing America's First Lady
Should designers dress Melania and Ivanka? The question is more complex than it seems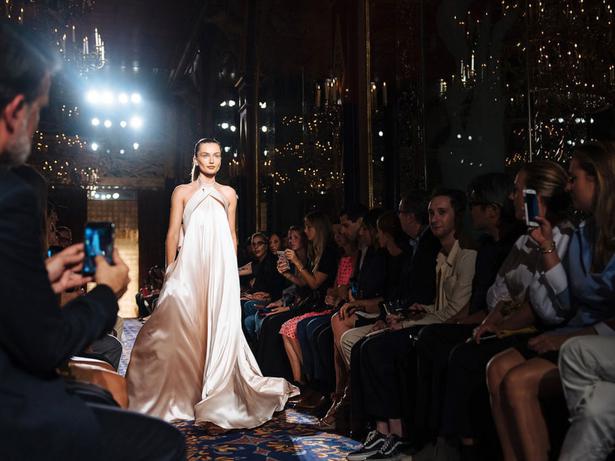 Wednesday Jan. 18, 2017
The American fashion industry begins a new year faced with a quandary it has never had to consider: Will designers choose to dress the nation's new first lady?
In the past, regardless of the political party controlling the White House, this has never been a question for Seventh Avenue, particularly when it comes to the wardrobe the first lady wears on Inauguration Day. Because that gown is traditionally enshrined in the National Museum of American History, its designer is instantly written into the history books. It is an honour.
But this election cycle, nothing is as it has always been. President-elect Donald Trump ran a campaign that framed immigrants, minorities, women and Muslims as "other," inspiring new waves of racism and violence. Whether to associate with him has become a moral question.
Performing during his inauguration, marching in his parade and attending his swearing-in ceremony are all decisions that have caused personal and public soul-searching for people in the public eye.
And so, catering to his wife quickly became an ethical dilemma for designers. Would doing so signal tacit approval of her husband's scorched-earth tactics?
READ: Melania Trump's Political Power Dressing
Ultimately, it may be that designers focused on the wrong person. With Melania Trump planning to remain in New York a while for her son's schooling, it increasingly appears that the president-elect's eldest daughter, Ivanka Trump, who is moving to town, may be taking on many of the ceremonial duties typically assigned to the spouse, even dipping into policy issues.
(Ivanka, as it happens, has her own fashion brand, but it focuses on workday attire, not evening wear.) Indeed, one might make an argument that Ivanka's inaugural gown will deserve the place in the Smithsonian — instead of Melania's. But the heart of the question remains. Should designers dress them, these extensions of his administration?
There are multiple considerations: How do designers view their work? What is the role of the fashion designer in the broader culture? What is the definition of patriotism, and what is the best way to express it? And is there anything wrong with a first lady simply buying retail?
In an open letter last month, Sophie Theallet became the first designer to make a formal declaration of refusing to associate with a Trump first lady. "The rhetoric of racism, sexism, and xenophobia unleashed by her husband's presidential campaign are incompatible with the shared values we live by," she wrote. "I encourage my fellow designers to do the same. Integrity is our only true currency."
Marc Jacobs, Derek Lam and other designers agreed with Theallet. But others, such as Thom Browne, have said they believe that the symbolism of the first lady is more important than the person in the role; patriotism compels them to take on the task. Tommy Hilfiger went so far as to chastise some designers for being "political"and told Women's Wear Daily, "I think Melania is a very beautiful woman and I think any designer should be proud to dress her."
A lot of designers, however, weren't quite sure what they would do.
Theallet's argument was based on the idea that, "as an independent fashion brand, we consider our voice an expression of our artistic and philosophical ideas ... Our runway shows, ad campaigns, and celebrity dressing have always been a celebration of diversity and a reflection of the world we live in."
Like other creative individuals, Theallet sees fashion as a way of expressing her views about beauty and the way women are perceived in society. Fashion is her tool for communicating her world vision. In the same way that a poet's words or a musician's lyrics are a deeply personal reflection of the person who wrote them, a fashion designer's work can be equally as intimate. In many ways, it's why we are drawn to them. We feel a one-to-one connection.
For example, Prabal Gurung has crafted collections inspired by his childhood in Nepal and asked the fashion industry to help him aid the victims of the 2015 earthquake there. Shayne Oliver of Hood by Air injects his views about gender, sexuality, race and disenfranchisement into his often inscrutable collections.
READ Michelle Obama's First Lady Fashion
Brandon Maxwell has described his fashion point of view as rooted in his experience growing up "very gay in a very small town" in Texas, finding solace in the strong women who surrounded him.
Jacobs injects his work with the many pop culture references that inform his world and has used his design talent to support Hillary Clinton. Kerby Jean-Raymond has made his Pyer Moss label a tool for social protest, commenting on police violence and the Black Lives Matter movement through fashion.
For all these designers, their clothes are commodities, certainly, but they also have an artful point of view that is distinctly personal. That is part of what distinguishes their brands. Fashion does not have to be partisan to be political. It can be concerned with the public affairs of a country, worried about the state of its citizens — engaged.
Critics of those designers who've voiced their reluctance to dress the new first lady have maintained that it's a designer's job to simply make clothes — that they should keep personal opinions out of it and not pass judgment on people who wear their clothes.
But over time, society has demanded much more from the fashion industry. It expects Seventh Avenue to be cognisant of its impact on young women predisposed to eating disorders. It rallied against the industry's lack of diversity. It has pressured the industry to concern itself with the labour practices of its subcontractors and to create clothes that empower women instead of objectify them.
Society expects fashion to be philanthropic and awake to the world in which it exists. So doesn't taking a stand on a new administration and its policies — in the most direct manner possible — fall into that category?
The designers based in New York's Garment District and scattered around the city are, by and large, not personal dressmakers, or haute couture houses making one-of-a-kind garments for individuals. When they do something for a single customer — typically a celebrity — they are stepping outside their day-to-day business model of their company.
Anyone with disposable income can buy a designer's wares at retail — and even some red-carpet celebrities choose to do so. Hayden Panettiere purchased a Tom Ford gown for the 2014 Golden Globes. For the 2016 Globes, Bryce Dallas Howard picked up her Jenny Packham gown at Neiman Marcus.
That's why declining to dress a celebrity is not the equivalent of refusing service. In doing so, designers would in fact be refusing a favour, with all the publicity that goes along with it.
READ How Fashion is Getting Political
What about patriotism? Should personal feelings be put aside? Not necessarily. Protest that grows out of a desire to make the country better, to push it to live up to its ideals, is surely a form of patriotism.
Seventh Avenue is not a monolith. There are designers who would happily, and without reservation, create a splendid wardrobe for the incoming first lady. But frankly, there is nothing wrong with the first lady — or daughter — announcing that her inaugural gown was purchased at Bergdorf Goodman, which is where Jacqueline Kennedy's inaugural gown was designed and made.
Or even Macy's, or perhaps some little independent boutique that would thrill at the extra attention. There is nothing that demands that a designer's name be attached to the dress at all. There is only the expectation that the dress, in some way, represents the country.
But as for those designers for whom fashion serves as their voice in the world, they should not feel obligated to say something in which they do not believe.
— The Washington Post
Share this: