Melania Trump's Inauguration Day Fashion
Melania Trump picks patriotism and international glamour for her debut as first lady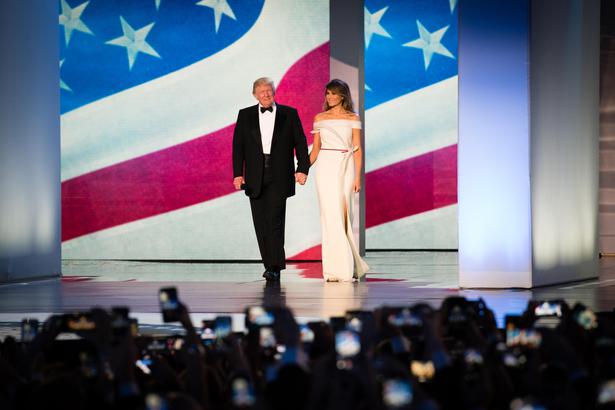 Saturday Jan. 21, 2017
Patriotism came in a shade of pale blue cashmere and matching suede gloves. Glamour - and a hint of globalism - came in white crepe and silk gazar.
Because this presidential election was so terribly fraught, even the subject of fashion became a matter of political debate, moral outrage and pained circumspection.
It was, of course, incoming first lady Melania Trump who was at the center of all this angst and indignation because her inaugural attire -in all its possibilities - is expected to set the tone for the day and, perhaps, introduce the mythology that will come to define this administration for years to come.
A host of designers announced preemptively that they would not dress her, or associate themselves with her, because they did not want to lend their support to her husband's administration, of which she is a representative. Other designers said creating a wardrobe for her was a matter of patriotic duty. And many were simply quietly sorting out their thinking.
READ: The Politics of Dressing America's First Lady
Ultimately, for the historic swearing-in ceremony, Melania Trump chose a sky-blue, Ralph Lauren Collection cropped, cutaway jacket and a mock turtleneck dress.
And for the inaugural balls, she chose a strapless, white column gown with a single fluttering ruffle floating down her torso and a narrow red silk ribbon at the waist. It was a collaboration between the first lady and French-born designer Hervé Pierre.
And just like that, the controversy shifted from a boil to barely a simmer.
The first lady chose wisely. With Lauren, she selected a designer whose place in history is already secure. This inaugural ensemble will be a footnote in his professional story, not the essence of it.
But more important, Lauren is a designer whose entire aesthetic is rooted in a kind of glorious, soft-focus Americana. He even donated $13 million to save and protect the flag that inspired "The Star-Spangled Banner" and to educate the public about its history. In 2014, he was presented with the James Smithson Bicentennial Medal for his patriotism, entrepreneurship and philanthropy during a ceremony at the National Museum of American History.
Lauren has accommodated both Democrats and Republicans, most recently serving as Hillary Clinton's most reliable clothier during the campaign. To witness her rival being sworn in as the 45th president, Clinton turned once again to Lauren, choosing a white, jewel-neck suit and a cream-colored cashmere coat. And on a personal note, Lauren's son, David, is married to Lauren Bush - niece of George W. Bush.
Ralph Lauren is possibly the most bipartisan American designer working today.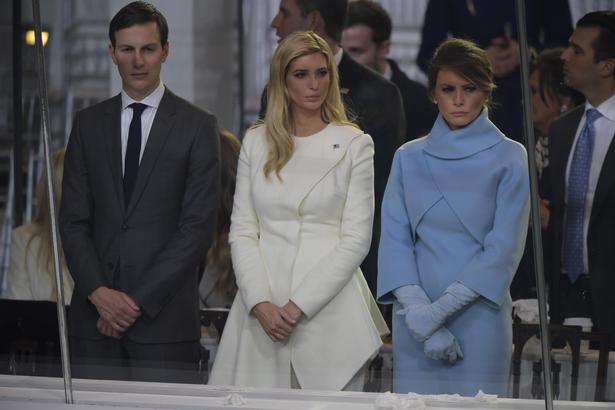 "The Presidential Inauguration is a time for the United States to look our best to the world. It was important to us to uphold and celebrate the tradition of creating iconic American style for this moment," read a statement from the company.
For the inaugural balls, her choice was more daring. But it also seemed like a bit of an olive branch after so much talk of closed borders and nationalism.
Pierre was born in France and spent 14 years in the atelier at Carolina Herrera before leaving last year. Before that, he worked at Oscar de la Renta. Pierre earned his U.S. citizenship in the fall of 2016. The style of the gown was restrained, classic and, in particular, recalled the work that Pierre did while at Herrera.
The silhouette of Melania Trump's daytime coat has been compared to that worn by Jackie Kennedy, but it is also a silhouette that is classic and sophisticated. It was a perfect color, serving as a gentle spot of light on a drizzling, dreary day. It also gracefully referenced our nation's flag without transforming Melania Trump into one.
(In contrast, presidential adviser Kellyanne Conway wore a red, white and blue Gucci coat with rows of medallions, a bright red hat and red leather gloves. The ensemble looked precisely like a costume, but more than that, it made one wonder whether she considers patriotism a competitive sport.)
A fashion historian once noted that the inaugural ballgown is akin to a wedding dress. It is a bit anachronistic as a gesture but still compelling in its significance.
As far back as 1889, the inaugural gown was political. President Benjamin Harrison wanted his constituents to buy American, and so the dress of his wife, Caroline, was a trifecta of Americana: the silk was designed in Indiana, the fabric woven in upstate New York and the dress itself made in the Big Apple.
In 1977, Rosalynn Carter's vintage gown - one pulled from her own closet -underscored Jimmy Carter's message of frugality and homespun style. He was, after all, "Jimmy," not James.
Jackie Kennedy's French-inspired (but American-made) fashion signaled worldly savoir-faire. And Michelle Obama's inaugural wardrobe, in both 2009 and 2013, spoke of diversity, inclusiveness and the country's creative economy.
At the Capitol and at the balls, Melania Trump looked polished and poised and very much like herself. She has not been seen very often since the election, or even during the campaign. But the day's styles were in keeping with what the public has come to expect thus far: clean lines, body-conscious style, luxury.
The ensembles reflected the formality of the occasions and quietly offered up shades of hopefulness and light on a day that was also filled with violent protests and sorrowful disbelief.
One wishes that President Trump had exuded as much grace, but then that is not his style. And so, during the day his Brooks Brothers suit jacket flopped open; his pants were too long.
And the tie. The bright-red tie hung down to its usual position, far below the reaches of his belt.
READ: What Does it Mean to 'Look Presidential'?
The eye couldn't help but to shift from the first couple to their family, specifically to daughter Ivanka: blonde, tall and gleaming. To watch her father deliver his inaugural address, she wore a white trouser suit from Oscar de la Renta and her three little ones - Arabella, Joseph and Theodore - were all dressed in Oscar de la Renta Childrens. For the inaugural balls, Ivanka wore a gold, glittering princess-style gown from Carolina Herrera.
The president's eldest daughter chronicled her inaugural activities on Twitter, posting a series of images that were as glossy as fashion advertisements. When the Trump clan arrived in Washington on Thursday, Ivanka gave her nearly 2.3 million Instagram followers an image that spoke directly to her personal brand - Women Who Work. There she was striding off a military jet at Joint Base Andrews wearing a work-appropriate, bold green ruffle-front coat and dress from Oscar de la Renta. She carried baby Theodore on her hip, while guiding daughter Arabella with her other hand.
Melania Trump stepped off the plane and into the whirlwind of transformation dressed in a cadet-style overcoat by with its rows of black buttons marching along her torso. (Its designer, Norisol Ferrari, told Women's Wear Daily that her biological father is a wounded veteran.)
The first lady walked and stood - and stood - in a pair of sleek black pumps with limousine heels. For much of the public, it was the first glimpse of her since the day after the election when she had strolled with her husband through the Capitol. She was wearing black then, too.
The couple accepted greetings from well-wishers on the tarmac, and then they were off - first to a luncheon with transition officials and incoming staff and then to a wreath-laying ceremony at Arlington National Cemetery.
Despite it being another overcast day, she wore large black sunglasses in the manner of so many boldface names who try to hide in plain sight with the help of a pair of designer aviators.
On Friday, there were no sunglasses. No more anonymity. There was no more hiding.
- The Washington Post
Share this: