Kiwi Fashion Winners at the Melbourne Cup
Horses, what horses? Fashion and fun were the sure-fire raceday winners at the Melbourne Cup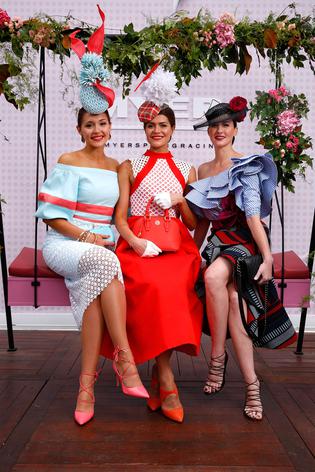 The Melbourne Cup is one of those bucketlist events that draws punters from across the globe. The world's richest race for stayers is also a giant excuse to party. As shown trackside - and in the many bars getting into the cup spirit across Australia and New Zealand - an interest in horses is not strictly required.
This year, the big New Zealand winners at Flemington were two Auckland sisters, Olivia and Charlotte Moor, who cleaned up in the fashion stakes. They placed first and third respectively in the hotly contested Fashions in the Field competition. If you were a gambler you would certainly have had an each-way bet on the sisters, given their fine form on home courses.
Charlotte, aged 27 and a dietitian, was the winner of the 2015 Viva Prix de Fashion at Ellerslie. Olivia, 26 and a designer at local jewellery brand Naveya & Sloane, has also won our biggest race-wear title.
With dress and hat-making help from their mother, the women have been entering events since their teens. Olivia's bold orange and white dress, worn with a matching burnt orange pillbox, showed this season's strong colour trend. Her sister picked up on blue, another crowd favourite this season, along with blush tones.
READ: Olivia Moor's Favourite Things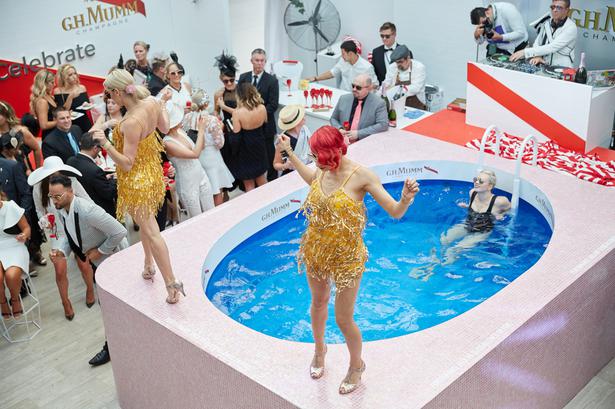 Inside the Mumm pavilion in The Birdcage at Flemington. Picture / Supplied

Putting together an outfit for the races brings out the peacock in so many people. The Birdcage at Flemington is undoubtedly the premier place to see them parade. This is the invite-only enclosure where elaborate two-storey temporary pavilions are erected each spring carnival for guests to party in.

None were more eye-catching in 2016 than that of champagne house Mumm, which came complete with a 4-metre pool. Maison Mumm's Club de la Plage theme brought a summer-in-the-south-of-France vibe to a chilly Melbourne Cup day.

Complete with retro go-go dancers, a twirling acrobat in a high-waisted bikini who made a splash, and a drummer in a gold-sequin dress, this was a high-energy enclave. After the big race was cheered and groaned over, guests turned to seriously celebrating, dancing under a glitter gun cascade. Mumm flew in giant Nebuchadnezzars from France to pour forth good cheer, special champagne for a special occasion.

GALLERY: More Melbourne Cup Day Fashion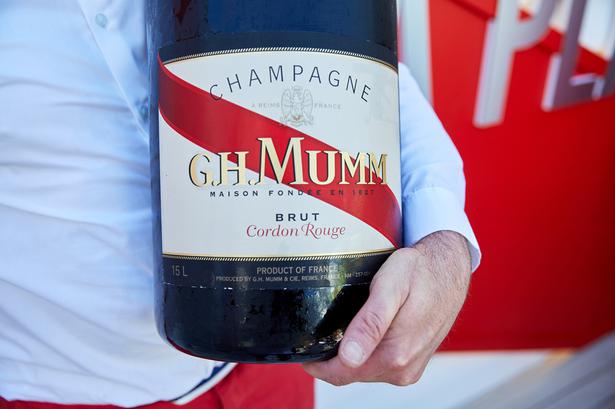 Around the Birdcage, each corporate hospitality area competes for attention, with celebrity guests and prominent chefs as media drawcards. Ben Shewry, the New Zealander behind the award-winning Attica restaurant, masterminded the menu at Lexus.
Emirates provided caviar and glasses from A$850 bottles of Penfolds Grange. Mumm served summer's hottest celebratory tipple, rose champagne: chilled, in cocktails and as an adult-edition frozen ice treat.
Myer's large pavilion is one of just a handful of 32 that overlooks the track. It hosted many of the designers the department store stocks, including Kate Sylvester, on Derby Day.
Overall, the celebs in attendance this year were largely Australian, in contrast to shipped-in stars from previous years. It wasn't so much a local who's here as a who isn't, from entertainment and sports stars to politicians, all keen to be seen in the 100,000-strong crowd.
An international to watch for later in the week is nine-time Olympic gold medallist Usain Bolt. He's in town and expected to make an appearance later in the carnival, on Oaks Day. From the airport, he is reported to have headed straight to a city nightclub. The place wasn't that busy - he should have headed straight to the Birdcage
Viva's Janetta Mackay was a Cup Day guest of G.H. Mumm, the official champagne at the Melbourne Cup and for Auckland Cup Week.
Share this: