Men's Underwear Is Having A Moment
So are your undergarments stylish enough?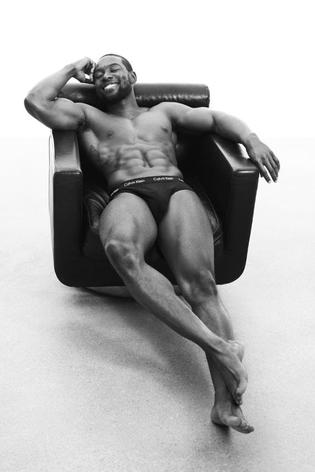 Something's happening south of the navel, in terms of men's style. Attention on gentlemen's under-garments is, like laundry, fairly cyclical. 
When Mark Wahlberg postured in his tight white boxers for Calvin Klein in 1992, suddenly what went on beneath a fellow's jeans mattered.
(Coincidentally, this was probably the first mainstream overtly sexual image of a man to sate a female appetite; until then a male model posing in his skimpies meant the questionable image of long-haired, leonine Fabio Lanzoni astride a stallion, in all his Mills & Boon loin-clothed splendour.)
Years later, in the mid-Noughties, there was David Beckham, greased up with a come hither pout in Armani briefs.
And now underwear is hitting the headlines again, with Calvin Klein reclaiming its territory in the market to coincide with both the first collection from new creative director Raf Simons and the stellar radiance emanating from the stars of Moonlight, who were ricocheted into the public consciousness after the Oscars' Best Picture fiasco.
The morning after that night before, the house unveiled the new campaign starring the film's male leads, with Simons turning his back on the brash, in-your-face aesthetic of the house's underwear campaigns past for something a tad more nuanced and sensitive. (Although abs and glutes are most firmly on display, of course.)

It comes on the back of news that Tom Ford is set to launch his first men's underwear collection. The man who re-ignited sex appeal in fashion in the late Nineties at Gucci promises to create a range of suitably sleek unmentionables; and no doubt we can expect some high-voltage, provocative campaigns.
This new focus on men's nether regions and what encases them is the natural progression of the Instagram generation's preoccupation with scantily clad shots, be it on the beach in Rio de Janeiro or in the gym changing-room mirror. That's also responsible for the rise in athleticism and sports attire and a general preoccupation with getting the basics right.
So while no one expects you to look like a budding Mahershala Ali or a latter-day Beckham, it's worth clearing out your underwear drawer every six months; sad and sagging numbers, elastic on its last beleaguered legs, discoloured from umpteen washes - such garments no longer cut it. Likewise, steer well clear of novelties, no matter how many boxers with snowflakes you were deluged with at Christmas.
Brands that cater to a kind of leisurely, lounging "lifestyle" with super-soft T-shirts and sweatpants are a safe bet, such as Hanro, Sunspel and Zimmerli, with minimalist cuts and neutral colours their mainstay. It's time to pamper your privates.
— The Daily Telegraph·
Be inspired by the good things in life. Sign up now to receive emails from Viva, and twice a week you will be sent the latest news, profiles, videos, fashion shoots, competitions and more.
Share this: