Meet the Front Row Millennials
Italian luxury brands are leading the way in chasing social media audiences. Will it work?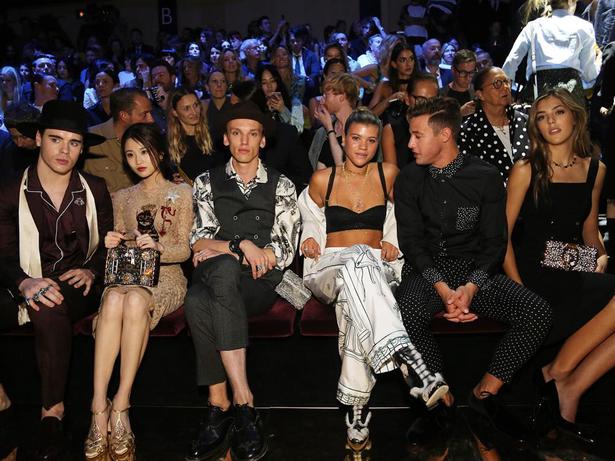 Wednesday Sept. 28, 2016
At Dolce & Gabbana's Milan Fashion Week show, throngs of squealing teenage girls lined the railings outside. But while teaming hoards outside a show is not an anomaly, pubescents are an oddity. These Italian fans were desperately calling out "Cam-e-ron Da-llas?" to show-goers attempting to enter the venue.
Alas, most had no idea that the person they were holding out for was a 21-year-old YouTube star with 15.6million Instagram followers. And most of us had no idea who any of the other bright-eyed young faces sitting beside him on the front row were. But then perhaps we weren't supposed to.
The marketing here wasn't aimed at us, it was pointed directly at a new fashion generation. One that right now may not be able to afford a key-ring at any of these stores, but one that these designers need to court and appeal to, so that when they come of age (and bank balance), they too will crave the established luxury fashion force, when its current, older clientele have stopped shopping for good.
Along the front row from Dallas, sat members of what Dolce have deemed "the Millennial Generation". They included Swedish singer Zara Larsson (1.9m Instagram followers), model Sarah Snyder (883k followers), who dates Will Smith's son Jaden, and "fashion influencer" Luka Sabbat (247k followers).
Celebrity progeny were also in ample attendance: Pamela Anderson's sons, Brandon Thomas Lee and Dylan Jagger Lee; Diane von Furstenberg's granddaughter, Talita; Sylvester Stallone's daughter Sistine; as well as Rafferty Law - son of Jude and Sadie Frost. For their young fans, the lure of these names and faces was far greater than whatever happened on the catwalk, but Dolce will be hoping for that halo effect.
GALLERY: Inside Milan Fashion Week
Some catwalks however, directly capitalised on the Insta-centric hiring of stellar sister act Gigi and Bella Hadid. The pair appeared at Max Mara, Fendi, Versace, Bottega Veneta and Moschino - and splashed pictures of the shows on their social media. Combined they have an Instagram force of nearly 30 million followers. Versace, by comparison, have just over 900k.
Models are now booked on the strength of their social media reach as much as their cheek bones. Often there's a valid argument to be had over who has the bigger pull - the model or the brand?
While in some ways the logic of courting youth makes sense - and fashion has always had an unhealthy obsession with adolescence - these brands must adapt to the future. But for the current clientele, one wonders whether seeing teenagers wearing their clothes will have the same pull. The appearance on the Bottega Veneta catwalk of 72-year-old Lauren Hutton felt revelatory for all the right reasons - and would surely encourage existing fans of the brand to step back into store.
One venerated label hoping to find some millennial appeal in their new hiring is the 130-year-old jewellery house Bulgari - who famously frosted Elizabeth Taylor. For their latest accessories campaign (Bulgari has a successful luxury handbag line), they have signed up 18-year-old Lottie Moss (half-sister of Kate - they share a father), a reveal that was made at the glitzy Bulgari hotel (where else?) in Milan's Brera district.
True to her generation, when we meet, Moss is busy Snapchatting. "I'm obsessed with it," she says, laughing. The 5ft 6in star, is not unlike her sister - there is a hint of those cheekbones - but she is very much her own woman, and, for someone who is just a few months out of school, remarkably confident and self-assured.
Having been scouted at her sister's wedding five years ago (she was a bridesmaid), her career is slowly taking shape. In spite of her family connections she insists that, she'd never thought about modelling until then (to be fair, she was only 13). "Everyone saw my sister in the paper and Mum would be like, 'that's your sister'," she says. "I just thought that everyone had a sister in the paper."
READ: Dolce and Gabbana's Alta Moda show in Naples
However, since her agency Storm (who also signed Kate, though they have now parted ways), has been building her up, she has appeared in campaigns for Red Valentino, Calvin Klein and now Bulgari. "University was something I thought about, but there's nothing I really love more than modelling," explains Moss. "I'm going to see how it plays out and how far I can get."
Shrewdly she says that she's already managed to buy herself a flat and a car, and paid for the last two years of her schooling. Which is impressive.
She is giddy and enthusiastic, excited by her favourite Louboutin shoes (not comfortable, but "amazing"), business-class flights, escaping school for shoots in LA, and her new Bulgari gig. "It's so incredible when I walk into the stores, I'm like, 'Wow, oh my God.' It's amazing I can be part of such a brand."
Like any self-respecting millennial who's already wielding 73k Instagram followers, Moss is thinking ahead. "I'm really ambitious. I want to succeed, so that is what I will do. I'd love to start my own brand, and maybe go into acting," she asserts.
Has her sister offered any advice? She pauses to think, then looks up and says: "Do what you want; do your own thing. You don't have to look up to anyone or copy anyone." It sounds as though she's taken it all on board.
- The Daily Telegraph
Share this: